Personal Growth - We are one
by Chitra Jha
The illusion of separateness from the source and all its myriad manifestations is what keeps you away from enlightenment

Download PDF Format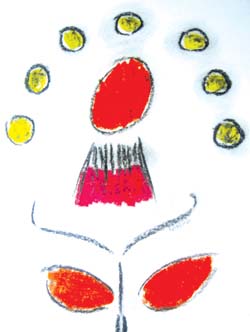 Whenever I tell people that I teach 'new consciousness', they look questioningly at me – then suddenly it dawns on them, "Oh, you are into spirituality!" I say, "Spirituality is just one aspect of what I teach and practice. I am also into physicality and mentality." This statement often makes them give up and ask, "Okay, tell us what is it exactly that you do?"

Spirituality has become a much used and abused word in today's world. In our newfound escape/garb of spirituality, we forget that we are multi-dimensional beings, made up of body, mind, intellect, and spirit. Each component has a well-defined role and is as important as others are in the larger scheme of things. We cannot afford to neglect any single aspect of our totality.

What has happened over several centuries is that we have paid more attention to our body, mind, and intellect; hence spirit had to make a great noisy comeback. The beauty about the spirit is that it is not unique, unlike our body, mind, and intellect. Yes, it doesn't carry an individual signature. It is an entity divided into many sparks, and yet it remains whole. Isn't that crazy? But that is how it is. A criminal, a rapist, a vagabond, and an enlightened master, all carry a spark of the 'same' spirit. That makes us one in essence, despite our apparent differences. The truth remains that we are one in spirit. This is the message that the spirit speaks aloud and clear for us to understand and imbibe in our daily interactions.

The moment we actually 'realise' this truth (as opposed to intellectually understanding it); we become 'self-realised' or 'enlightened'. It is as simple as that. We do not need to do anything else to become enlightened. What is enlightenment after all? It is receiving the 'light' of truth. It is the dispelling of darkness, the illusion of being separate from each other and the 'Source'.

And, what is this 'Source' or 'All That Is'? It is nothing else but 'energy'. We all know that energy can't be created and it can't be destroyed. It can only change form. Everything that we can see, perceive or can't see and perceive is made up of energy. Energy is omnipresent, omniscient, and omni-prevalent. Aren't these the attributes that we identify God with? What is God after all? Where does he live? If he is omnipresent, he must be living everywhere. Why don't we see him then? Can we at least feel him?

Yes, we can and we do feel Him all the time. The problem is that we are looking for a human form to appear when we think of God. God is the very 'energy', the 'spirit' that makes our insentient bodies move. Without this necessary component this body is dead. What makes this body function? The spirit does it. The energy does it. Have you experienced some days when you feel very 'spirited' or very 'energetic'? You may have also experienced low energy levels or low spirit? What happens at such times? Why does the energy, the spirit leave you? What would happen if it were to completely desert you? You would simply be dead. Death happens only to the body, the spirit lives on. It just changes form.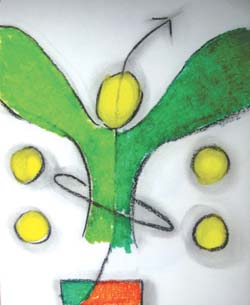 Have you heard of reiki? What happens in reiki? A reiki channel, 'channels' the universal life energy through his/her body into a recipient's body. This surge of energy raises the level of energy in the sick person and he is cured. In truth, we all are 'channels' of spirit/energy/God. Our bodies are just channels/vehicles/mediums. We keep channelling this energy for everything that we do. Right from going to work, cooking, eating, talking, loving, and scolding, we need this energy for everything.

Where does this energy come from? Some of it (about 10 per cent) comes from the food that we eat; but most of it comes from our breath (prana) and our thoughts. Have you ever wondered that the air that you breathe out mingles with the air that the others around you breathe out? With each breath a part of you goes out as well. Now when you breathe in, a part of others' breath enters your body. And this cycle goes on. A part of us keeps entering and exiting others bodies. Does it sound crazy to you? Don't take my word for it. Give it a thought, and let me know.

The same applies to food and water. The wastes that we bring out every day become part of the food cycle and water cycle. Look at the food that you eat and water that you drink (and of course the air that you breathe) with new respect. It carries parts of legends and geniuses (and of course, rogues and charlatans!). The basic learning is that we carry parts of each other inside us, even physically. So it is not only about the same spirit that we share; we also share material, physical atoms.

Now let us consider our mind. What is mind? Where is it located? The mind is nothing but a bundle of thoughts. We have an individual mind that can think some thoughts, especially the thoughts required for our daily survival, but most of our thoughts come from the 'universal mind'. Yes, it is the internet of the universe. We not only receive packets of thoughts from there, but also contribute our own thoughts to it. Since everyone is doing it all the time (we think millions of thoughts in a day!), again we are connected at that level. We do not know that we are thinking others' thoughts and others are thinking our thoughts, but it is happening continuously. Carl Jung called it the 'universal unconscious' a long time ago (unconscious because we do it unconsciously). If we want we can 'consciously' influence the collective thinking on this planet. Yes, we are that powerful. Each one of us carries this power; we are just unaware of it. The more we examine these things the more we realise the inter-connectedness of all life, human or otherwise. It is mind-boggling!

Once we 'understand' these basic facts of life, life becomes joyful. All our worries leave us. We stop thinking of our tomorrows. We stop judging, and criticising other people. Of course, this does not happen overnight. We carry many habits and tendencies with us, which are slightly difficult to get rid of in one night. It takes a lot of determination, remembering, re-minding, and doing. However, once we make up our mind to live the way we were intended to, it is not that difficult either.

It is a decision. Once you take the decision to live in 'oneness', the means and tools to carry out your decision will be provided to you. Spirituality will enter your life through books, discourses, and interactions with like-minded people. The more you enter into this subject, the more is revealed to you. Soon this 'intellectual' understanding turns into inner knowing and you become 'enlightened'. Just like that! Isn't that amazing?