Personal Growth - We are the World
In our quest for greater independence and autonomy, have we forgotten the law of interdependence that is the driving force of the cosmos?
True independence
• Self-acceptance
• Nurturing, and not clinging to relationships
• Owning responsibility for one's actions
---
Interdependence: key points
• Each of us needs others as much as they need us
• Each of our actions impacts others
• Basis of community building
• Closely related to emotional
More >>
---
Not recognising this principle could lead to
• Frustration
• Bitterness
• Loneliness and alienation
• Inflated ego
• Arrogance
---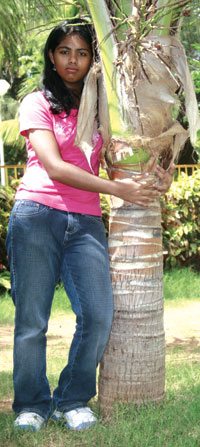 Sulochana Thakore was an upper middle-class widow who found it extremely hard to cope with life. She kept three maids as insurance against one of them reporting sick. Although perfectly able, she depended on her daughter for everything, from being taken to the doctor, to being taken on a holiday. If the daughter failed to call up a single day, she considered herself neglected.

Sheela (name changed), my cousin, was a much-admired lady, supremely efficient, very independent and orderly. Most of us in the family looked upon her with a certain amount of awe. "Nothing was impossible for Sheela," we felt.

However, over a period of time, the very traits that were admirable in her began working against her. Being efficient, she was intolerant of those who were not. Taking pride in her independence, she took on everything as a personal challenge, trying to prove that she did not need anybody. Ultimately, however, she alienated herself from her family, friends and colleagues. The net result was loneliness, bitterness and depression. And the greatest tragedy was that she never really understood where she had gone wrong.

While Sheela was in a better position than Sulochana, she had clearly more to go before she reached a stance that gave her absolute happiness.

Dependence to independence
A cow gives birth in a similar way as a human being through the process of labour. The difference is in the sequence of steps that follow. Within 30 minutes after birth, the baby calf is licked clean, and dried by the mother, and it totters, and actually stands up on its own. He gets his milk from his mother only after he stands up. This sight never fails to amaze humans who are used to a much longer process towards physical independence.

Although many of us wean away from our parents for our physical needs for clothes, food and shelter, we continue to meet several of our emotional and psychological needs through others. Even Sheela was operating from a psychological need to prove to herself that she needed nobody. Her independence was self-imposed, not natural.

True independence is the ability to be in control of one's self, no matter what the situation. It indicates a willingness to take complete responsibility for one's thoughts, feelings, actions, and circumstances; in fact, life itself. As we grow up the maturity chart, we gradually shed our dependence on others. We learn to let go of our need for others to make our decisions for us; we learn to take the consequences of our actions. We stop looking for others to rescue us out of our messes, or clear up after us. We stop wanting to be looked after by others. We become self-reliant and strong, capable of handling any crisis that comes our way. We also develop our own value system, and make decisions based on that. Slowly, very slowly, we raise ourselves, straighten our spine, and finally stand tall. It is this confidence and inner strength that enables us to forge enduring bonds with others, for we will not be afraid of being taken advantage of, or of being dominated. Independence makes us more loving and giving.

"Since long, I have learnt not to have any expectations from anyone, and this is, to me, the hallmark of emotional independence. I definitely am much more peaceful because of this attitude," says Tapan Banerjee, a writer based in Mumbai.

As Madhumita Venkatraman, an MBA student at Jamnalal Bajaj Institute of Management, Mumbai, puts it, "Not indulging in the blame game for my failures and setbacks is one of the most important aspects of independence for me. I accept responsibility for my failures, and work hard to succeed and overcome challenges."

A key area in which this is shown is the manner in which we deal with our relationships. An independent person neither controls, nor allows herself to be controlled. She neither manipulates, nor will be manipulated. Centred within herself, she is free of the need for another to complete her, and is therefore free to love without need.

It is evident that true independence is the result of inner work, work on healing ourselves of all that stops us from loving ourselves, trusting ourselves, being confident in our own selves.

Self-acceptance is, therefore, crucial for true independence. "Acceptance of the self – warts and all, is crucial for true independence," says media personality Gouran Lal. About her own journey, she says, "Personally, I feel that I am emotionally independent to quite an extent, but definitely have areas where I need to de-link emotions from the self." She muses that though the process is one that needs constant effort, she is "loving it".

Ultimately, true independence is won when we have found that the source of our happiness and satisfaction is within. It is then that we cease to pine for a soulmate, wealth, power, fame, food, sex, or sensory pleasures.strong>
<
Towards interdependence
Our growth does not end with achieving independence. Once achieved, it often helps us discern the natural pattern of life, which is interdependence.

The pattern of interdependence runs through all of nature. Our symbiotic relationship with vegetable life is a striking example. They breathe out oxygen, which we need to survive, and use in turn, our waste carbon dioxide. When we die, we become food for maggots, and we, in turn, feed off the rest of
creation while we live. All of nature is testimony to the spiritual truth that we are one. We are all part of the Great One Self that has created this universe and all in it. Therefore, we are connected and interdependent. All religious and spiritual traditions uphold this truth.

Swami Nikhilananda of Chinmaya Mission avers that the Vedic principle of 'vasudhaiva kutumbakam' (the world is one family) was practised and preached by the rishis in recognition of the fact that each person, animal, flora, and fauna were connected to the other.

However, it is Buddhism that explores interconnection, and therefore interdependence, most deeply.

The concept of Pratityasamutpada, a fundamental Buddhist tenet, states that phenomena arise together in a mutually interdependent web of cause and effect. From the Buddhist perspective, nothing arises independently. Everything arises from a complex set of interrelated causes. Therefore, each of our actions has an effect on the larger world.

The journey to wholeness for the individual goes from dependence to independence to interdependence.

The importance of interdependence
Interdependence states that we are mutually responsible for each other, and it is essential that we share a common set of principles with others. The principle recognises the fact that we are not, and can never be, completely independent in an interconnected world.

Whether one realises it or not, one does rely on others for one's self-esteem and emotional needs, and one's general state of well-being is assured only if one is comfortable in the interdependent, interconnected world.

The journey to wholeness for the individual goes from dependence to independence to interdependence

When Anouradha Bakshi, a former interpreter and lecturer, lost her parents, she found herself at a loss, unable to cope. Eventually, she re-examined her core values, and began to recognise the value of others in her life. She went on to found Project Why, an NGO for underprivileged children in Delhi, and avers that the paradigm shift has resulted in better relationships, and more inner joy and peace. "Recognising the principle of interdependence, I am able to derive joy from the little things in life, like a child drawing, writing and smiling, something that I had lost track of earlier," she says.

Madhumita avers that understanding interdependence makes her conscious of the larger implications of her actions, and therefore, more compassionate in her dealings with others. To Tapan, interdependence manifests in the act of being a responsible citizen. "Whenever I see anything that is
likely to be harmful to anybody, I not only write, but try my best to ensure that the concerned authorities take necessary action," he says.

Stephen Covey, in his book, The Seven Habits of Highly Effective People, lists the movement to interdependence as one of the most important steps of growth, saying, "Independent thinking alone is not suited to interdependent reality. Independent people who do not have the maturity to think and act interdependently may be good individual producers, but they won't be good leaders or team players. They're not coming from the paradigm of interdependence necessary to succeed in marriage, family, or organisational reality."

Dr Chugh, a leading psychiatrist in Delhi, also emphasises that it is one of the most elementary needs in humans, saying, "We live in a system where the foundation is laid upon interdependence, or mutual give and take. We all are dependent on one another for things like emotional fulfilment, belongingness, esteem and security, along with so many other tangible or material needs. So, it is important that we do not ignore something that is so basic."

How it helps
The lack of recognition of this key principle leads to many problems, but the most glaring one is the agony the individual goes through. As Dr Chugh says, "Quite naturally, if we do not recognise the fact that just like others depend on us for something, we too depend upon them, we are likely to start considering ourselves superior to them. This will only alienate us from them. Another drawback could be that we end up feeling ungrateful for the things that we have, or feel that others take us for granted. In either case, we will end up feeling bitter."

Emotional Intelligence (EI) is commonly defined as the ability, capacity, or skill to perceive, assess, and manage the emotions of one's self, of others, and of groups.  Today, emotional intelligence has been acknowledged as a key attribute for a happy and successful life, and is considered the hallmark of good leadership.

Not surprisingly, EI is heavily linked with interdependence. Emotionally intelligent people are conscious of how important other people are to their personal and professional well-being, and are not afraid to acknowledge this debt.

At another level, it is because we fail to recognise this principle that our very existence on this planet is threatened.  We are busy saving up money for generations, but are not taking enough steps to save the planet. The environmental problems today are alarms being sent by nature to wake us up. Like an Indian proverb says, "If people are hard of hearing, it is necessary to shout if we are to get their attention."

Anil Bhatnagar, a Delhi-based management trainer, points out, "Man is oversensitive towards his concerns, but insensitive of his duties towards fellow beings in other forms. Today, our whole existence is threatened because we erroneously thought that we are the masters, and began cutting jungles, hunting innocent animals, polluting our rivers and air."

Inclusiveness and interdependence
In the spiritual context, interdependence is the key to a compassionate, inclusive vision of the world. It is only our ego that stops us from recognising this fact. Conversely, recognition of this important principle is an essential step towards an ego-less, harmonious state.

Interdependence is closely linked with the concept of brotherhood in Islam,  which speaks strongly for inclusion and equality. The Koran uses a beautiful style in explaining this concept. Instead of saying, "Greet each other," it says, "Greet yourself." Instead of saying, "Do not defame each other," it says, "Do not defame yourself."   Instead of saying, "Do not kill each other," it says, "Do not kill yourself."  The message is clear. Whatever is happening to others is actually happening to yourself.  Maulana Wahiduddin Khan, a renowned Islamic scholar in Delhi, quotes Swami Vivekananda who had observed, "If ever any religion approached to equality, it is Islam."

Sadanand Ward Miller, values teacher at Mount Madonna school in California, and trustee at Sri Ram Vidya Mandir, Hardwar, quotes a story activist Nirmala Deshpande writes, about the great Indian saint Vinoba Bhave, who used to ask, "How many Pandava brothers are there?" Every one would respond, "Five." Vinoba would say, "Wrong, there were six! Karna was the sixth, but they forgot about him, and he joined the Kauravas, and brought about great destruction in the Mahabharata war. Those who are less fortunate are our brothers, and if we forget about them, terrible destruction can come to us all."

This metaphor illustrates how forgetting our links with another can lead to massive destruction. It can also be extended to the environment, cultures, nations, as well as individuals who are less well-off.

Begin young
Sadanand Miller was involved in Project Happiness, undertaken by the Dalai Lama Foundation to get children from three continents to exchange views, and understand how values and ethics are connected to happiness, and the meaning and purpose in one's lives. Stating the recognition of interdependence as a key factor of human well-being, he points out, "The notion that any of us exists on our own independently, upon any reasonable examination, proves to be clearly not true. At the infant stage, this is abundantly clear. A baby cannot take care of itself, nor can the mother take care of the child without support. As we grow up, the nature of our interdependence changes, but the fact of it does not."

The notion that any of us exists on our own independently, upon any reasonable examination, proves to be clearly not true

He adds, "The earlier we begin to understand the nature of interdependence, the earlier we begin to evolve a moral and ethical sense, because when we begin to understand that our well-being and the well-being of others is interconnected, we begin to see that we must nurture the networks of which we are part, if we want those networks to be strong."

I recollect the meeting I had with the young people from America and Africa who were part of Project Happiness. Across the board, irrespective of cultural differences, the one principle they all agreed on was the importance of interdependence. "I understood that even if one does not live a life of service, it is necessary to think about the larger implications of one's actions if we are to remain happy," one of them said simply and succinctly.

If this child's wisdom would become easily accessible to everyone in the world, especially those in power, life on earth would be heaven.