Personal Growth - What's in a word
by Chitra Jha
In trying to understand the nuances between selfishness, self-centredness and selflessness, Chitra Jha wanders into a labyrinth of words that unfold many insights, including the key one of not being trapped by words!

Download PDF Format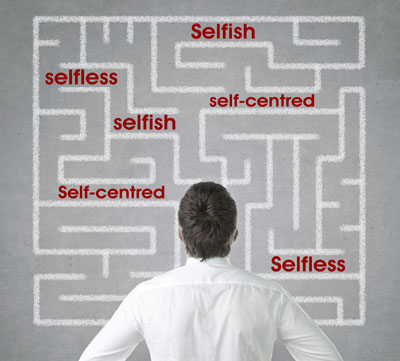 Ever since I began understanding nuances (subtle and not so subtle) of the English language, I understood that words like selfish and self-centred have a negative connotation, while the word selfless has a positive drift to it. It was unpardonable to be selfish or self-centred (two narcissistic traits), and quite altruistic to be selfless. Since being selfish and self-centred came more naturally to me (and most people I knew, except perhaps my mother), I was always left with a feeling of guilt. Somehow, I was not good (spiritual) enough to be selfless.

When I encountered love, for the first time, I found myself becoming selfless; and I thought that I had almost 'arrived'. I became proud of my newfound selfless streak and displayed it at every opportune moment, feeling quite happy and smug (I was coming close to being like my mother).

One day my husband, our two sons, and I had gone out for an ice-cream treat. It was some time in early 1990s, when our pockets were not as deep as they are now, and I was always thinking of curbing unnecessary expenditure. As a selfless person, who was too much in love with her family to deny them any pleasure, I always chose to sacrifice my excesses. Moreover, it did not even feel like a sacrifice ever, because I was a woman of very few needs, wants, and desires (I still am). In other words I was and still am happy with basic dal-roti, and simple clothes. Therefore, when my husband asked each one of us to choose our favourite flavour of ice-cream, I responded as usual, "I won't have any." The boys ordered another round and my response remained the same, "I don't want any."

I was happy in my family's happiness. I was happy that by not indulging in this gastronomic pleasure, I was perhaps ensuring more enjoyment for my dear ones. The truth was that I was not even too fond of ice-cream (I still do not care about it). However, that particular day, my husband looked at me and said, "Please don't do this to yourself, and to us. I want a happy wife, not a sacrificial lamb. I have seen that too much sacrifice eventually leads to bitterness and victim-mentality. And, I do not want you to develop that. You see, after some time, the boys and I will stop asking you for your choice, because we will assume that you do not want it, and that is when you will feel miserable and unimportant. You will think that we do not care about you. While in truth, we would be just assuming that you do not care for goodies. So, I suggest that you always take your share and then if you actually do not like it, share it with someone who does. That will be good for all of us. You will learn how to claim your share, and we will learn always to ask you. There will be happiness all around."

His lecture made sense to me and I could not help but think about my mother and many other older women who always complained, "I did so much for so and so but today they do not even care for me." I also remembered many instances where children would turn back and say, "But why did you do so much? Did we ask you for it? You did it because it made you happy. Who asked you to be so self-sacrificing?" This train of thought made me take a re-look at the word self-less equating it with self-sacrifice. That day this word lost some of its holy sheen for me.

Over the years as I drifted onto the so-called spiritual path, I understood that most of our problems originate in lack of self-love. I also understood that words like self-esteem, self-confidence, and self-worth, were all connected with self-love, which in turn is quite akin to being selfish and self-centred. I was beginning to look deeper into these words, and their accompanying traits, which are natural to most human beings.

Linda Goodman's books had taught me to lexigram words in order to find deeper meanings hidden within their letters.
| | | |
| --- | --- | --- |
| | | |
| | Since being selfish and self-centred came more naturally to me, I was always left with a feeling of guilt | |
| | | |
I used this art to learn the truth about the three words that were baffling me – selfish, self-centred, and selfless.
Since I knew that everything about spirituality was actually about 'abiding in the self, the atman,' I looked at being self-less as 'being without the self,' while self-ish meant 'being something like the self,' and self-centred meant 'being centred in the self,' or in other words, 'abiding in the Atman.' Aha! That was a big understanding, until someone pointed out, "You see, there is a distinction between self with a small 's', which is our ego-personality, and Self with a capital 'S' which is the atman."
Initially I fell for this play of words (and letters), but as my understanding deepened, I realised that it is my ego-personality, which eventually leads me to my home state, the atman, the Self. The entire journey is from self to Self, where the small self expands into the Self. This understanding made me take one more look at the words self-ish, self-centred, and selfless.
Now there were two set of words to look at, one set with small 's' and another with capital 'S' – self-ish, self-centred and self-less; Self-ish, Self-centred and Self-less. I decided to arrange them in ascending order of more Spirit, and arrived at the following sequence: self-centred (completely enmeshed with the ego personality), self-ish (somewhat like the ego-personality), and self-less (no trace of ego personality). The other sequence however came about differently. Here, Self-less was at the bottom, because it meant no trace of Self, the Atman (an impossible probability). It was followed by Self-ish (being somewhat like the Self) and finally Self-centred, completely enmeshed with the Self or abiding in the Self, which is our Home State.
I also realised that just as being Self-less (no trace of Self, the Atman) was an impossible probability, even self-less ( no trace of ego-personality) was an impossible probability in human form as the entire design of an embodiment is based upon an ego-personality, which is inseparable from a physical body. We cannot remain in the body without an accompanying ego-personality. That is not possible. It is only possible to be self-ish/Self-ish (both words mean the same thing because being somewhat like the ego-personality implies that one is also being somewhat like the Self) or self-centred/ Self-centred. And therein is the crux.
Finally, the choice is between being self-centred or Self-centred; which means we can either be centred in our ego-personality or in our Self, the Atman. Or become self-ish, which is being somewhat like both, the ego-personality and the Self. When we are being self-ish, we can have our cake and eat it too.
However, the real lesson is that it is best not to be stuck in words and their supposed meanings, because while the words make us understand a lot of stuff, they also colour our vision and make us judgmental. As I write, I am reminded of Tejguru Sirshree's words, "Words are like kulfi ki dandi. You hold on to the dandi (stick) as long as you are experiencing the enjoyment of eating the kulfi. However, once you have finished eating (partaken the entire experience) you throw away the dandi, because it serves no more purpose. Similarly, once you have understood and experienced a truth, just throw away the words that were carrying the truth. Don't hoard the words, just as you won't hoard the kulfi sticks."
See more articles on Personal Growth :
http://www.lifepositive.com/Articles/PersonalGrowth