Personal Growth - Wheels of revolution
by Satish Purohit
Cycling is emerging as the preferred mode of transport in India for those who wish to get back in shape, save fuel, and be a friend of the Earth.

Download PDF Format
Cycles and Women's Lib
But there's this to think about: at least bicycles don't have back seats, like cars do, and you know what goes on there! - Anonymous
In the early 19th century, conservative Brahmin families
More >>
---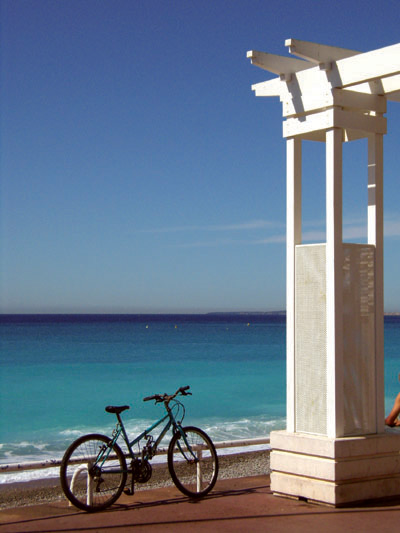 When I see an adult on a bicycle, I do not despair for the future of the human race - HG Wells

On a quiet January morning, a group of bikers made its way to the Manori wharf in suburban Mumbai. The air tasted of salt and there was dew on the sand, some of which had spilled on the road. A few minutes after they loaded their bicycles on the ferry, they reached the other side of Manori island, their hearts beating in anticipation, their machines oiled and ready, and it was still only 8 am. Speeding on a road nearly free of all vehicles and shaded on both sides by dense vegetation, the bicyclers went past fishing villages that are a living memorial to what Mumbai looked like a century-and-a-half ago. "One member in our group, Vinod, is 55. He was really fast and had already ridden 65 km from his house in Juhu before we met. We rode to the Chowk promontory in Uttan that watches over the spot where the Arabian Sea meets Bassein Creek. By the time we returned to the 'start' point, it was 2 pm," says an ecstatic bicycler in one of the many blogs for bicycling enthusiasts in Mumbai.

The group is not alone in its newfound love for cycling. Bicycling clubs are opening across the country to share notes, swap tips, trade bicycles and enjoy the simple pleasure of hitting the pedals. Everyone appears to be doing it – Congress leader Rahul Gandhi was snapped riding a bicycle last year in New Delhi. His party MP Sandeep Dikshit reportedly pedals to Parliament everyday. Filmstar Salman Khan cycles on crowded Mumbai streets despite the ever present danger of being mobbed by fans. And there are clubs in cities like Ranchi, Cochin and Trivandrum where members who are otherwise part of the regular rat race meet on weekends and do what they love best – cycling.

Through such groups, in India and abroad, a fuel-deficient and pollution-ridden humanity is rediscovering the simple pleasure of riding a bicycle. "I got my bike on April 15th. I used to ride an old beat-up Bajaj Stride scooter, which was guzzling petrol faster than I could guzzle beer. I stopped using my scooter all together. I ride everywhere. After two months I rode my scooter again because it was raining and I didn't have mud guards. So far, I have lost two kgs, saved Rs 6,000 in petrol, managed to fit into a couple of old pants I had stopped wearing and remained cheerful in the dourest of moments," explains K S Anvith, team leader with a leading BPO and avid biking enthusiast from Belgaum, Karnataka.

Ecological and holistic considerations aside, the desire to relive the magic of bottom on saddle, palms on handlebar and wind on the face, as one pedals furiously helps the cycling aficionados relive the emotionally coloured first experience of riding a bicycle as a child. No wonder, American poet, author and naturalist Diane Ackerman believes that the world and its pains do not affect the bicyclist. "When I go biking, I repeat a mantra of the day's sensations: bright sun, blue sky, warm breeze, blue jay's call, ice melting and so on. This helps me transcend the traffic, ignore the clamourings of work, leave all the mind theatre behind and focus on nature instead. I still must abide by the rules of the road, of biking, of gravity. But I am mentally far away from civilisation. The world is breaking someone else's heart," says Ackerman.

Calories to fuel

Bicycle writer Bill Strickland describes the bicycle as the most efficient machine ever created. "Converting calories into gas, a bicycle gets the equivalent of three thousand miles per gallon," Strickland points out. In other words, with some practice most bicyclists find it easy to do 30 km to 40 km daily commutes on ordinary bikes. This could easily mean a saving of anywhere from Rs 2,500 to Rs 6,000 a month depending on whether your preferred mode of transport is a motorbike or a car. "Firstly, the costs of buying and maintaining a car are substantial. Fuel prices are rising. Bikes and cars are not allowed in certain zones but no one stops bicycles." Cycling helps you return to shape and a grateful Mother Earth sends her blessings to anyone who takes to cycling. "Let me assure those who wish to cycle to work in Indian cities that one can easily do 15 km to 20 km in an hour and you don't need an athletic body for that," says a cyclist on mumbaicyclist.blogspot.com. "New cyclists should make it a point once in a while to keep a watch on vehicles coming from behind. Always carry water, change of clothes, deo and a mask and remember to lock your bike to a solid stationary object. Fit lights if you will be cycling in the dark. Those who have to dress formally to work can carry office clothes wrapped in a newspaper as dhobis do and change later," he adds.

So, how safe is it to cycle on Indian roads? What about the risk of exposing oneself to all the dust and other kinds of pollution? Is Indian weather conducive to long hours of cycling?


| | | |
| --- | --- | --- |
|   | |   |
| | "When I go biking, I repeat a mantra of the day's sensations: bright sun, blue sky, warm breeze, blue jay's call, ice melting and so on... I am mentally far away from civilisation. The world is breaking someone else's heart." - Diane Ackerman | |
|   | |   |
Ramesh Raju (name changed), a BPO worker and avid cyclist, says the Indian cyclist is up against a host of problems like the near absence of dedicated cycling tracks but thankfully they can all be solved. "Always wear a helmet and face mask, dress casually, change and wash up when you reach office, and watch out for speeding motorists and you should be fine," he says.
Critical Mass
Worldwide, cyclists organise Critical Mass protest rides to protest cycle-unfriendliness of city roads on the last Friday of the month. From humble beginnings in San Francisco in 1992, the movement has spread to over 300 cities across the globe. Unfortunately, in India the movement is yet to catch the imagination of the public, though the first Critical Mass here was held in 2008. Media reports say just six people turned up for the last Critical Mass organised in New Delhi.
The liberalisation of the Indian economy has attracted several top cycle brands in the world including Mercedes Benz. India's very first and only cycle mall called LifeCycle is now open for business in Pune where one can choose cycles ranging from Rs 2,500 to Rs two lakh depending on the depth of one's pocket.
How to start
So, where does one start? Seasoned cyclists suggest one try different bicycles in a shop as one would try a shoe. Take your time. If it does not fit you in the store, chances are, you won't ever get comfortable with it. Always take a bicycle for a test ride and only if the ride is smooth, almost effortless, should one zero in on a particular bike. Read reviews online of the bike that you have chosen and also seek opinion of other cyclists on online cycling forums. "The good thing about cycling is that you can start afresh even if you have not been very physically active for a long time. Start by taking short two km trips from your house and gradually upping the distance till you can do longer distances and get used to maneuvering through traffic," says Raju.
| | | |
| --- | --- | --- |
|   | |   |
| | Cycles and Women's Lib - But there's this to think about: at least bicycles don't have back seats, like cars do, and you know what goes on there! - Anonymous | |
|   | |   |
Facebook joke

A scene from the forthcoming Dhoom-3: John, Hrithik, Aamir on a bike speeding at 2000 km/hr and suddenly Rajnikant overtakes with a bicycle and yells: 'Yenna rascalaa, save fuel. Use cycala ...
Anup Goyal, an IT professional and avid cyclist based in Pune, says it is a good idea to socialise with other bikers before taking to cycling again. "One tends to get discouraged easily with the smallest of problems in the beginning and issues appear to be bigger than they really are. Flat tyres, heavy sweating, insensitive motorists and people staring at well-dressed cyclists are not the end of the world and one learns this fast if one meets and socialises with other cyclists in the city," Goyal says. Cycle, in short, to improve your health, save on fuel, enjoy the outdoors, strike new friendships reduce pollution and have loads of fun. Push that pedal, take that leap. Save Mother Earth.
Satish Purohit is a writer, editor, translator, journalist, public speaker, and life-skills coach based in Mumbai.
See more articles on personal growth at :
http://www.lifepositive.com/Articles/personalgrowth