Personal Growth - Is attractIon a spIrItual contract?
by Kanupriya
The people in our life, whether we like them or not, are there for a greater purpose, says the author

Download PDF Format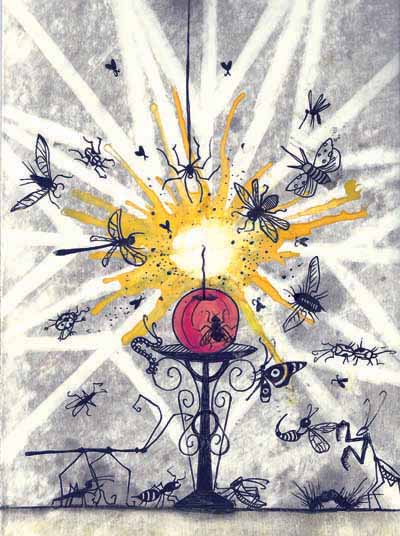 Let us face the truth. All the people that we have in our life (good, bad, or ugly), have been attracted by us to be in our experience. But why? Why would we do that? Why don't we attract all lovely, beautiful, kind, and supportive people, if we have a choice (which we apparently do)? Why can't we do away with all those folks we don't like (who drive us up the wall with their irritating ways)? The truth is that we can't do away with these people because a spiritual contract is being played out with every relationship. Yes, that is how it is.

Marriage, whether through a heart-driven act like falling in love, or a mind-impelled decision like choosing a matrimonial match, is just a spiritual contract waiting to be fulfilled. Yes, marriages are made in heaven but so too are our other relationships, including the one with ourselves. The heart and the mind act as mere baits which draw these contracts into our experience. Invariably, these alliances bring a horde of other people into our lives as well (such as in-laws), seemingly by default, but by now we are well aware that nothing ever happens by chance. There are no coincidences in life. These are the people we may not have been attracted to if they were not a part of the package, so to speak. So, one simple act of falling in love, or choosing a spouse, attracts a lot of our contracts to us.

We all have three kinds of people in our lives – people we love or like, people we hate or dislike, and people we are neutral about. The first two categories of people are the ones we play our emotional dramas with, and these are the people with whom we have our major spiritual contracts, life after life after life – until we fulfill these contracts completely. The folklore of 'saath janmon ka saath' does have some truth in it, after all.

Let us first examine our contracts with the people we like/love/admire. These contracts make us happy. We like to be with these people. They energise us. They possess certain qualities which attract us. In our spiritual contracts, these are the people who expose us to our greatest potential for growth. They mirror our unrecognised strengths. They show us the qualities that we fail to acknowledge in our selves. They make us focus on these qualities in them, so that they become a part of our conscious energy. This energy makes us attract those situations/experiences into our lives, which help us achieve our untapped potential. They are our teachers, who have chosen the soft route for our growth.


| | | |
| --- | --- | --- |
| | | |
| | Every relationship that we have with anyone, including ourselves, is made in heaven | |
| | | |
The next time you admire someone or feel a pull towards someone, take notice and listen to the message your soul is conveying through this person. Make a list of all the qualities that you like in this person. (When we make a list of the admirable qualities in people we love/like/admire, a pattern of sorts emerges, which tells us about the qualities we are not acknowledging in our self.) Now look for these qualities within you. It is not an easy task at first, because we have been conditioned to continually find faults in ourselves. But with our renewed understanding, we can take a new look at ourselves, and take pride in our hitherto hidden strengths. This acknowledgment of our qualities improves our self-worth.
Now what about the people we would rather not have in our life, the nagging wife, irritating mother-in-law, angry boss, selfish colleague? What are these people teaching us? The truth is that these people too are our teachers. In our spiritual contracts, they have been assigned the roles of mirroring those aspects which we deny in ourselves, because we find them too ugly to face openly (and hence choose to project them on others). These people show up our flaws in exaggerated ways, so that we can't miss looking at them.
We must remember that their ugly behaviour has been sanctioned by mutual contract, in order to catch our attention. If we refuse to look into the mirror shown by these people (as per pre-birth agreement), the reflections get uglier by the day. By blaming these people, and directing anger and resentment at them, we only delay our own growth. Our resistance makes us wonder why we are being subject to this conduct, little realising that we are being helped in our evolution! These teachers have chosen a more difficult approach, because the lessons that they teach are tough.
Both kinds of teachers exist in every person's life. If we learn to raise our self-esteem with the help of our first group of teachers, it becomes easy to learn the tough lessons taught by the second group. In this new consciousness, where each one of us is increasing our light, our hidden/ugly/unacknowledged aspects are coming to the fore more often. We can't brush these aspects under the carpet anymore, hence the second group of teachers is creating more such situations for us, whereby we are forced to release all that which doesn't resonate with us anymore. It is time to thank these teachers for helping us release all the muck which has been in our cellular structure/ memories for millennia.
If we can honestly look at all the people in our lives as our mirrors, and co-operate with them in learning our lessons (through gratitude and unconditional love), we shall grow exponentially – and that is what these 'special' times are all about – a quantum leap into a higher dimension!
See more articles on Personal Growth at:
http://www.lifepositive.com/Articles/PersonalGrowth