Personal Growth - Winged Wisdom
by Chitra Jha
When a hovering insect disturbed her meditation, the author discovered that there was a lesson to be learnt.

Download PDF Format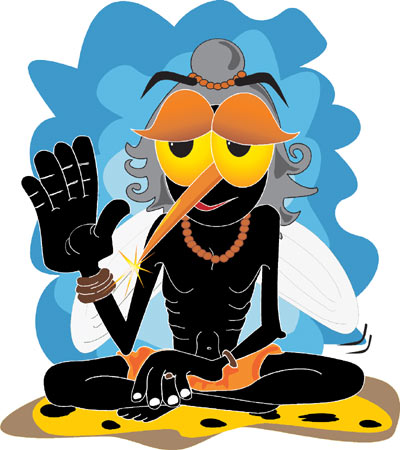 Every morning, I sit in my sun room (when you live in Srinagar, you need a sun room!) facing the east, and letting the early morning rays soak me in their radiance while I meditate. This morning, as I was flowing with the bliss of my in-breath and out-breath, breathing in all that is and breathing out what is not for my highest good, a fly decided to sit on my sun-kissed face. That was it! Suddenly, I lost the focus of the breath (and the bliss). The fly on my nose became the new focus. I paid attention to my thoughts; they were far from being benevolent. As though in collective conspiracy, a mosquito decided to taste my sweet blood and poked its needle into my ankle. I was under attack. Mind you in Srinagar, flies and mosquitoes are not ubiquitous, unlike the rest of the country. This seemed like a special mission – Mission Kashmir!

As my one hand waved in front of my face to shoo the fly away and the other moved in unison to my ankle to scratch it violently, I asked, "Why do we need flies and mosquitoes on earth? Will they follow us to the new earth as well? As more light fills the earth, is their consciousness also rising?"

Until now, I used to communicate with the higher self of all the so-called vermin – mice, rats, cockroaches, mosquitoes, flies, ants and all the other pests. I would request them to leave me alone, to live and let live. And for some reason, they did leave me alone(survival instincts).

Dr Newton, a spiritual scientist, taught me compassion for rats and mice when he visited our home in Ladakh. He said, "The rats come out in search of food, just leave some food out for them at night, and they won't be destructive." This advice worked like magic. Every night we would put choicest tidbits (I had read that rats are connoisseurs of food, with a gourmet palette) for our nightly visitors and true to Dr Newton's words, they did leave our wardrobes intact.

But what does one do with mosquitoes – you can't leave any blood out for them, can you? Nor can you appease the flies with food. You don't know what these guys really want.

As this monologue was going on in my mind (the peace had been royally disrupted), an inner voice spoke, "The flies and mosquitoes are there to bring you back to the present moment, the now." Eureka! While I was busy floating in la la-land, my angels had sent these perceived tormentors to bring me back to the now. I thought more about it and realised that whenever a fly hovers over my face or a mosquito bites any part of my anatomy, I have to come back to the now. God, this was big! These flying warriors were doing a very important job of bringing the vast humanity to the 'now' moment. Isn't that what all the spiritual gurus are trying to achieve with little success? Flies and mosquitoes have been achieving this momentous feat since ages but we haven't given them any credit for it as yet.

Before I could finish marvelling at the innovative ways of these new-found gurus, the voice spoke again, "There is another very important work they do. They bring out all the suppressed/ repressed emotions of anger/rage/irritation/ intolerance/ judgment etc to the fore, so that these harmful emotions can be released from your system." This was even bigger. How many times have I experienced the killing instincts? I am supposed to be a peace-loving person, who abhors violence (I am a vegetarian too). But why do I feel like killing the flies, mosquitoes, cockroaches, mice and any other crawly which violates my space?

I have always been told that I have a murderer's thumb (one of my thumbs is clubbed by birth). Does my thumb have anything to do with the murderer instincts? Not everyone has such a thumb, but most people I know would kill flies and mosquitoes without giving them a second thought. Our mass media proudly advertises all the implements of torture and annihilation with great glee, and the public keeps trying these new inventions with renewed vengeance. While the manufacturers and sellers laugh all the way to the bank, the flies and the mosquitoes have the last laugh. Man has been successful in making nukes for mass human destruction; but has been unsuccessful in eradicating flies and mosquitoes.

We can't get rid of flies and mosquitoes unless we are completely cleansed of our murderous instincts. Since we can't create mayhem on the streets and go amuck killing all and sundry; we satisfy these inner violent urgings on the innumerable (and fast reproducing) species. True to their life purpose, they keep coming to us (we don't have to go looking for them) to help us release our violence. Makes sense?

We grow in consciousness by releasing all that doesn't resonate with us. This morning as I was consciously breathing out all that is not for my highest good, the law of attraction got into action and brought this fly and mosquito in my experience (I repeat, the appearance of a fly and a mosquito is almost a miracle in Srinagar). These little winged angels helped me come back to the 'now' moment (and I am the one who is supposed to be teaching 'now' consciousness. Perhaps I could employ their services or people could directly approach them!) They bravely urged me to release my suppressed violent urges. How cool is that?

I feel grateful to my inner voice for bringing out this beautiful understanding. I am grateful to the fly and the mosquito. By the way, I didn't see any of them. By the time I opened my eyes, they were through with their assignments. Hereafter, I will look at these irritants with new eyes. How about you?

See more articles on Personal Growth : http://www.lifepositive.com/Articles/PersonalGrowth

Reader's Comments
Subject:
article
- 27 June 2011
very nice beautifully written
by:
karora
Chitra Jha replies: -27 June 2011
:-))
Subject:
isness
- 29 April 2011
that is an experience we all have while meditating, a nice way of looking at the distractions
by:
vasanthi
Chitra Jha replies: -27 June 2011
Thank you Vasanthi and Karora....
Subject:
hello
- 20 April 2011
It's beautiful....Thank you
by:
aarti
Chitra Jha replies: -26 April 2011
Thanks Rachna........Bless you!