Personal Growth - Work in progress
by Megha Bajaj
I am not yet complete. I have no right to judge myself – because I am still work in progress, says Megha Bajaj

Download PDF Format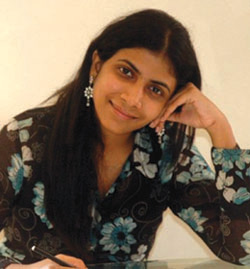 Megha is, above all, a seeker. These days she
is attempting to find herself in the role of a teacher
through the online writing course designed by her.
Contact: megh83@hotmail.com There is a beautiful song that never fails to bring tears to my eyes, and a smile on my lips… this is how it goes:

He's still working on me,
To make me what I ought to be,
Took Him just a week to make the moon and stars,
Sun and the Earth and Jupiter and Mars,
How loving and patient He must be,
He's still working on me.

Each time I listen to it, I am made to realise two things. The first, that while it took God such little time to create the entire Universe, we humans are so special to Him that He is still working on us. With us, He still seems to be in the process of 'creating'. He goes on. In sheer gratitude, I find tears trickling down my cheeks. The second realisation is to recognise that I am an 'unfinished product'. I am not yet complete. I have no right to judge myself – because I am still work in progress. This thought never fails to make me smile.

Sometimes I truly feel that the issue behind all issues is simply lack of self-love. Think about it from three key aspects of all our lives: Health, wealth and relationships. If we really loved ourselves with every cell in our body – would we ever be careless about it? I have seen people cradle their Ipads and Iphones with such love and protection – because it cost so much. And yet, the most invaluable 'thing' we actually have is our body. If we really loved ourselves as much as we should, I think we would take much more care of it.

Abundance is our very essence. It's our nature. If we are constantly struggling financially, it simply means that we have moved away from an essential law of life: believing that abundance is your right.
| | | |
| --- | --- | --- |
| | | |
| | I will reach where I want to reach in time, but this me, right here, is so wonderfully special too. | |
| | | |
My
guru
always says, "Rain will fill the size of your vessel." I couldn't agree more. Why blame the rain, when we only went with teaspoons to bring it home? Why blame the person who brought the massive tanker to collect the rain? Expand your vessel and the rain will fill the size of your vessel. It's in its
nature
to do so.
We keep looking for people to
love
us, so that we feel lovable. However, thirst can never be quenched by thirst. We need to feel full to be able to fill. In relationships too, we just end up feeling 'let down', 'hurt', 'betrayed' – not because the other person didn't
love
us enough. It's because we didn't
love
ourselves enough.
I have really begun to feel that before I sort out any other issue, I should begin with checking the roots. Do I
love
myself enough? Do I invest enough time in this crucial relationship? Do I forgive myself easily? What do I tell myself when things go wrong? Do I enjoy being with myself? Do I celebrate the small successes?
Much of
life
could become so much easier if we loved ourselves enough. Ego wouldn't raise its ugly head as much as it does, comparison would only lead to inspiration, competition would be with the self… indeed, I have begun to feel it is not just education that will ultimately create a new world – but education about ourselves that will start the revolution.
I know myself so intimately. I know the dark spots. I know my weaknesses. And yet, I have no right to judge myself. I will reach where I want to reach in time, but this me, right here, is so wonderfully special too. After all, "He's still working on me!"
See more articles on
Personal Growth
:
http://www.lifepositive.com/Articles/PersonalGrowth
Reader's Comments


Subject: I am sill unfinished product - 7 May 2012
Megha, Your article os beautifully written each sentence shows youe deep knowledge about life really enriched me if possible write a full book I will be first to buy it hope you will reply to my mail
by: Bharat Desai