Personal Growth - Yes!
by Aparna Sharma
Life constantly throws us opportunities to grow and expand if we would but say that three-letter word. The more we say it, the more swiftly and smoothly does our authentic life unfold, says Aparrna Sharma

Download PDF Format
WHEN I SAID "YES"
It took me two months to struggle with this article.
What is the most natural reaction when somebody commands "Say Yes"?
Of course, you automatically say "Yes"
But
More >>
---
I recently saw the movie, Yes Man. Carl, a withdrawn, sullen, negative, banker (played by Jim Carrey) attends a motivational seminar where he meets an inspirational guru, Terrence Bundley (Terence Stamp).

Terrence grabs Carl, shakes him up and forces him to take a good long look at his contracted life.

"You're dead, Carl," thunders Terrence. "You say "no" to life and therefore, you're not living."

He then browbeats Carl into making a covenant with himself to say "Yes" to every request and opportunity.

"I want you say 'Yes' to your lives. I want you to invite 'Yes' into your life, because it will RSVP 'Yes'. When you say 'Yes' to things, you embrace the possible. …"

Carl reluctantly promises to stop being a 'No Man'. Thereafter, it is a hilarious story of the experiences that come his way when he says "Yes" to everything. These include learning Korean, taking flying lessons, learning to play the guitar and dating a Persian woman amongst many other things.

Intriguing? The movie made me laugh and reflect at the same time. I wondered, Am I a "Yes" person, or a "No" person? Or, more accurately, am I a "Yes, and…" person or a "Yes, but…" person? Could I be missing out on exciting possibilities by saying "No" to opportunities that present themselves to me? Would saying "Yes" to everything in life accelerate my inner growth?

Doors opening

The poet Mary Oliver says:

Who can open the door who does not reach for the latch?

Who can travel the miles who does not put one foot in front of the other, all attentive to what presents itself continually?

Let me repeat, "...what presents itself continually"

It is, in fact, so. Life is presenting us with things continually, non-stop, in an unbroken stream, if we only look. Think how many fliers in the Sunday newspaper you drop in the trash can without even looking at them. How many invitations do you
| | | |
| --- | --- | --- |
|   | |   |
| | Saying "No" requires no effort. It comes to us spontaneously, almost like a natural defense mechanism. On the other hand saying "Yes" requires courage and a deep level of commitment. | |
|   | |   |
decline? How many times do you say "No" during the day? There is a hilarious moment in the movie when Carl's girlfriend yells "Go jump off the bridge" and the next shot we see is of Jim Carrey on a bridge, obediently clad in bungee jumping gear!
Think, what if someone told you to take dance lessons or baby-sit their child, or take care of them during an operation? How "Yes" a person would you be?
"I was not very interested in animals," disclosed Nina Mittal, "and someone gave me a cat. I somehow felt that it was God himself who was giving it to me so I accepted it. Bringing up a cat over the next 15 years has been one of the most fulfilling experiences of my life. It opened me up to the animal world and has really made me an animal lover. I am so glad I agreed."
Archana was a reluctant merchandiser who didn't want to work with fabrics. Six months into her first job, in a handicraft company, she was shifted to the fabrics division. Based on this job profile, she got her next job which was entirely fabrics and handlooms but, much to her distaste, in a retail chain. A year later, because of this experience in retail, she found her next opportunity in the state office of one of the country's biggest retail chain companies. A case of 'Yes-by-default' I'd say, but it worked for her anyway.
Have you ever asked a friend to do something and they quickly responded by saying they will try to make it? Well, that is a polite way to say no. In most cases, they won't show up at all. Even Facebook gives you an option to say 'Maybe' on an invitation to an event. Every time we say "Yes" to a request – we mentally choose the level of commitment that is connected or related to that yes.
The fear factor
But how easy is it to say "Yes"? I have probably been an ambitious but terribly fearful person all my life. All my bravado and fiery, short-tempered persona was largely a cover-up for the timid, fearful girl inside. Needless to say, I always found security in routine, in a stable social setup, in a dry but 'secure' job. I am so afraid of change that I'd rather stay in a stressful environment than go out and explore another option.
The Gosho says: "Insects that live on smartweed forget how bitter it tastes; those who stay long in privies forget how foul the smell is." (Writings of Nichiren Daishonin)
This fear of taking the step forward manifested in a chronic ache in my legs and joints. I realised that my pain stems from my unconscious 'No' to life, instead of taking a chance and going with the flow.
John Lennon explained it by saying: "There are two basic motivating forces: fear and love. When we are afraid, we pull back from life. When we are in love, we open to all that life has to offer with passion, excitement, and acceptance."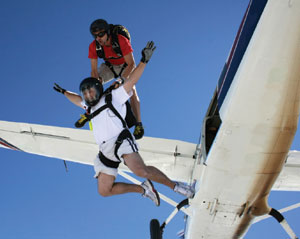 Mike Michalowicz (pronounced mi-CAL-o-wits) author of the cult classic book, The Toilet Paper Entrepreneur, started his first business at the age of 24, moving his young family to the only safe place he could afford – a retirement village. With no experience, no contacts and no savings he systematically bootstrapped a multi-million dollar business. Then he did it again. And again. His experience building three multi-million dollar companies fostered a philosophy rarely taught to entrepreneurs: the lack of money, experience and resources is, in fact, your greatest asset. All he needed to do was to grab a "Yes" when he saw one.
Here is Mike's little formula for living without regret (or at least with a whole lot less regrets):
"If your heart says "Yes!" and your head says "No!", go for it! This is the clearest sign you will get from your soul telling you what to do. Your head is just going into the protection mode of keeping you in the "tried and true" past. Lead with your heart!"
Taking the leap
Do you know what happens when we get out of our comfort zones of 'No'?
When we learn to say a deep, passionate yes to the things that really matter, then peace begins to settle onto our lives like golden sunlight sifting to a forest floor."
(Thomas Kinkade)
Every day gives us a chance to break out of our shells. The easiest way of doing this is simply by saying "Yes" to more things that come our way. Whenever you get invited somewhere, even if you feel uncomfortable about going, just say "Yes" and see where it takes you. As I explored more on this, I came across a number of people who actually tried the Yes Man experiment in their lives. Try it out, yourself, for a week, two weeks, a month….
One blogger wrote: So, in a single week of saying "Yes!" I managed to:
• find friends to potentially do a Eurotrip with
• get in touch with a skilled photographer
• develop the habit of jogging every morning
• have tons of fun
J.D. Roth is an accidental personal-finance expert, a regular guy who found himself deep in debt.
"For much of my adult life I've been shackled by fear. I've been afraid to try new things, afraid to meet new people, afraid of doing anything that might lead to failure. This fear confined me to a narrow comfort zone. For too long, fear of failure held me back. Failure itself didn't hold me back — the fear of it did." he says
After deciding to turn his life around, he started on a journey of saying "Yes". He devoured all literature he came across about money and finance. In 2006, he started the award-winning website, Get Rich Slowly, which Money Magazine named the Web's most inspiring personal-finance blog. Over the years, it has grown into an active community where 500,000 readers each month share ideas on how to improve their financial lives.
"I made a single small change that has helped me to overcome my fear, and allowed me to get more out of life. Since I've learned the power of "Yes", I've begun to act as if I'm not afraid. Whenever I feel fear creep upon me, I act as if I'm somebody else. I act as if I'm somebody stronger and braver."
On the other hand David was a person who refused to let go of "No". This Math wiz grew up witnessing brutal fights between his parents. His own divorce within a year of marriage didn't help his views either. The result – a chronic sceptic, forever shielding himself under his armour of doubt, saying no to any kind of committed relationship. It has been years since he has had any kind of intimate connection with anyone. So much so that he is even afraid of hiring a full- time servant. A case where fear out-shadowed love.
Attitude shift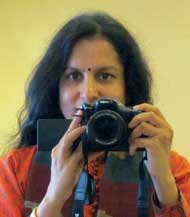 Aparrna Sharma is a writer, amateur
photographer, and above all, a seeker.
An educational consultant by profession,
she is based in Chandigarh, India.
mail:aparnasharmachd@yahoo.com
There is a deep attitudinal shift that is required here. Saying "No" requires no effort. It comes to us spontaneously, almost like a natural defense mechanism. On the other hand saying "Yes" requires courage and a deep level of commitment. It is not just by chance that wedding vows in every tradition include some or the other form of the promise to hold and cherish the other "till death us do part". This is the level of commitment it requires to make that shift. Like having a baby, or getting a tattoo on your face. You really need to be certain it's what you want before you commit. This, according to me, is integrity.
The first day into my week of saying "Yes", a phone call informed me that my article had been published in a magazine. Suddenly, life had thrown me a choice. Should I focus on the work that overwhelmed me or go see my name in print? I did a quick mental calculation. The temptation to walk away from work for 20 minutes was great. I was caught in a dilemma. What did I say "Yes" to? My impulse or the work?
The answer is again founded on integrity. Saying "Yes", did not mean escaping responsibility. Rather, it means gaining larger control over our lives and our actions.
I have learned, to say '"Yes", to five things:
• Learning something new. (Yes, my Persian language classes start this week)
• Stepping out of my comfort zone
• Making choices, taking responsibility.
• Helping others unconditionally
• Helping myself (by snatching my 'my time' from an unrelenting schedule)
Yes, yes, yes
Twenty years from now you will be more disappointed by the things that you didn't do than by the ones you did do. So throw off the bowlines. Sail away from the safe harbour. Catch the trade winds in your sails. Explore. Dream. Discover. (- Mark Twain)
Every time an option comes up, choose to say "Yes", reaching for that latch, putting one foot in front of the other. We are meant to travel along a spiritual pathway. We are not meant to remain stunted in one place for very long. Yes, it can be scary at first. But, then it is a path of learning, so why not follow it? So I look out of my window on a rainy monsoon night, shouting "Yes". The morning after, I awake, and every leaf on every branch shivers, delirious with joy, spreading raindrops upon everything, saying "Yes". I look upon the sky and every pink, mauve, peach cloud floats away waving "Yes." And the eternal master, Hafiz sings:
I rarely let the word "No" escape
From my mouth
Because it is so plain to my soul
That God has shouted, "Yes! Yes! Yes!"
To every luminous movement in Existence.
See more articles on Personal Growth :
http://www.lifepositive.com/Articles/PersonalGrowth