Personal Growth - Art and soul
by Anupama Bhattacharya
Elizabeth Sass-Brunner and Elizabeth Brunner were a rare mother-daughter duo of artists for whom every brush stroke was a step towards divinity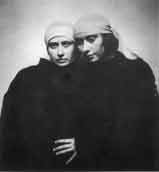 Light. Phantasmagoric, surreal. Of creation and destruction. Of Ahura Mazda and Ahriman, of the Buddha and Shiva. Springing out from nooks and crannies on the canvas—exploding, flowing, caressing.

The brush strokes take you by surprise, the colors play hide and seek. In vain you try to grasp the unearthly imagination of the two painters whose sole aim seems to be to express the unreal through the real. Can such ecstasy and passion be of human origin, you wonder. And thus begins a journey, of discovery, of understanding Elizabeth Sass-Brunner and Elizabeth Brunner, the legendary mother-daughter team.

The story began in 1909 in the sleepy town of Nagykaniza in Hungary. When Ferenc Sass, a student of the renowned painter Simon Hollosy, opened a free school of painting, a quiet and intense young woman arrived with paper, paints and brush and asked to start the lessons right away. Soon Sass and his pupil Elizabeth decided to marry. In 1910, Elizabeth Brunner was born.

Sass-Brunner, however, does not come across as a typical mother. Elizabeth, her daughter, now an 88-year-old soft-spoken lady based in New Delhi, India, recalls: "I have always felt her presence, through closed doors, through distances. I remember a stormy night in Shantiniketan (an experimental school founded by noted Indian poet and Nobel Prize winner Rabindranath Tagore in West Bengal, India). I was alone in the house, listening to the wind howling outside, sending sporadic gusts of rain and dust through the windows. Mother had shut herself in her room for the last 10 days and would allow nobody, not even Gurudev (Rabindranath Tagore) to enter the room. Since I was feeling scared, I peeped in. What I saw was at once eerie and awesome. Mother was standing before a canvas, painting Shiva, the destructor, while from an open window lightening flashes illumined the room. There was a palpable presence of something unknown, untouched."

For Sass-Brunner, painting was much more than an aesthetic art. "I am in quest of truth for the interpretation of inspiration, for giving reality to meditation, and for bringing to life cosmic ideas," she said while touring Japan. No wonder then that her series on Buddha's enlightenment has a very strict symbolic structure, blending traditional images like the halo and the mandala with personal images such as a globe, a skull and the play of light and darkness.

The turning point for Sass-Brunner was World War I. Though it left Ferenc Sass devoid of any creative spirit and Sass-Brunner disillusioned and suicidal, she decided to fight back. "Either I shall succeed in creating a new life or I shall destroy myself," she wrote in a letter. Later, recalling her state of mind during this time, she wrote: "I challenged my destiny, I put every nerve of my body on trial... looking for something different, something new... until... after 28 days of complete fasting, I found myself—that is I surrendered, and found God."

This same indefatigable spirit also reflects through her paintings, be it in a naked woman reclining on the orb of the earth (Power of Cohesion) or a Christ figure showering his blessings on an ecstatic gathering (Sun of Love, also titled The Lure of India). What is also unique about Sass-Brunner's paintings is the intense mother-daughter relationship reflected there. Two women, amidst a field of blossoming flowers, run in wild abandon in Pure Life Joy, a painting vibrant with van Gogh-like brush strokes. The same figures quietly contemplate the majestic snow-surmounted Kanchenjunga peaks in Two Pilgrims.

For Elizabeth, however, the mystical influence of her mother reflected in a different way. Here, instead of the metaphysical landscapes of Sass Brunner, she experimented with portraits. "I see images, images of a different world, a different reality," says Elizabeth with a faraway look in her eyes, her frail hands tenderly stroking a painting. "I always had these visions... I saw wonderful people. You can sometimes see them in the real world too." Thus, she painted the Buddha—sometimes as a statue of bronze, eyes radiant with enlightenment, sometimes as a blue god who, instead of sitting under the Bodhi Tree, encompasses it in his womb-like embrace.

Shantiniketan, Tagore's sylvan university where the mother-daughter spent a great deal of time, also had a strong influence on their paintings. Though their use of light might bring to mind the subtle luminosity of Monet or Rembrandt, the content is often very Indian.

Before Sass-Brunner embarked for India, she had a dream where an Indian sage told her that she had already got everything that Hungary had to offer. If she wanted further knowledge, she should seek it in India. Later, Sass-Brunner recognized the vision as that of Tagore. Her psychic perception also comes through in her painting based on a dream of Tagore's cremation which she had a day before his death.

Elizabeth, who accompanied her mother to India and in all her subsequent tours to various parts of the world, remained by her side during her last years in Nainital. Never having married, Elizabeth spends most of her time with her vast collection of paintings. Barely able to speak, the passion of an artist is still conveyed through her broken whispers as she recalls the time spent with her mother, her paintings and her visions of a better world.

The power is undeniable. So is the pathos. It could be the story of two women's search for a meaning, or a spiritual quest for a deeper communion with God. You may ask what motivated them to leave all and walk out of home, penniless, without a direction, seeking they knew not what. But ultimately, you are left with the feeling that they did understand, that the vivacious joy, beauty and serenity of their paintings were real. Perhaps that is why when Elizabeth gently waves a goodbye and whispers: "We'll meet again", you wonder if there are more to colors than meet the eye.

To view the Brunners' works, click here.