Personal Growth - Inner Spaces
by Surinder Sharma
The author experiences a great void during a short walk in the open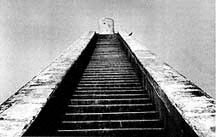 You walk down a country road, Feel the touch of a gentle breeze on your face and sniff the earthy fragrance in the air, You hear the invisible birds chatter merrily: You see the branches and leaves of the trees sway. And you relax.

Next, you pass by a pond which looks as if it has been there forever. You pause to throw a pebble into it. Tiny ripples begin to spread one after another, till the pond regains its old quietude. Gradually, you sense that everything is winding down. The wind has stopped. The leaves and the trees are frozen in a moment of eternity. The beaks of the , birds are parted, as if perpetually, but no sound emerges from them.

Stillness pervades everything everywhere. You may slip into this experience in a temple, in the ruins of an old fort, boating down a river, looking at the clear evening sky, or while meditating.

Your mind empties itself of all contents. You are in the here and now, aware of the Suchness of Things. You are in the Great Void. You are full of the Great Void. You are the Great Void.

To view more photographs by Surinder Sharma, click here.