Personality Types - What does your soul say?
Enneagram, a personality test, analyses all the various types of people and guides us to focus on our strengths and work on our achilles heel

Download PDF Format
In Parenting
"Amma, I made this for you," said my daughter and was disappointed when I was a little preoccupied. "Oh, she is always eager for praise," said her brother trying to tease her even more. Now, with my
More >>
---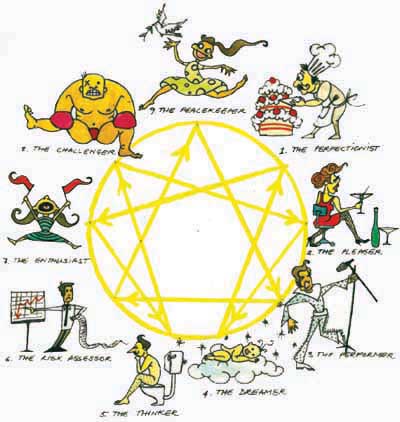 My mother-in-law, with nine children, knows the approach that will work with each. "Sheela will never agree to this. Radha might. Girija might also join in," she would say, when a family function was being planned. She knew that though Sheela hated noisy events and fanfare, she was the most capable among the siblings of taking on responsibility. Subhash Karkare (name changed), my boss at my previous organisation, would spend at least a week assessing the interests and core motivation of the others. It was only afterwards, that he would assign tasks, and make teams that worked stupendously well.

Though they never had any knowledge of the Enneagram, life was their teacher. This is equally true of any good parent, managers, leaders, counsellors, and planners. They intuitively know what works with whom, as everyone marches to a different drummer.

Applying this approach formally, the Enneagram identifies people as nine types of personalities, so that one has a new insight into the textures of the soul.

Why the understanding?

"When we understand ourselves and make our core strength stronger, we can move ahead and work on the weaknesses," said Vijay Bhat beginning his workshop on Enneagram. "We can surely be more effective if we understand others and their core motivation," he stated and began explaining all the personality types asking the participants to note down their understanding. Though all of us had taken an online psychometric test, he asked us to focus on the core concepts, and discard the scores if they did not resonate well.

With examples from history, and characters from cinema and books, the understanding of each type fulfilling a specific role became clearer. For instance, I was initially taken aback when I saw the examples of Mahatma Gandhi and Aurangzeb in the same frame. Delving into their inner being, we understood how at the personal level, Aurangazeb used to write copies of the Koran and lead a spartan life. For Gandhi, truth and non-violence were paramount. No matter what the issue, he could never compromise on this. He even called off the Quit India movement at the peak of its success, as non-violence was compromised at Champaran. With this understanding, the type one personality became vivid and clear. Similarly, for all the types, the participants began seeing a pattern throughout history and in one's own relationships.

A friend of mine shared an example: "'We have to switch off the fan and AC. Don't you remember that it is Earth Day,' my husband said, and began doing just that. He knew I was extremely tired and simply did not want to switch off the fans or AC on the hot, stuffy day. In his usual style, he just went ahead. Earlier, this may have resulted in a lot of heartache and anger, but understanding him as a type one made it much easier for me, a type two, to see it in the right perspective. I joined him and the hour passed away quickly and easily."

Applying the teachings helped me understand a type two friend of mine. "I have to be there for Rahul," my friend would say even when her son was 18, and could take good care of himself. The epitome of a caring mother, she would iron his clothes, keep his bag ready, and even serve him food. Even with her friends, she always responded with a helping hand, but often felt bitter that they did not reciprocate fully. The turning point came when her son started to respond to her calls with, "I will call later, mom. I have to go out with my friends." Completely distraught, she cried on many shoulders saying, "I have never slept at night, when he had exams." Fortunately, her sister counselled her to start leading her own life, and revive her own interests.

"Why can't he relax?" I would often think when I saw my brother struggling constantly to achieve all the benchmarks in his company. Naturally, as a type three, this was in his DNA. He just could not let any opportunity pass.

An ex-colleague of mine used to be rattled at deadlines and pressures. A typical type four who was a brilliantly creative programmer and designer, he would insist on working at his own pace. "John, we will have to finish this first," the management would say but John would decide the priorities himself. Fortunately, his brilliant results were seen and appreciated by all and so, the company made sure that they let him set the priorities.

While at a fair, I was quite intrigued to see my cousin studying the movement of the wheels in the giant wheel, rather than just relax and enjoy the ride. Understanding him as a type five, I understood why he was so intent on analysis.

"I had to always prove that the company values were paramount, even if I did not fully resonate with them," says Anusha (name changed) who identified herself as a type six in the workshop and vowed to be more vocal.

"Doesn't she ever get tired?" people would comment of my friend, Farah. With a day full of social commitments and a full-time job, she still would never cease seeking adventure and new experiences. Naturally, she was a type seven, wasn't she?

"I had to bring about a change in the way the organisation works," says Rama, a banker who never tires of filing petitions and approaching authorities to correct a wrong. So much so that "contact Rama if you have a problem" has now become the slogan in her bank.

"Why can't Amma voice her opinion, and take a stance, so that things move faster?" I would wonder often about my mother- in-law. The understanding of her as a type nine, made it much easier for me to understand and appreciate her. Essentially, with all types, one can identify and see the weaknesses and strengths in each and move towards better understanding.

Moving ahead

There is usually one primary type, with secondary traits from other types. To understand others and ourselves, we must read the descriptions carefully and do some observation. Similarly, even in our relationships, recognising the types of others can really help us deal with their needs. For instance, as parents or teachers, one can play a great role if we allow the child to be his own self. (See box on parenting.) Let us not forget that the point of the Enneagram is to help us to become better observers of others and our own self so that we can be free of old, self-destructive patterns.

Nancy DeSouza, a seeker from Mumbai, who realised that her type was two, understood why she was so different from others. She worked on her strengths, and ensured she steered clear of expecting other people to appreciate her efforts.

Neelam Mehta, a writer and seeker, who is a type nine, rates Enneagram as her first spiritual breakthrough. "Understanding the patterns in the universe, and recognising that others had differing motives, made my relationships stronger, and thus, my entire life more peaceful," she says.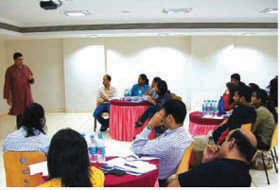 An enneagram workshop conducted by Vijay and Nilima Bhatt Truly, the Enneagram is an enabler and not just a categorisation. As Kate Taylor, an acclaimed Enneagram teacher and spiritual seeker, said, "On one end, the Enneagram shows us nine personality types, and on the other, it can be seen as nine facets of the Divine. It is not like you are just one or the other, we are humans with personalities and our truest deepest nature is divine, spiritual. If you understand the psychology of what is driving you, the motivation of what is creating your personality, that understanding can also open your awareness and deepen your contact with the Divine."

One can take any number of tests but it is only by deep understanding of your core motivation that progress takes place. So, let us begin with analysing ourselves better and thus fulfil our mission in life.

Type One: The Reformer

Essentially, type ones are the rational, orderly type. Principled, purposeful, self-controlled, and perfectionist, they are concerned with maintaining quality and high standards. They focus on details, and like to improve and streamline procedures. They are often good at coaching others on how to improve themselves, be more efficient, and do things correctly. Well-organised and orderly, they can also be overly critical of themselves and others. They dislike waste and sloppiness, but can deteriorate into micromanagement, and constant, demoralising criticism.

At their best, they have good judgment, make wise decisions, and model ethical and responsible behaviour. But criticism (including self-criticism) is their bane.

In relationships, they look for shared purpose and values, equality, fairness, and integrity. Their relationships can falter at their insistence on being right, at the expense of their connection with the other. They could also play on the sense of guilt and inadequacy in the other.

Personal growth mantra

Being aware of feeling a sense of personal obligation to fix everything themselves, they could instead rise to a profound acceptance of and genuine tolerance for reality.

Type Two: The Mentor

Type two is the helpful, interpersonal type. Twos are sensitive to the needs of others and seek to be of service. They appreciate the talents of others, act as confidants and guides, and are good at networking people and services. However, they typically have trouble saying no to requests, and tend to become stressed by trying to help others too much. They dislike impersonal rules and work situations, and can descend to favouritism, and time-wasting personal involvements.

At their best, they are empathic and generous, and help build the team's interpersonal connections. However, possessiveness and self-pity is their bane. In relationships, they look for emotional connection, intimacy, warmth, affection but their insistence on exclusivity can be an issue.

Personal growth mantra

Becoming aware that they must reach out to others to win them over and rise to an unconditional love of self and others, irrespective of others' reactions.

Type Three: The Achiever

Three is the adaptable, ambitious type. Focused, excelling, driven, and image-conscious, they know how to work efficiently to get the job done, according to customer expectations. Often attractive, charming, and energetic, they are conscious of the image they project of themselves, as well as of their team, and company. They like getting recognition, and are attracted to success and positions of prestige. They can be competitive and workaholic, driven by the need for status and personal advancement, and into cutting corners to stay ahead. At their best, they are accomplished and admirable, often seen as inspiring role models by others. They, however, have to watch out and be careful about unethical practices.

In relationships, they look for social suitability, competence, admirability, attractiveness and could even be particular about a career and social status before the relationship. Still, their tendency to adopt whatever image that will work, could become irritating.

Personal growth mantra

Becoming aware of always driving themselves to be the best and to get validation, they could rise to genuine embodiment of real values and an authentic expression of who they really are.

Type Four: The Designer

Four is the introspective, artistic type. Expressive, dramatic, self-absorbed, and temperamental, fours deliver personalised service, and/or develop distinctive products, known for their refinement and sense of style. They can be uncompromising in their pursuit of the right effect, word, or design and of gauging the personal impact of a product. They dislike tasks that they feel are not creative or give them no room for their personal imprint. They may be hypersensitive to criticism, and can slink into moodiness and erratic work habits. At their best, they bring intuition and creativity wherever they go, and enrich it with their sense of depth, style, and appreciation of the personal dimension. In relationships, they are strong in communication, listening, acceptance, and emotional honesty. However, their weakness is insisting on having all of their emotional needs met immediately. Quite temperamental, they can be quite difficult to deal with.

Personal growth mantra

They have to resist the tendency of holding on to and intensifying feelings through imagination, and rise to a self-regenerating connection with reality and endless creativity.

Type Five: The Investigator

Five is the perceptive, provocative type. Curious, innovative, secretive, and eccentric, they are tireless learners and experimenters, especially in specialised or technical matters. They like to understand in detail, spend time on research, and follow their curiosity wherever it leads. They are highly analytical and preoccupied with discovery, not paying attention to project time constraints and relationships. They can become arrogant and non-communicative, and get involved in intellectual bickering and one-upmanship. At their best, fives are visionary pioneers, bringing strikingly new ideas and profound depth to their work.

In relationships, they are intense and non-intrusive. However, their issue is a great emphasis on personal space and non-interference.

Personal growth mantra

Desisting withdrawing from reality into concepts and mental worlds, they could rise to a profound and objective understanding of how reality really is.

Type Six: The Troubleshooter

Six are the engaging, loyal type. Likeable, responsible, anxious, and suspicious, sixes are diligent and reliable workers. They build alliances and partnerships, which help orient their co-workers, and get things done. They are able to assess the motivations and relative merits of others and scan the business environment for potential problems. They dislike taking risks and want consensus and predictability. They can be indecisive and have difficulty in taking responsibility or action, without group authority, and can become evasive, and start blaming others. At their best, sixes are self-reliant, independent, and courageous, often calling a group back to its root values. In relationships, they have a strong commitment and are extremely reliable but they do often vacillate between maintaining a distance and remaining close. Further, they are often testing others' commitment to them.

Personal growth mantra

Instead of becoming dependent on something outside the self for guidance, they could rise to become grounded in their own inner guidance and feeling of endless support.

Type Seven: The Enthusiast

They are the accomplished, upbeat type. Spontaneous, versatile, impulsive, and scattered, sevens thrive on change, variety, excitement, and innovation. Often articulate and humorous, they are able to get others to support their ideas. They are in touch with the latest trends, and are constantly looking for new possibilities and options. They are natural multi-taskers, but can also get overextended and fail to follow through. They can deteriorate into endless talk and distractions, scattering their energy and talents and leaving many projects unfinished. At their best, sevens focus on worthwhile goals and become highly productive and accomplished.

In relationships, they like stimulation, adventure, excitement, and variety, but are sometimes hyperactive and often postpone making commitments.

Personal growth mantra

Becoming aware of a feeling that something better is always available, they could rise to a true test in the moment and a joyous celebration of life.

Type Eight: The Challenger

They are powerful, and decisive. Self-confident, commanding, wilful, and confrontational, eights have a clear vision of what they want to accomplish, with the willpower to make it happen. They make difficult decisions and see serious problems simply as challenges to be met, obstacles to be overcome. They want to be in control, and find it difficult to delegate tasks or share leadership. They champion people, protecting and empowering them, but also can become intimidating in order to get their way, making unnecessary enemies both within and outside the organisation. At their best, they are magnanimous and generous, using their strength to improve others' lives. In relationships, they are dependable and strong but could turn quite dominating at times.

Personal growth mantra

Becoming aware of their feeling that they must push and struggle to make things happen, they could rise to a true self-surrender to something greater and more lasting.

Type Nine: The Peacemaker

They are the easygoing, accommodating type. Receptive, reassuring, agreeable, and complacent, nines create harmony among group members by emphasising the positive, so that conflicts and tensions can be eased. They are supportive and inclusive, and work with everyone, humbly allowing others to shine. They dislike conflict and division in the team, and try to create harmony and stability. But, they may accommodate others and avoid self-assertion too much, becoming secretly angry as a result. They can get into ineffectual 'make-work,' stubborn passivity, and serious neglect. At their best, they are able to negotiate differences, and bring people together in a stable but dynamic way. In relationships, they like comfort, peace, harmony, and stability, but could remain neutral and not take a stance quite often.

Personal growth mantra

Becoming aware of the tendency to accommodate themselves outwardly to others, they could rise to a genuine understanding of themselves and their own strength, value, and dignity.

See more articles on Personality type : http://www.lifepositive.com/Articles/Personalitytypes