Handwriting is our character frozen on paper. The art and science of Graphology.

The spirit of writing
What kind of handwriting do the great sages of India possess?
Swami Vivekananda

His writing shows his committed and determined nature. His lower zone strokes reveal his confidence, and his 'c's depict his courage and valour. His extreme right hand slant indicates his emotional depth.
His under looped 'g' represents his constant strife to do more for the country and his self-dissatisfaction. His arcades and loops show that he is a strategist in the real sense, and knows how to deal with the situation tactfully. His 'd' shows that he was continuously perturbed by negativities in society.
In conclusion, he comes across as a complex personality, difficult to understand. His handwriting reveals his desire to know
God
from a scientific perspective.
The Dalai Lama

The size and slant of his signature shows that he is ambitious, well travelled and has met a lot of people. He thoroughly enjoys his task as a spiritual leader and is engrossed in it.
Gaps in his signature reveal that he is a mysterious personality, with a strong ESP (extra sensory perception).
The lack of legibility tells us that he is a private person and not many people know his real self.
In conclusion, a light-hearted, peaceful figure dynamically executing his mission. This trait is proven from his straight high pressure strokes.
Mata Amritanandmayi
The doodles throughout her signature shows a personality with a great sense of humour,conveying the message of
peace
in simple words to others.
The doodle of bird within the signature indicates a strong desire of freedom, which could be a strife for liberation of soul.
Her expansive signature shows that her organisation has spread over a large area, and has received international acclaim. She is committed to its further expansion.
The curves and wide gap in her writing show her clairvoyance and pyschic powers.
Rabindranath Tagore

His 'r' shows a
love
for nation and a profound pride in nationality. His 'I' indicate his creative talents. His open looped 'a's reflect a gregarious personality with great power of expression. He was an honest person, who lived for a cause. The size of his writing declares his desire to reach out to masses, through his pen. The loops in writing shows his amicable nature and ability to make friends very soon.
Mohandas Karamchand Gandhi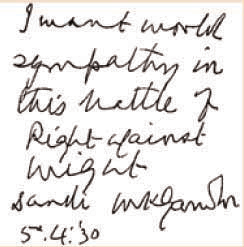 There has been a great change in style and size of his writing over the years. From being a very aggressive youth, he transcended himself into a self-giving, benevolent 'Father of the Nation'.
The curves in his writing indicate that he was a loner and an intellectual. His signature and handwriting are written in the same pattern, representing that he is the same in his public and private persona.