Poetry and Fiction - Bichitra's prophecy
by Nandini Sarkar
Sometimes we value the love and devotion lavished upon us too late, muses Nandini Sarkar through a gripping short story

Download PDF Format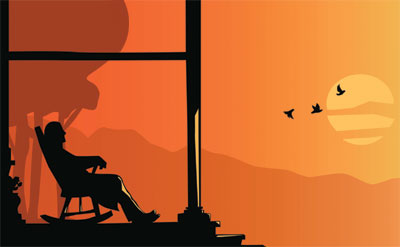 Ronen De Mallik sat tensely, gripping the sides of his easy chair. His eyes looked expectantly at the front door, waiting for the rare visitor to drop in. Dusk became night, the chorus of birds became the chattering of crickets, but no one appeared. He pounded his walking stick on the floor in frustration. "Mou! Mou!" he shouted, for the domestic help. After a few agonised cries, one of the grandchildren appeared at the top of the stairs.

Where have they all gone?

"Dadu, stop yelling, the neighbours will think you are mad," she said impatiently. "Mou can't come now, she is helping mother with dinner." "Come here, dear," he said appealingly, to the grandchild. "Dadu has been sitting alone all evening." "Not now, Dadu," she replied turning away, "I am working on a project."

Once again, the silence became deafening. Ronen started ranting at the walls, hitting the furniture with his stick. All his life he had been surrounded by large groups of people. Doting parents, uncles, aunts, concerned wife, dependent siblings, fawning party workers, respectful colleagues; so many people had circled his life, and invaded his space. In fact, Bichitra, his wife, had once commented mildly, that she was embarrassed to find people entering their bedroom at all hours of the day. Couldn't they at least wait in the living room? However, Ronen was acutely conscious of his public image as a popular leader, and as the responsible head of a large joint family. He frequently boasted that his doors were open for everyone, at all times. He had acerbically replied, "My family and co- workers come first! If you don't like it here, go back to your father's!"

She had wept at his odious remark. Sitting on the bed, legs folded behind her, dark hair streaming over her face, her long fingers had once again wiped away the pain of his neglect, and indifference. Bichitra had loved him intensely and looked after him in a way even his mother had not. How had he reciprocated?

He had left her alone in a maze of hostile joint family and rank outsiders. Once, when some senior Party leaders were visiting, and she was serving them tea, he had said with a smile, "We are really cosmopolitan – we have a South Indian in the family!" He was referring to Bichitra's ebony skin. Ronen was proud of his liberalism in marrying a dark skinned girl, against his family's objections, though he himself was very fair. Bichitra's doe eyes had fluttered at his crassness, unexpected from a leader of his stature. But she had turned away quietly, swallowing the insult. Why had he never mentioned in public, that she was a scholar, who had qualified for the IAS in her very first attempt, but he had prevented her from joining the services? Why had he never mentioned that on every birthday and Durga Puja, she had lovingly bought him gifts, but in his entire life, he had never gifted her even a single sari? Why had he never mentioned that once she had bought a sari for herself in Benares, but on their return home, he had given it away to his youngest sister, without asking her? Where was this sister today, when Bichitra was gone and he was ill and alone? The sister lived a few houses away but she never visited, never called, never enquired about him. In a fit of anger, his daughter had once called it divine retribution for his callousness towards their mother. Ronen remembered the day when Bichitra had been brought back from hospital, after a near fatal heart attack. He had entered her room to fetch an article. She had motioned him to sit by her side but he had replied brusquely that he was busy. What had kept him so busy that he had no time to sit beside an ailing wife? He had entered the living room and switched on the TV, completely oblivious to her soul cry. Chatterjee Boudi, the stimulating widow of a friend had dropped in, and they had whiled away an hour, chatting, discussing politics, Boudi's animated laughter reverberating in the room. Their incongruous laughter must have wafted into Bichitra's room; she had never liked Mrs Chatterjee. Did a spasm of pain cross her face and accentuate her death?

Silent scream

Today, the TV was still there, a Hydra-headed monster that laughed and made funny faces at his lonely figure. Bichitra was gone. Everyone else was gone too, because he was an old acutely sick man, of no use to anybody. He sat alone the whole day, in front of a TV that he could no longer bear to watch.

Sutanu, his older son, came ambling down the stairs, not even bothering to look at his father. He had loved the boy for his tall, handsome appearance, his curly hair, and fair complexion. How he had supported this wayward son, standing by him through murky love affairs, addictions and business failures. Ronen had been somewhat distant from the two other children, who had inherited their mother's dark complexion. His world had revolved around Sutanu. Sutanu had inherited both his father's fair skin and his callousness. Even though they lived in the same house, he rarely visited his father or took care of him. But the younger brother would fly down from Gurgaon every alternate weekend, to meet his father. He would give the father a leisurely shave, massage him with his favourite oil, clip his nails, take him out of the house for a spin in the car and buy his fortnightly supply of medicines. Sutanu would surface around his father only when he had to be hospitalised and there were ministers or other important people around. His wife and children were also of the same mould, never a kind word or gesture. Another instance of divine retribution?

It was well past midnight. Ronen had been shifted to his bed. He lay listlessly. Sleep did not come easily after the day's inertia. Suddenly, he screamed, "Bichitra! Bichitra!" He saw her figure in a faded cotton sari, standing at the foot of his bed.
| | | |
| --- | --- | --- |
|   | |   |
| | His daughter had once called it divine retribution for his callousness towards their mother | |
|   | |   |
His heart pounding, he rang the bell loudly for the nurse. Sutanu came running downstairs at the commotion. "Your mother! I saw your mother!" said Ronen, shaking pitifully. Sutanu gave him a sedative and tried to calm him. In a rare gesture of concern he said, "Don't worry, Dad, I'll sleep by your side tonight." Sutanu's wife Sandhya entered the room, rubbing her sleepy eyes.
She said crossly, "I tell Baba not to sleep in the afternoon! He stays awake at night and disturbs the servants. They keep threatening to quit." The sedative was making him drowsy but Bichitra's last words rang in his ears, as though she were speaking aloud. "When I am gone," she had said, with unknown authority, "there will be no one by your side, not even these faithful servants you see today. I loved and supported you, believing your mission to be noble. In return, you dominated me, jailed my free spirit, and made fun of me. To the outside world you are a noble person, a man of character, but I tell you this, it will take you several lifetimes to evolve to my strength of character." For once in his life, Ronen had stood transfixed. Then, in his usual impervious manner, he had lashed back at her, "My daughters-in-law, my sons, my sisters, my co-workers are all there for me. Don't worry about me, take care of yourself!" Alas, such was Caesar's arrogance with his devoted wife, before he was betrayed and murdered by his own henchmen.
Everything had been fine for about five years after her death. He had remained active in the Party, a man of influence. Then, illness had struck and he was forced to retire. The faithful family retainers had also left, unable to bear Sutanu's bullying, and the general atmosphere of strife that now pervaded the house. Everyone else around him vanished except for his younger son but the boy lived in another city, and could visit only twice a month. Bichitra's prophecy had finally materialised. The tears flowed from Ronen's eyes, tears of deep repentance. He understood that he had been a brute, abusing Bichitra's love. In the morning, Sutanu called for Amarnath Bhattacharya, a Vedic scholar and an old friend. Amarnath had greatly admired Bichitra and knew about her prophecy. But he had a sacred duty to perform for his troubled friend.
Despite his many failures as a family man, for over 50 years Ronen had rendered yeoman service as a public servant. His integrity in public life had been admirable. He had also genuinely cared for his parents and large joint family.
"My friend," Amarnath said, his rich baritone pervading the room like a mystic chant, "No man is condemned for ever. Allow your soul to absorb the lesson of this lifetime and be free." Ronen nodded a rare acceptance, his old, scathing repartees long buried in the desert sands of loneliness. "Amar, I have deeply wronged Bichitra," he said, wiping away the big teardrops that kept falling. Amarnath was touched and quickly said, to divert his mind, "Ronen, do you remember handing over your first salary to your mother when you were 20? Do you remember your first speech at the Brigade, at 23? Do you remember how you fought for the rights of the construction workers and broke the builders' cartel?"
A faint smile appeared on Ronen De Mallik's face and he closed his eyes, drifting off to the pleasant past. "Now," said Amarnath, his words flowing like amber honey, "Appear before Bichitra as she lies on her deathbed. See how refined her features were, beyond the mask of her dark skin. See her open, thick tresses, like Mahamaya's. Even in deathly repose, she is majestic. Embrace her, Ronen! Seek her forgiveness."
Ronen De Mallik sighed deeply, his mouth fell open slightly and his eyes turned heavenwards. Amarnath looked at his shrunken body with pity, muttered a quick prayer and rose to leave. He hoped his friend was finally free.
See more articles on Poetry and Fiction :
http://www.lifepositive.com/Articles/PoetryandFiction