Poetry and Fiction - Navarathri Special
by Bubloo Sen
This is the time of the Mother Goddess and all the previous postings and the new ones are dedicated to her, with the postings is a Sankalp, that may the Mother Goddess bless women, empowering them to change the world. May the Goddess blossom in all women.

A WIFE'S TRAGEDY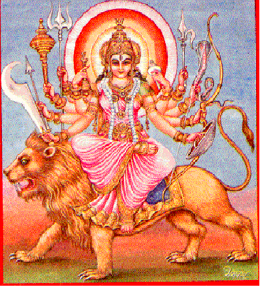 Ma
I have a true story to tell about the tragedy in the life of my cousin but amazingly the tragedy made her into a new person and gave her a new life. When I wrote about the tragic events in the lives of women I suddenly got this insight that nature is pushing women to come out of their submissive role and to take control of their lives. Nature is pushing women to realise their true potential . Nature is pushing women to become leaders because they have played a passive role for too long and accepted it and allowed men to ruin the world. Until the Mother Goddess in each women is realised Sata Yug cannot come and cannot have a hold in this world. Man's nature is to be what he is but the Mother Goddess as his partner can teach compassion, forgiveness, unconditional love to make a better world. I read some where that in spite of being strong western society doesn't have a mother goddess image to protect and the women are playing as much of a part in the destruction of their society as the men. The women have no power but to give agreement to what laws male society makes. In the west to be a calendar girl is a woman's image in the east Durga, Saraswathi, Laxmi, Goddesses are our IKONS, our role models. I have digressed, but let me get on with my story which once again shows the triumph of a woman.

Versha was born in poor middle class family in Amritsar, there were three girls and a son in the family. They all lived in a one room tenement with a public toilet and shortage of water. It was a happy family, even though there was not much money to go around. The son was the star and every thing was done to fulfil his needs, to educate him so that they could all have a better future. The son was a good boy but refused to participate in the fruits of education, so the education was limited. Not having enough money Versha's education was limited up to standard 5 and the rest of her time she spent in house work, helping the mother etc., A good boy was found and Versha was married at the age of 15 years. Unfortunately for her the mother in-law took an immediate dislike to her. The husband being under the mother's influence also started disliking his wife. Both the mother and son abused, berated, beat their slave, called Versha. By nature Versha was a very good hearted loving and kind girl, she was like an affectionate puppy and took all this abuse with a laugh, she did not even think or feel that life had given her a raw deal. God's, love protected her. She had three children born in the right order boy, girl boy who were taken away from her and brought up by the grand mother, who fed them lies about their mother not being capable to look after them or love them. Versha was denied the pleasures, the balm, the solace, of loving and being a mother to her children. One fine day the mother-in-law and Versha's husband, in rage and anger beat her, abused her, and locked her in a small bathroom, poured kerosene on her and set her alight. They went out and left Versha to her fate. I do not know where the children were, hopefully they were not there. There was a small window in the bath room and through that the neighbours heard her screams and saw the smoke pouring out of the small hole in the wall. Fortunately the neighbour heard her and rescued her and rushed her to hospital. No case was registered against the evil doers but an accidental act of catching fire was registered and no one was punished. Versha came out of hospital with a strong heart and taking her younger son who was 4 years old at that time, went to live with a married elder sister. Versha has the gift of the gab and she became a sari and materials sales woman, going from office to office to sell her wears. She started her business, her sister and brother-in-law supported her, she felt the freedom of being away from daily abuse she blossomed flowered and became a successful business woman. Eventually she bought herself a shop in Delhi a flat and lived there happily with her youngest child. When one writes " happily after", it means that life goes on with its ups and downs, but with a lot of happiness too.

Her younger son works with her, but the older children have no time for her and believe that the father and the grand mother did the right thing in what ever they did!. Versha's temperament is such and god loves her so much that she lives her life happy and content. I forgot to tell you that Versha lived in a joint family and her younger sister-in-law was much loved and pampered by all!. Versha was the unlucky one.

I have noticed that women who have the courage to take their lives in their own hands and make a home her home for themselves find a great sense of freedom. To be able to live their lives without a parent a husband or a male figure bossing them around, this freedom empowers them and so begins the act of empowerment, the act of strength and the awakening of the Goddesses. In spite of all and everything the woman triumphs and is victorious!.

In the same vein I saw a program on TV, on mother daughter relationship and the panel discussion on how beautiful this relationship is. There is a great bonding between mother and daughter today. With this strength daughters are coming out of their traditional roles and empowering themselves. They want to break the chains of bondage that the Indian woman has borne for so long. In the olden days this closeness was not present between mother and daughter. Once the daughter was married she was no longer the concern of her parental home. However, the bond between mother and daughter remained but the mother never encouraged her daughter to come out of the woman's traditional role. The mother felt that if she could be submissive to the needs of society the daughter should play the same role. She never encouraged the empowerment of women. I am happy that today things are changing.