Positive Chronicles - Dreaming For India
by Varun Rangarajan
Taking on responsibility for the state of the nation through volunteerism is a hallmark of the new world order. The author, a software professional from Chennai, embodies this with his Dream India, an NGO for the underprivileged

Download PDF Format
That charity begins at home could not be truer. My parents' selflessness largely influenced my decision to volunteer for social causes.

Later on, I moved away from home for the first time to join an IT firm where I met people from across India, bringing me fresh ideas and viewpoints. I was lucky to meet people with whom I formed bonds for a lifetime. Some of them were brought up amidst intense hardship. They made me believe and understand that giving back to society should not be a choice; it should be a duty! To help the scores of suffering farmers, construction workers, civic employees and others should be our responsibility, if we are to be grateful for their services to us all.

We started to implement this idea on a Sunday afternoon by playing with some wonderful children from a nearby slum. This initial tryst led to regular weekend study sessions with the kids with the odd outing (to the national park or a zoo) in-between. Suddenly, the weekends seemed the most important part of the week. True, I earned well at work, but I experienced pure joy looking at the positive influence we had on the kids, and how this kept them in school, and out of bad habits.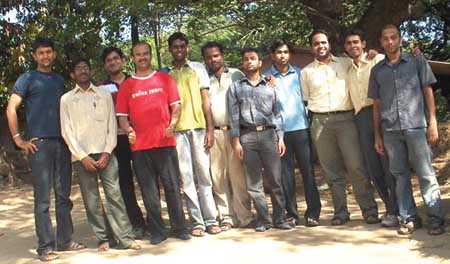 The Dream team On this long journey, I picked up some valuable skills as well, networking being one of the more important ones. What started as an informal activity with three people has now mushroomed into a full-fledged NGO with more than 50 active volunteers in four cities across the nation. Our volunteers come from all parts of the country, from different religions, and professions, but almost all believe that volunteering teaches a person the value of time and money, and sensitises him to the injustice in society. Most importantly, it makes a person strive hard to become a better human being.

Social volunteering puts us in touch with people from the economically weaker sections, where real poverty lies. It is poverty not only of money, but also of literacy, awareness, civic sense and almost all basic things. When we see so much suffering, it puts many things in their right perspective. We realise how lucky we are to have good food, clothing, and shelter and how hungrily we crave for things that are superficial in life. This does not mean that one should resist living life well. We need to appreciate what we have and at the same time, cultivate equanimity for the times when we do not get what we want.



Varun Rangarajan: Reaching out to Mother India The word 'volunteering' scares some away as they fear having to sacrifice too much of their time. However, we can spend as much or as little time as we want in volunteering. I know of artist friends who volunteer to make posters whenever our NGO organises events and some who help in translating text into other languages. Some others help in preparing a syllabus for the weekend classes and spend about two hours every week. Then there is the other set that spend time going to the weekend classes, attending to children, interacting with communities trying to solve their problems. As long as we understand that the main backbone of volunteering is team work, and that no amount of time spent is too big or too small, every small effort will pay off.

Our group has been largely influenced by great people like Dr APJ Kalam and the late Baba Amte, who have given their entire lives for the development of our countrymen. While Dr Kalam inspired millions of youth, cutting across the barriers of caste, religion, and region by his charm and matchless passion for the country, Baba Amte led by example, lived in the jungles and helped tribals and lepers. These great souls and many more like them deserve our support and we should make sure that the greatness that these men of courage envisage for our country comes about sooner rather than later.

More details at www.dreamindia2020.org
We welcome your comments and suggestions on this article. Mail us at editor@lifepositive.net