Positive Chronicles - Enabling a life without any stops
NGO Highlight – Enable India - Enabling many lives to become independent
What we can do
Be less condensing and more empathetic to the differently abled.
Employers need to take just two easy steps * Appoint a person with disability * Inform the concerned EPFO/ESIC office in
More >>
---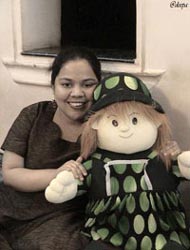 "It is not the magnitude of our actions but the amount of love that is put into them that matters," Mother Teresa's quote with her figure and that of Mahatma Gandhi's is mounted behind Shanti Raghavan's desk. "These have been my inspirations all along," she shares telling me how her mother instilled courage and conviction in her ever since she was young.

"Retinitis Pigmentusa struck my brother when he was just fifteen and he lost his vision progressively" recounts Shanti Raghavan, who then realized how hard it is for even educated people who are impaired in any way top get employment. She succeeded in helping him and he is now a competent software engineer.

The principle of "Vasudeva Kutumbakam" (the world is my family) then came to the fore. "If my brother had this problem, I realized there must be others too," she realized and began understanding the issue from a much wider angle.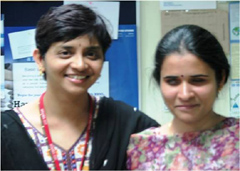 Shanti Raghavan with a friend
As the issue was to be tackled at various levels, she quit her job and began Enable India, an organization committed to empowering the disabled with the requisite training and placement. Some of the initiatives it is involved in are giving training to the visually impaired and to instructors to use software for the visually impaired. It also helps employers identify the areas where the disabled can be effectively used.

Basically, enAble India's mission is  is founded on the firm belief that people with disabilities do not need sympathy - they require the right environment to grow and fulfill their needs, potential and dreams...

The Employer Outreach Programme (EOP) facilitates hiring and retention of persons with disability through a process of long-term collaboration with organizations.

The programme has been structured based on EnAble India's documented experiences in placing persons with disability in a diverse cross-section of organizations. IBM, Mphasis and other leading companies have already hired very productive people through this program.

While I listen to Shanti talking about how easy it is for us to accomadate the needs of those who have special needs, people walk in asking her advice, informing her of the appointments for the day and appraising her of various issues the organization deals with. Shanti deftly deals with each issue and makes her plans for the day. Never once does one realize that most of the people who work with her are differently abled.

A case in point is Deepa Narasimhan, who was detected with Spinal Muscular Atrophy (SMA), a motor neuron disease when she was just a year old. As the motor neurons affect the voluntary muscles that are used for activities such as crawling, walking, head and neck control, and swallowing, she needs help for each activity of hers. This has not, however, stopped her from living life with gusto. After pursuing her studies through correspondence, she learnt about enable India in a newspaper article. After being guided in learning web designing, appropriately enough, put up its website www.enable-india.org.

Truly, it is extremely clear that Shanti believes in integrating all aspects of her life – saying what she believes in and practicing what she preaches, all the time.

As I take leave of her, from behind her desk, Mother Theresa and Gandhi seem to be to be smiling and blessing her efforts to pull out all stops from many, many lives….

More details can be found at www.enable-india.org
Contact 080-41101390 / 9845313919, enableindia.desk@gmail.com