Positive Chronicles - Family sangha
by Chitra Jha
Tears flow, chords are touched and wounds heal when six siblings meet after years of separateness to recapture the magic of childhood, says Chitra Jha

Download PDF Format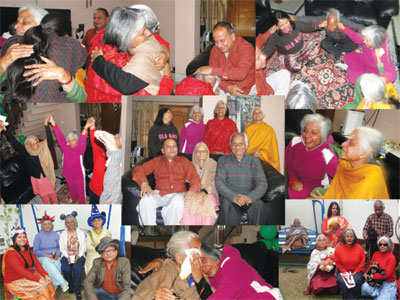 We are six siblings, a number which used to cause an occasional embarrassment earlier, but has become a great blessing over the years. We were born in a Gandhian family with secular ethos but got moulded in six different ways depending upon our life circumstances and the added energy of significant others in our lives.

Over the years, we became so engrossed with our individual lives that we lost the 'heart' bond with each other. We communicated and met with some siblings more than the others depending upon many factors within and without our control. Our parents, especially our mother, remained the adhesive factor who also provided each one with information about the other five. Whenever we met another sibling we talked about the others, sometimes in a loving manner but most of the times wondering how 'different' they had become. Our mother too inadvertently played a role in making some of us feel 'not up to the mark' in comparison to some others…I guess, that's how it is in most families!

Turning point

Our father vacated his body at the turn of the millennium, and that brought the six of us together after a very long time. I had recently started walking the conscious path of love, and felt rankled by anything that was unlike love. Something prompted me (now, I feel certain that it was our Father's spirit), to call for a meeting of all family members, including the later additions, and I formally proposed,
| | | |
| --- | --- | --- |
| | | |
| | We recalled the 'names' we had called each other and 'felt' the damage done by those careless but malicious words; which were simply a part of 'fun' in childhood. By the end of the exercise, we had bonded in shared pain and compassion. | |
| | | |
"The only homage we can pay to our father, who had lived such an exemplary
life
of walking his talk, would be to sort out our differences with each other, so that we don't have to talk negatively about the other siblings in their absence." Perhaps, this would have been an acceptable statement, but I made the cardinal mistake of giving some live examples of recent utterings. By the look on some faces I knew that I had trodden on some toes. No one said anything at that time but later I came to know, through our mother, that some members were very hurt.
However, I stood my ground, saying, "I didn't mean to hurt anyone. I only spoke for the unity of the family." The flip side of this event was that some interpersonal relationships became more strained than before; but the best part, especially for me, was that no-one ever complained about any other sibling to me. I guess they didn't trust me with their secrets anymore!
New Age
In the following 11 years, as the consciousness of the planet grew, our family too grew in pace with it. One by one, all six of us, including our mother, came on to the path with great enthusiasm. Self-cleansing and self-responsibility became the buzz words in my birth family. And that's when the
love
bonds got revived.
Now, whenever we spoke with each other (technology helped us connect more often), we only discussed our latest self-empowerment tools. We called each other to ask for help in areas where we were stuck. Thus, we became each other's true support system.
Hence, it wasn't surprising when everyone enthusiastically supported my idea of ushering in 2012 together. Even my condition of 'only the birth family please, sans spouses and children' was gladly accepted. We knew that we would have fun but we didn't know how much!
We got together at our youngest sister's place, who very sportingly and lovingly supports our surviving parent. Since I spend most of my time attending and conducting workshops and lectures, everyone was looking forward to my
sharing
some new tools with them. We had already decided to keep the food front very simple to maximise the available time for 'growth' activities.
We started with a group session to
work
on our polarities. The idea was to face our shadow sides, but the exercise brought amazing revelations. My three sisters had already done so much
work
upon themselves through past-life regression, reiki, ho'oponopono, meditation, music, dance, satsang, introspection, forgiveness, and angel
healing
that all of them experienced their inner divinity with a rare clarity and intensity. These powerful experiences raised everyone's spirits and set the tone for the next three days.
In the evening, we asked our mother to talk about each person's childhood, and listened to the bitter-sweet stories with a rare
compassion
in our heart. We realised how differently each one of us was shaped by the very same parents, due to varying circumstances.
The second day was New Year's Eve. In the afternoon we went to a local park and played our childhood games: running, catching, jumping, screaming, and generally having a great time despite the onlookers' amused gaze. By the end of the three hours that we spent there, we had attracted a sizeable crowd …but we were having too much fun to care about them!
Being children
In the evening, we danced to the
music
of our times, re-living all the relevant memories and laughing as we hadn't laughed in a long time. Our bellies literally ached! I thought of the fancy New Year ball my husband was organising in Srinagar, and felt so very grateful for the simple fun I was having with my nearest and dearest people. Unlike any other New Year's Eve, we slept before midnight, because we wanted to rise early to welcome 2012.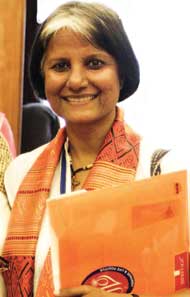 Chitra Jha is a life skills coach,
corporate trainer and verbal
ability instructor.
We greeted 'The Year of Divine Love' with a guided meditation, in which we connected with the angels. We also did sessions to connect with our power animal, and our tree life. And then we headed to a store to buy soft toys for ourselves. The sales staff in that small town was quite shocked to see six grown-ups, some with grey hair, giggling and selecting 'teddy bears' for themselves; hugging them to see if they 'felt' right. We shared that we had never ever bought any toys for ourselves; and realised that our parents hadn't given us any personal toys either. The very experience was so emotional that we had tears in our eyes as we hugged our teddy bears. Some of these tears were of love, some of joy and some of childhood pain.
The inner child session, in the afternoon, brought out all three
emotions
in ample quantities and through this
sharing
we felt closer than ever before. Until now, we had looked at certain childhood events through our own personal perspectives, now for the first time we heard other perspectives; of both victims and perpetrators. We recalled the 'names' we had called each other and 'felt' the damage done by those careless but malicious words; which were simply a part of 'fun' in childhood. By the end of the exercise, we had bonded in shared
pain
and compassion.
Later in the evening, we created individual collages with pictures and words, and interpreted them.
We were happy to see that each one of us was headed for a glorious future. This happy energy made us stay up till the wee hours: talking, laughing, singing, and joking.
The next day was the day of departure. In the morning we sang songs dedicated to our mother, brothers and sisters. We sat together in a circle hand in hand and formally pledged our support to each other. One by one we took our place in the centre of the circle while the other five said nice and loving things about us.
Emotions
were touched and expressed freely through tears and hugs. I could see tears glistening in our mother's eyes. Those tears were worth all the effort we had made to gather.
We parted with such lightness of
heart
that I am already yearning for more such gatherings. I feel extremely grateful to the 'love and light' that got interwoven into our beautiful family web in those four days.
NB: I must acknowledge the co-operation and participation of my niece and brother-in-law who graciously allowed their home to become a zoo for four days… and of course the entire household staff who made our stay so very comfortable… I guess they all got adequately entertained in exchange.
See more articles on
Positive Chronicles
:
http://www.lifepositive.com/Articles/PositiveChronicles