Positive Chronicles - Hands that help
The misery of the world calls to us to go beyond our narrow selfish boundaries. However, not all of us respond to this call. Jamuna Rangachari profiles some bravehearts who did and thereby changed their own and the lives of others.

Download PDF Format
Serving God by serving man

The Banyan:
Since 1993, The Banyan has been an integral part of the chain of care for people with mental illness in Chennai. www.thebanyan.org
Project Why:
This is a New
More >>
---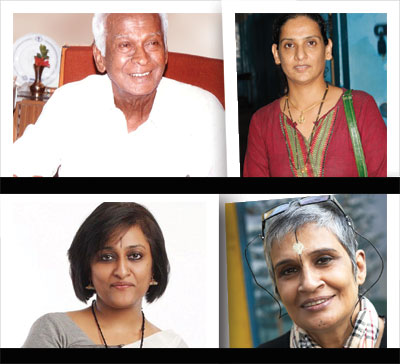 In the journey of the soul, there comes a time when it outgrows the limitations of the ego's narrow needs and desires and becomes sensitive to the states and needs of the world. What once did not even cause a blimp on our radar screen suddenly stands out in vivid technicolour – the street children dressed in rags, the homeless mother with her children, the three-legged street dog with drooping tail and protruding ribs, the mentally unsound beggar on the steps of the railway platform. There is no end to the misery on display on our streets once we are ready to see them. And it may come to pass that our lives are changed forever. We profile below some remarkable men and women who shifted to a life of service in response to their souls' call.

A home for the homeless

Vandana Gopikumar from Chennai, a master's student of social work, came across a half-naked, mentally ill homeless woman in absolute distress, on the road in front of her college. Nobody else even seemed to notice her. Along with a close friend, Vaishnavi Jayakumar, she went in search of a shelter for the woman. Mental health institutions and NGOs were openly reluctant to admit the woman, who desperately needed medical and psychiatric attention. Several such encounters, over the next few months, left the idealistic duo disillusioned. So they decided to do something about the problem themselves. The girls started sowing the seeds of The Banyan, in 1993, after Vandana finished her masters in medical and psychiatric social work, and Vaishnavi dropped out of MBA to join her. They were just 22 then.

The Banyan started as a shelter and transit home for homeless women with mental illness, who had wandered from their homes across the country, and ended up on the streets of Chennai. One of the core beliefs of the organisation is that the women need to receive timely treatment, and to be rehabilitated into mainstream society. Nineteen years on, The Banyan is now able to reach out to women and men of a various levels, to support them on their journey to recovery. Their beliefs have been vindicated. Vandana says, "The work of The Banyan makes me whole. It gives me a sense of identity, purpose and meaning, and an outlet for all my creative energy."

Breaking the cycle of poverty

The wonderful work of Anouradha Bakshi from Delhi, the wife of an ex-diplomat, and erstwhile interpreter of the French language is awesome. She always felt something was missing in her life. In 1985, she visited her ancestral village. All women were uneducated there, and she felt she had to do something to help them, as she realised that had her ancestor not shipped as indentured labour to Mauritius, she may have been one of them.

Much later, providentially, she met Manu, a mentally challenged 25-year-old. People in the neighbourhood fed him, but treated him almost like an animal.

Anouradha realised Manu needed care and love, and she began, Project Why in 1998, where any child, including the disabled, could come and be educated. Today, Project Why has grown into an extraordinary lifeline that offers many children hope and a future.
| | | |
| --- | --- | --- |
| | | |
| | I wondered what is it that makes some people reach out and make a difference, while the rest prefer to sit on the sidelines and watch. | |
| | | |
They reach out to over 800 children in various programmes, ranging from education to health, and care of the disabled. Its unique feature is that it is entirely self-funded, and employs only people from the slums. Today, Project Why alumni are employed in banks and offices, and have broken the cycle of poverty in which they were born. Many of the women they have trained are now financially independent, and one has even opened her own beauty parlour. Funding is still an issue, but Anouradha is sure that this will be overcome.
An eye-opener
Dr G Venkataswamy or 'Dr V' as he is known, was in the Indian Army Medical Corps, but had to retire in 1948 after he developed rheumatoid arthritis. At one point, the arthritis became so severe that he was bedridden for over a year. For a time, he struggled to walk, and could not hold a pen in his badly crippled fingers. He then saw many people losing their eyesight due to cataract. Despite his painful condition, he returned to medical school, got a diploma and masters degree in ophthalmology. Through his hard
work
and determination, Dr V learned how to hold a scalpel and perform cataract surgery.
Dr V introduced a number of innovative programmes to deal with the problem of blindness in India. He developed the outreach eye camp programmes in 1960, a rehabilitation centre for the blind in 1966, and the creation of an ophthalmic assistants training programme in 1973. In 1976, after mandatory retirement from government service at the age of 58, Dr V resolved to continue his
work
in eye care. With support from his family, he founded Aravind Eye Hospital in Madurai, a non-profit institution dedicated to providing high quality eye care. Aravind
Eye Care
System is still functional after the good doctor's demise in 2006 as his tireless vision and hard
work
has inspired many to continue the
work
in the hospital.
Protection from cold
Anshu Gupta, the founder-director of Goonj, a Delhi-based NGO, owes his shift from journalism to a powerful encounter with Habib, whose designation was 'dilli police ka laash dhone wala', meaning picker of abandoned bodies for the Delhi Police. Gupta interviewed Habib whose
work
was transporting the bodies from the roads to the electric crematorium. While spending time with him, statements from him and his little daughter shook Gupta completely. One was when Habib said, "In winter my business goes up," which translated into more deaths on the roads. The second, from his four-and-a-half year-old daughter, who innocently said, "When I feel cold at night, I tightly hug the body on that rickshaw, and sleep."
Anshu Gupta then founded Goonj in 1998 with a mission to make clothing a matter of concern, in a world where thousands of deaths due to cold can be prevented, by ensuring that people are clothed adequately to meet the vagaries of the weather. The body of
work
done by Anshu Gupta, and his volunteers in the area of clothing is awe-inspiring.
Helping students in night schools
"How difficult it is for these children to continue studying. I don't know if I could have done it," thought Nikita when she first studied the conditions at the night schools. Her project was done through a Pukar fellowship in 2006-2007. She could have moved on with a regular job in DRDO (Defence Research and Development Organisation) but her anguish at the conditions of the night schools remained. Issues of nutrition, counselling and motivation were starkly obvious, and needed to be addressed immediately.
| | | |
| --- | --- | --- |
| | | |
| | Each of the above people faced tough challenges, but never gave up hope and faith | |
| | | |
She had laid them all out painstakingly in her report, but wondered who would take it forward. Her admiration at the heroic efforts of the children, who overcome all odds to continue studying, coupled with her distress at the conditions, kept gnawing at her. Although the report was submitted, she felt the project was incomplete, as she knew that it was nothing more than an academic project that would be filed and put away. With this realisation, she made up her mind, quit her job and founded Masoom in 2008, an NGO that works with the night schools in Mumbai.
"They
work
in the day
They study at night
They are tea stall boys
They are domestic workers
They are courier boys
They are sweepers
However, they have the hope and the determination to someday make it right,"
writes Priti J Nair, a volunteer, on their website.
Today there are many children being educated in Mumbai's night schools. Nikita hopes it will inspire others schools to follow suit in various parts of the country.
Power of positivity
Each of the above people faced tough challenges, but never gave up hope and faith. They stayed focussed on working towards their goal, fully aware that a higher power would guide them to achieve their goal. For instance, Dr V had said, "When I go to my
meditation
room at the hospital, every morning, I ask
God
that I be a better tool, a receptacle for the divine force. We can all serve humanity in our professional lives, by being more generous and less selfish, in what we do. You don't have to be a religious person to serve God. You can serve
God
by serving humanity."
Often, we just despair, "What can I do?" Well, become aware, start small, and keep at it until you see your efforts bearing fruit.
I had read long back about Vandana Gopikumar, and since then, have been in touch with her on Facebook and email.
Some time ago, I saw an old woman alone in Mumbai and contacted Vandana who responded immediately by giving me a contact person's address in Mumbai. I contacted the person and soon had the ineffable satisfaction of seeing the old woman shifted from Mumbai's cruel streets to a home where she would be taken care of.
Surely, all of us too can reach out to others in whichever way
God
presents to us.
See more articles on
Positive Chronicles
:
http://www.lifepositive.com/Articles/PositiveChronicles