Positive Chronicles - Karmayogi
Jamuna Rangachari speaks to Vinay Somani, the founder of Karmayog, to find out how his organisation is helping NGOs achieve their goals

Download PDF Format
If there is one website that is doing pioneering work in making Mumbai's civic corporation accountable, as well as bringing together the Non Profit world, it is www.karmayog.com. The person who started this service, Vinay Somani, has illustrious credentials: A BTech in IIT followed by an MBA from Harvard Business School. What drove him to start Karmayog in 2004, was a yen to truly understand the meaning of karma yoga as explained in the Bhagavad Gita. In the short span of its existence, the website has made a huge difference to NGOs and to the public in general. A great role model who would like to promote good values in whatever way he can, Vinay Somani firmly believes that it is only the participation of citizens which can make India rise to its potential. He subscribes to John F Kennedy's quote, "Ask not what your country can do for you – ask what you can do for your country."

For anyone looking to contribute to society, Karmayog is the site with the information you need. Long back, when I was in Borivali in suburban Mumbai, and wished to help a young disabled youth, Karmayog helped me find the relevant institutes and thereby make a difference in one person's life.

While newspapers show us only the negative side of India and the world, Karmayog shows how India is progressing, with people working to help the country, by helping each other in all parts of India. Excerpts from the interview

You have studied at IIT and also have an MBA from Harvard. What made you start Karmayog?

I set up Karmayog in 2004, as I felt the
| | | |
| --- | --- | --- |
|   | |   |
| | All citizens must view the country and planet as their own to care for and protect, and think of ways to improve it and reduce harm to it. | |
|   | |   |
need for an organisation or network linking NGOs with those who can help or those who need help from them. Being from a business community, I found that there was no easily available information about NGOs, their
work
and the various social issues that they tackle.
Our attempt through Karmayog has been to look at concepts or ideas that are meaningful for society, and then try to bring about actions that correspond to these concepts. We also believe that all citizens must view the country and planet as their own to care for and protect, and must think of ways to improve it and reduce harm to it. We, as citizens, employees, or shareholders must be concerned about how companies behave with respect to society and we must use our voices and our wallets to shape the world that we want. The Karmayog Corporate Social Responsibility ratings of the largest 500 companies in India were undertaken with this belief.
We believe that an easy and effective way to
work
against corruption in government offices is to enable citizens to complain online about incidents of corruption that they have faced. 'Corruption ROKO' is an online form on Karmayog that was designed in such a way that a citizen not only complains about corruption, but also suggests solutions to stop it, and enables senior government officers to study the incident and institute systemic changes that would stop corruption.
How do you ensure that only bonafide institutes are part of Karmayog?
If any organisation is found to be lacking credibility, we do expect that users will inform us. Thereafter we do take action on feedback received.
Our focus is on helping the small NGO that does not have the financial or human resources needed to put its
work
and message before a larger audience, but that has the passion and
compassion
to be working at it every day.
The Karmayog 'NGO-of-the-Month' is an initiative to highlight a small, lesser-known NGO every month, and to ask members of the Karmayog network to support that NGO, with at least a small monetary contribution for that month. This helps the selected NGO get in touch with a group of interested persons, some of whom may later become long-term funders and supporters of that NGO.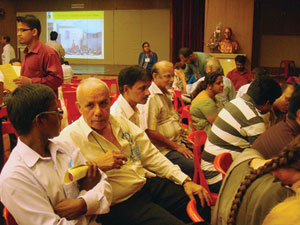 In Mumbai and Bangalore, we have also conducted a rating of NGOs by having a person contact and visit each NGO, after which a subjective rating was assigned to each NGO. We are conscious that a wrong rating is more harmful than no rating, and hence seek feedback from NGOs and others in case of errors.
Is your revenue breaking even? If not, then how do you plan to continue?
Karmayog is self-funded. We do not generate any revenue from our activities. All services offered through Karmayog are free. This also enables Karmayog to be flexible as well as independent.
We, however, do believe that NGOs should be self-sustaining, either through a corpus fund, or through government grants or dedicated donors.
When we see and realise how much people are benefiting from Karmayog, we are motivated to continue working.
There are many campaigns you have begun, like Donate a Book. What is the progress of this and other campaigns?
The Donate Books campaign is an ongoing one. It can be easily replicated or scaled up, depending on resources available.
For most campaigns, the initial steps are a challenge, where it is difficult to reach a critical mass. For us at Karmayog, once we reach a critical mass, it is a 'proof of concept,' meaning that we are then convinced about the need and value of the campaign. After that point, we hope that an NGO dedicated to that particular issue, takes the campaign/initiative forward from there.
Some milestones that we have reached:
Donate books, Receive books – 13,000 books donated and distributed
Corruption ROKO forms – over 600 forms filled
SATYA forms [to complain on civic issues in Mumbai] – over 1000 forms filled
Karmayog Yahoo group members – Over 63,000
Volunteers in Mumbai – 3500
NGOs listed in directory – 20,000
Karmayog Events – over 3000 events listed
Very few newspapers cover social issues, which is what makes Karmayog activities so laudable. What is the future of social activism in India?
The internet, social media, and alternate media enable easier and faster communication today, with lower costs, as compared to conventional media such as print, and TV. Hence, awareness, participation, and even action on social issues are increasing over the years, and will continue to do so.
The future of social activism is extremely bright in India. Every month there are more and more
success
stories, and examples of people getting involved and succeeding in solving issues. For any cause, it is now easier to connect to and expand groups of interested citizens and organisations. Over the last decade, there has been so much learning by NGOs, their members and collectively this knowledge has been quite extensively documented and shared, and so there is greater awareness about what works.
You have many links with the government bodies such as the BMC that has helped your effectiveness. How have you been able to work successfully with the government, generally regarded as difficult?
It is necessary to
work
with the government to solve any of the problems that are affecting society today, as the government is engaged in the framing of policy and implementation of laws and rules that can provide solutions to various problems.
In the various interactions with government agencies that Karmayog has got involved with, there has been an equal interest in working together from the government's side as well.
Our approach to working with the government has been to find an officer at a senior level who is genuinely interested in improving the delivery of services to citizens, and thereafter working with him/ her to remove the hurdles that prevent this from happening. This is how Karmayog came to be working closely with BMC and ACB (Anti-Corruption Bureau).
What are your plans for Karmayog?
1. We would like the Karmayog
community
to grow in size and influence. We would like policy makers and planners to seek and use the inputs of Karmayog members, while framing or reviewing policies and laws.
2. We would like NGOs, especially smaller NGOs from smaller cities, towns, and villages, to be able to easily get the support and advice that they need, through Karmayog. While these are our goals or wishes, the way that we will go about it is that we will take some current issue where we believe that we can have an impact and we will focus on that until we achieve a milestone.
We believe that Karmayog is here to support and serve, and we cannot truly serve if we have already decided who we are going to serve; we need space and time to receive and then respond to people's needs.
At Karmayog, we
work
with focus, but in a detached way; the important thing is not planning but setting goals.
What are the challenges you face in continuing your mission of Karmayog?
It is a challenge to make people understand that each individual has a big role to play in shaping society. We meet more people who want to talk but not take action on the issues that affect them. It is a challenge to get them to take action.
We would like that whatever
work
we do, or that any NGO does, is built upon, improved and taken ahead by others, and that the same
work
is not repeated or re-done by different organisations again. This is a challenge.
We do not easily get the technical skills needed for running Karmayog, either through volunteers or through paid positions. It is a challenge to find motivated persons.
See more articles on
Positive Chronicles
:
http://www.lifepositive.com/Articles/PositiveChronicles