Positive Chronicles - Keeping children off the streets
by Ranjini Banerjee
Millions of india's children are out on the street, suffering deprivation, hunger and abuse. Meet Jamghat, an NGO which is reaching out, rescuing and rehabilitating

Download PDF Format
Help Us Help Them
Life Positive and its sister organisation, Life Positive Foundation have carefully studied the workings of Jamghat and have decided to support the activities of this NGO both financially and through
More >>
---
The wide and well-maintained roads of New Delhi are a matter of pride for the city. On the streets one can see the latest models of automobiles, grand structures, landmark monuments, heritage sites and children! Yes, Delhi is also home to at least 100,000 street children or probably much more. While most of us rush through our hectic lives, not pausing to ponder about the face that looks in through the window of a car stalled in traffic, little do we realise that there is a story behind every face! However, Jamghat is listening.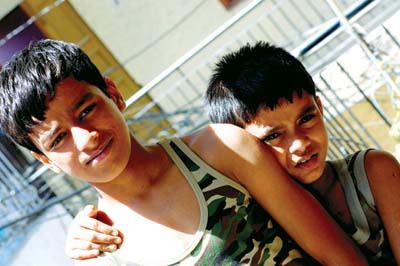 The Jamghat Children Jamghat is a registered NGO, which rehabilitates street children of Delhi and gets them back into the mainstream. It consists of a group of 'young adult professionals and volunteers with a variety of skills and experiences.'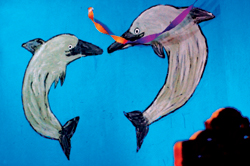 A joyous and creative atmosphere What is Jamghat?
It started in 2003, when a group of 14 street children came together under the guidance of theatre artists, Amit Sinha and Lokesh Jain, to put together a play for Prince Charles, on the behest of Action Aid. The play became so successful that the group travelled across India and abroad for the next three months. Once the funds ran out, the experience and bonding between the children and the theatre artists was so strong that they decided to stay together and continue spreading awareness through theatre. Thus, Jamghat was born.

Today, it runs a home for 15 boys, who formerly lived and worked on the streets, giving them an opportunity to live, learn and grow together as a family.

• Provide a safe and happy environment where street children can 'evolve as physically and emotionally healthy, self-confident individuals and live a life of their choice.'
• Nurture self-confidence of the children and build awareness in society on key social issues related to street children through the creative and effective use of street and stage theatre.



Amit Sinha: Helping Out Mission
Objectives
• Create an environment for the street children to be absorbed back into the mainstream and be respected as individuals, earning their own livelihood
• Provide a residential programme for children without a safe home or family
• Build volunteer and staff capacity to understand and address issues concerning street children

Indoor programme
Jamghat runs a home for 15 boys in Lado Sarai, New Delhi. The selection procedure for children to be included in Jamghat indoor programme involves screening and approval by CWC (a child welfare committee).

Once you climb up the stairs to reach the first floor a surprise awaits you – bright blue walls covered with happy drawings of dolphins frolicking in the water and a friendly octopus peeping out from a corner. Yet another wall is pink, where the children have left their smudged prints in the form of bright pink polka dots. Handmade posters and personal photographs fight for space next to a blackboard. One corner of the room has a computer, which is obviously the centre of attraction as many of the kids huddle around it. The centre of the room has long tables and benches, providing the atmosphere of a dining room for a large family. The children are warm and friendly and welcome you spontaneously with greetings of 'namaste didi' or 'namste bhaiya'.

Some of the facilities provided at the home are:
• Basic amenities, healthcare and counselling
• Education or vocational training
• Street and stage theatre experience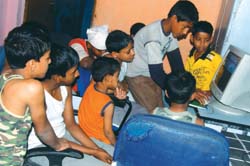 Getting computer-savvy Ravi, a member of the Jamghat family, earlier worked on the streets of Delhi as a rag picker. He had run away from home when he was only four years old, and has spent his childhood in various cities of India, primarily as a resident of juvenile homes or living on the streets and addicted to inhaling (glue)solution. In Jamghat, he has finally found a safe haven. A budding artist, Ravi is eager to show us his drawings and some beautiful paper which he has made himself. He now attends art classes and works at Sanskriti. When asked about his future plans, he confidently states, "Once I am through with my art lessons, I will have my own stall, selling my artwork and handmade paper."

Outdoor programme

Jamghat also runs a day care centre for 50 street children living near Jama Masjid, Old Delhi. In partnership with Max India Foundation (one of the sponsors who provide for the rent, healthcare facilities, etc.) the children at the centre receive:

• Basic amenities, healthcare and counselling
• Formal and non-formal education
• participation in group activities
• A safe place with caring volunteers



Ravi(inset) with a sample of his wonderful art Generating awareness
In a society where eliminating the poor rather than poverty is the norm, Jamghat, in its own way, is trying to generate awareness and connect society with various social issues. The awareness programme of Jamghat includes:

• Night Walk: social change, environment issues and homelessness
• Theatre workshops: Facilitates workshops in schools, colleges, organisations and with volunteers to build understanding about the society and self



Instlling Good Manners Future plans
Jamghat is now working to open two new children's homes: a second boys' home and a home for 10 girls as well. The new residential programmes will follow the established model of the current indoor programme.

Organisations like Max India Foundation, E-xcel Service and Make My Trip support Jamghat's endeavour but there is no regular or formal means of funding for this NGO.

The success stories like the rehabilitation of 45 children since its inception, is what keeps Jamghat going! Says Amit Sinha (one of the founders), "For me quality is more important than quantity. Although we have only 15 children at a time at the Jamghat home, we ensure that every child gets personal attention and effort is made to improve the quality of their life as much as possible. So when we see our children joining the mainstream, earning respectable livelihoods and chasing their dream – we feel our job is done."

Recently Anwar, Ali and Roshan (residents of Jamghat) have moved into their own place in Noida and are working together in a restaurant. It is such outcomes which keeps the hope alive and provides incentive enough to continue the good work! So kudos to Jamghat and here's wishing them the very best for the future.

Contact details:Jamghat
F-2, 1st Floor, Lado Sarai, New Delhi – 110030
Amit Sinha - 9818705715 , Sonu – 9968808362, Azam – 9350209172

Email: jamghat@gmail.com, Website: mailto:www.jamghat.in
Blog: jamghatfamily.blogspot.com

We welcome your comments and suggestions on this article. Mail us at editor@lifepositive.net
br/>