Personal Growth - Loving like an extremist
by Satish Purohit
Meditation teacher Kia Scherr, who lost her husband Alan (58) and 13-year-old daughter Naomi in the 26/11 Mumbai terror attacks, says she is committed to loving as deeply as a terrorist hates

Download PDF Format
JOIN THE ONE LIFE ALLIANCE
Kia Scherr was in India to launch the Mumbai chapter of the One Life Alliance (OLA) on November 26. Sixteen members of Synchronicity, including survivors and their families, were invited for the
More >>
---
As I step out of the heavily crowded interiors of Churchgate station, I get a fresh panic attack. What exactly would I ask Kia Scherr?

On November 26, 2008, Kia's daughter, Naomi, and husband, Alan, were killed by terrorists who stormed the Trident hotel at Mumbai's Nariman Point. The father and daughter were in India on a pilgrimage with their guru Master Charles, an initiated Hindu monk, who runs a meditation centre in the Blue Ridge Mountains in the US.

A few hours after the deaths, Kia shocked international media by refusing to condemn the terrorists.

I remembered all this and wondered afresh what would I ask her?

I have never had to come to terms with the death of a loved one, or watched over a friend wasted with terminal sickness as he slippedgently into the night.

The questions kept bobbing in my head, and the panic kept returning as I walked the curve of the Queen's necklace that skirts the Arabian Sea.

I should not have worried.

Kia, when I spotted her in the lobby of the Trident Hotel, greeted me with a smile so warm that all my doubts melted away. We were going to do just fine, I told myself. Here, in part, is what we spoke about.


Two years have passed since the 26/11 attacks. How have you come to terms with the loss of your husband and daughter?

I have been living for 11 years in a spiritual community that is in many respects cut off from the outside world. For all those years the only contact with the outside was meeting people who visited the retreat. After Mumbai happened, I realised that there is no 'outside'. To answer your question, I continue my attempts to come to terms with the loss of my husband and my daughter. It is certainly not over for me on that front. After the international media broadcast the news of Alan and Naomi's deaths, people across the world sent me messages of love and compassion. Muslims, Jews, Hindus, and Buddhists from all corners of the globe expressed grief at my loss. These feelings are very much present and powerful and, thanks to the Information Age, we can harness these feelings to focus on the oneness of life in others and ourselves.

My focus has been on sending a positive message despite my situation. I have never doubted that it is possible to do so. For the scales of balance to tip in the positive direction, sane people on this planet have to be as committed to loving from the centre of their being as terrorists are to spreading hatred.

How do you plan to make the change happen?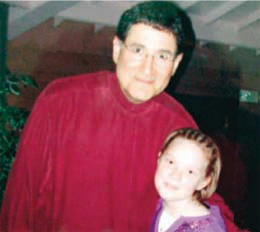 Naomi Scherr with Master Charles We are forming a non-profit educational organisation called the One Life Alliance that is co-founded with the survivors from the Synchronicity meditation group who were trapped in their rooms on November 26, 2008. The message of One Alliance is to honour the oneness and sacredness of all life. We are developing a website so the initiative has a platform on the web. We also plan to use cutting-edge social networking for our purposes. All these initiatives will work towards focussing on the sacredness of life and underlining the fact that ultimately the success of all human beings depends on how we relate to each other. Deep down, in the core of our hearts, we already know that we are all one. Incidents like the floods in Pakistan and unrest in Haiti bring out that truth in us. They provide us with an opportunity to reach out and focus on the oneness of life.

You have said that you believed in sending those who killed your husband and Naomi love, forgiveness and compassion. That must have taken some strength.

It was the acid test of my practice and everything I have learned from Master Charles. I had to show that love is possible and love overpowers fear. That's my choice.

Mary Anne Williamson famously said that there are no half-hearted terrorists. We need to remind ourselves to be as committed to loving. Hating terrorists in India, suicide bombers in Israel or drug lords in Mexico is not the answer. We are one essence. The human family is one.

Was Naomi a seeker as well?

Yes. She meditated regularly but also loved dyeing her hair pink. She wanted tattoos like most teenagers. I was, of course, dead against it. She was sage and American teenager rolled into one. She enjoyed Harry Potter and the Twilight series and was seriously into Douglas Adams. She had just discovered Catcher in the Rye. She would laugh when I read it out to her. My husband and I had agreed that it was time for her to be with other girls in a regular school. She chose one because it had a Mahatma Gandhi quote on its website's home page: 'Be the change you wish to see in the world.' A few hours before the attack, we had spoken over the phone. She was very excited about finally having her nose pierced. That was to be our last conversation.

If you met Mohammed Qasab, what would you say to him?

I would go within and wait in silence before speaking. It is important that one speaks from the heart and not the mind in such situations. I would tell him what I would tell anyone else. All life is sacred and we are all connected. There are enough resources in this planet for all of us. Let us open our minds and hearts to a greater vision. Let us share. We can honour our differences and live in peace.

See more articles on Personal Growth at:http://www.lifepositive.com/Articles/personalgrowth