Positive Chronicles - Making whole
by Chitra Jha
Chitra Jha profiles a doctor couple who has transformed the lives and health of rural people through a multi-pronged approach to spirituality

Download PDF Format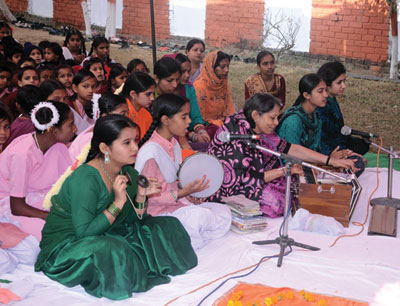 The residents of Darwa village enthusiastically invoking the name of the Lord After the Delhi Life Positive Expo in February this year, I moved to Yamuna Nagar, a small town in Haryana, where my mother lives with my younger sister. Since my husband was on a holiday, climbing Mount Kilimanjaro in Tanzania, I had three weeks to spend with my folks. My right shoulder had frozen thanks to Kashmir's snowy winters, and even though I was working on my emotional blocks, I asked my doctor brother-in-law if physiotherapy was a good idea. He recommended visiting an orthopaedic surgeon first, and that is when I met Dr. Vinod Singhal.

As I entered his office in a multi-specialty hospital, where he is a visiting consultant, I saw a big picture of Sri Satya Sai Baba. I smiled, knowing that Baba would oversee my healing. After decades of a drug-free life, I bought the prescription medicines as prasadam from Baba.

The next morning, as the family sat together sipping our morning cuppa, I mentioned the 'Baba connection' to my brother-in-law, Dr. Ravi.
| | | |
| --- | --- | --- |
|   | |   |
| | The multi-pronged approach of medical care, education, nutrition, and employment, has seen a blossoming of Darwa's inhabitants, especially the young children. | |
|   | |   |
That is when Ravi related Dr. Singhal's story to me. I learnt that Dr. Singhal, a highly qualified super specialist, and his wife Dr. Bharati Singhal, a gynecologist, have devoted their entire energies to a Rural Empowerment Project at Darwa, a village near Yamuna Nagar.
Ravi is a pediatrician who offers voluntary support to this project. While talking about his role, he related that when the project had just started in the mid-90s, he went there twice a week for one hour. However, the queue of waiting patients stretched long and invariably he had to extend his time, but gradually the numbers started decreasing, and now there was hardly anyone with malnutrition, anaemia, or any other lifestyle disease. As a practising pediatrician, he found this an exceptional achievement since such ailments are rampant in the rest of the rural and urban population.
This story intrigued me. Though Dr. Ravi had attributed this feat to growing economic well-being, thanks to various vocational trainings being imparted at Darwa, I knew that something else was also at play here. The Divine Grace of Baba was surely instrumental in this phenomenon.
Baba's grace
I requested Dr. Singhal for an interview so that I could share his inspirational story with my friends at
Life
Positive. Dr. Singhal discovered Baba in 1985, while working at PGI, Chandigarh, through Baba's biography, presented to him by a friend.
| | | |
| --- | --- | --- |
|   | |   |
| | Self-evolution is the spiritual backbone of the project, which has created subtle changes in children and parents alike. | |
|   | |   |
That book changed his life. He began to think that if such a phenomenon exists in our own country, he must experience it firsthand. Luckily, his doctor wife too agreed with this thought. Soon various synchronicities came his way that made him experience Baba's benign grace and love.
In the early '90s, a fellow devotee told him that Baba had asked him to start a rural project, and he was looking for like-minded people to support him. Dr. Singhal immediately offered his support. Again, through some miraculous synchronicities 27 acres of land was donated for this project by Darwa gram panchayat.
During that period, while visiting the ashram at Whitefield, Bangalore, Dr. Singhal was told by the same friend that while blessing the project, Baba had said, "Jump into the sea. Burn your boats. Cut off all your connections." As soon as Dr. Singhal heard these words, he 'knew' that this message was meant for him. In that moment, he decided to wind up his flourishing private practice, and move to Darwa. His wife showed initial reluctance because it meant resigning from her government job as SMO, and uprooting her school-going daughter. Nevertheless, as soon as she found a decent school for their child, she willingly gave up her secure job, and jumped into the unknown waters.
Besides Baba's grace, Dr. Singhal's support came from his septuagenarian mother who wrote back in chaste Hindi, "This is the best step that you have taken in your
life
so far." In 1993, the doctor couple started the first phase of the project, a medical clinic in Darwa. Initially, they faced a good amount of resistance from the villagers, who did not like their disciplined and ethical medical practice. Receiving free medical care too did not go down well with the rural folks. However, the next phase of the project, a free school for poor children was a much-appreciated move. Moreover, the third phase of vocational empowerment programme became the icing on the cake.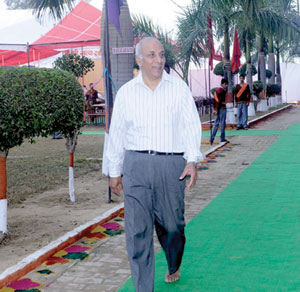 Dr. Vinod Singhal: Walking resolutely on the path of
selfless service, shown by Satya Sai Baba.
As of now, not only Darwa village but also many surrounding villages, consider themselves fortunate to receive this 'unasked-for blessing'. The multi-pronged approach of medical care, education, nutrition, and employment, has seen a blossoming of Darwa's inhabitants, especially the young children.
About two decades ago, most people in this area had not even heard of Satya Sai's name, but today they greet each other with 'Sai Ram'. Their day begins with a morning prayer in front of Baba's picture and veda uccharan by school students. They participate in nagar sankirtan every Sunday, celebrate all festivals as a community, understand the importance of ancient Indian culture, learn nationalism based on multi-pluralistic Indian society, sing sarva dharma bhajans on Sundays and Thursdays, and perform Narayan seva once a month. Self-evolution through the 5 Ds of duty, discipline, devotion, determination, and discrimination, is the spiritual backbone of this project, which has created subtle changes in children and parents alike. These subtle changes are being translated into the
health
parameters of this happy hamlet.
Happy hamlet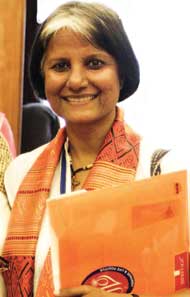 Chitra Jha is a healer, writer
and trainer. Her first book,
Achieve your highest potential
has been published by Penguin
India."
Dr. Singhal calls it an ocean of love. He repeats Baba's words, "Grace is the sunlight which ripens the fruit, while sadhana is the sap which rises from the earth, and both are needed by the tree in order to yield fruit." Dr. Singhal, his wife Dr. Bharati Singhal, and all other volunteers of this rural project, live Baba's words, "Hands that serve are holier than the lips that pray. Remember your duty is to
love
all and serve all."
As I look at Dr. Singhal, I am reminded of some more of Baba's sayings, such as "We shall be judged not by the creed we profess, or the label we wear or the slogan we shout, but by the work, the industry, the sacrifice, the honesty, and the purity of our character." Baba had also said, "Once the truth of the indwelling spirit is recognised, there dawns the awareness that the world is one family. One is then filled with divine
love
which becomes the driving force for all of one's actions." I can literally 'see' that driving force behind the Darwa project.
When more and more people understand that there is only one religion, the religion of love, only one language, the language of the heart, and only one caste, the caste of humanity, more and more Darwa-like projects will be created. Until then, let us appreciate the loving actions being taken by some of our fellow brethren.
You may also like to know about my shoulder. Well, regular stretching exercises have opened it up to some extent. The rest I leave to the provident Source who has taken care of me so far.
See more articles on
Positive Chronicles
:
http://www.lifepositive.com/Articles/PositiveChronicles
Reader's Comments


Subject: Thank you - 20 July 2012
Very nice of Dr Vinod & Bharati Singhal to start this kind of project & doing the good & selfless work of helping the society. A country like India is badly in need of genuine persons like both of you. A big thankyou from me & my family.
by: Haresh Hardasani