Positive Chronicles - One World or None
Meet Garry Davis, an extraordinary humanist and founder of the world government for world citizens who gave up his american citizenship to fight for the formation of a world without borders or barriers

Download PDF Format
It takes a genius, a madman, or a sage to challenge blind convention and throw a gauntlet at society, forcing it to look at itself. Enter Garry Davis. A Broadway actor of some repute, he was recruited in World War ll as a B-17 bomber pilot. Aghast at having to kill a world that he had formerly entertained and made happy, he renounced his American citizenship in Paris in 1948 to become a "citizen of the world". A revolutionary step that riveted the world and earned him much popular ovation. Davis interrupted a session of the United Nations General Assembly on November 22, 1948 calling for "one government for one world."

He founded the International Registry of World Citizens in Paris in January, 1949, which registered over 750,000 individuals. On September 4, 1953, Davis declared the World Government of World Citizens from the city hall of Ellsworth, Maine, based on fundamental human rights. He then formed the World Service Authority in 1954 as the government's executive and administrative agency, which now issues passports – along with birth and other certificates – to applicants. Davis first used his "world passport" on a trip to India in 1956, and has been variably admitted into or jailed by countries around the world after using his world passport. Up to 150 countries have purportedly accepted the world passport at one time or another. In France, his support committee was co-founded by writers Albert Camus and André Gide and the Abbé Pierre.

Now 87, Garry Davis holds hard to his vision of World Government, which he says is founded on three principles: One Spirit, One World, One Humankind. Excerpts from an email interview from his home in South Burlington, Vermont, USA.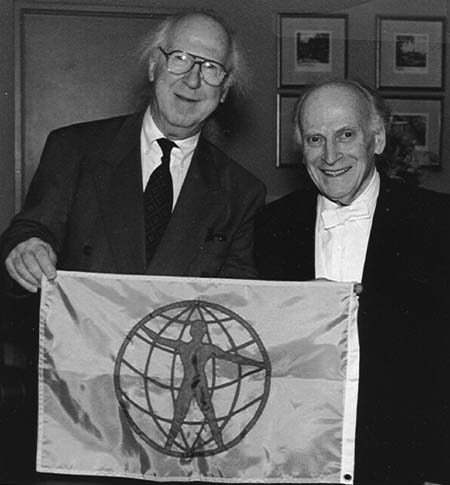 Garry, left, with violinist Yehudi Menuhin Why did you become a world citizen?
Given the interdependency of the 21st century world in which we all live, we are born de facto or actual world citizens. The world's input affects each human directly and quasi instantaneously. Moreover, as of August 6, 1945, the start of the Nuclear Age, all humans born after that date, whether they knew it or not, were in a dynamic contract with humanity itself since survival of the race itself was in question. As a species "member," I "became" a legitimate world citizen simply by publicly declaring myself one.

Looking back at your extraordinary life, what are your thoughts?
My profession is acting. This implies entertaining an audience freely accepting and even grateful to be entertained. The "reward" for the actor is not only appreciation but an inner satisfaction or happiness. As the theatre unites all people per se as "audience," "performers" and technicians, divisions disappear in the theatre or movies. The "stage" then, as Shakespeare wrote, in reality, is the world itself. We are all on it. Following my "role" as a B-17 bomber pilot in WWII, however, I realised immediately the inherent contradiction of war perpetrated by nations coming as I did from the happy coalition of entertainment. The humiliation and guilt I felt as a "warrior" ordered to bomb civilians (potential audiences) was a consequence of betrayal of my innate sovereignty as a rational and moral human being.

There seems to be an India connection both for you and for the World Government.You studied Geo Dialectics at the Gurukula Institute in Bangalore, and the World Government memorandum was drawn up by Nataraja Guru. Would you say that the inspiration and the spiritual basis for the World Government is derived from Indian philosophy which emphasises the oneness of creation?

The "oneness of creation" is at the core of every sage or guru's teaching throughout human history whether Indian, Middle Eastern or Western. As a teenager, I had studied Socrates, Plato, Emerson, Plotinus, Bergson, Thoreau, Paine, Whitman and others. I was also a sci-fi fan. For futurists, the oneness of planet Earth in sci-fi is a given. The immense popularity of the Star Trek TV series and movies, especially amongst the youth, is daily testament to the world public's acceptance of the "oneness of creation".

My "accidental" meeting with Guru Nataraja in the middle of the Atlantic Ocean aboard the S S American in 1950, as we were returning from Europe, was providential. The Brahma Vidya teaching in which later in Bangalore he instructed me confirmed both philosophically and metaphysically what I had already accepted intuitively and intellectually. World citizenship, he told me in mid-Atlantic, was only the "façade" to the world behind which was the unitive philosophy that he, as a guru, taught. Formulas such as "One for all and all for one," and "Do unto others as they would do unto you," and "The first shall be last and the last shall be first," he averred, were perennial dictums revealing the underlying unity of awareness itself.

Who are the known names who support this initiative?
Albert Camus, Norman Cousins, Walter Cronkite, Albert Einstein, Richard Falk, John Kenneth Galbraith, Andre Gide, Oscar Hammerstein, Vaclav Havel, Jawaharlal Nehru, Paul Newman, Andrei Sakharov, Jean-Paul Sartre, Ronald Reagan, John Steinbeck, Arnold Toynbee and hundreds of others.

Did you ever want to quit? How did you find the strength to move on?
On September 11, 1948, stateless as of May 25th, ordered by the French government to leave France, with no other nation's permission to "enter", I "emigrated" to the "international territory" of the United Nations ceded by the French government for three months at the Palais de Chaillot, Place de Trocadero, Paris. Once there – on the steps of the restaurant – I claimed to be the UN's "first citizen". Besieged by the world press, the response from my fellow citizens was overwhelming. It was the first time a human being had "populated" a so-called international territory. In brief, it had "legitimized" me as a World Citizen. From then on, my new "role" was cast. There was no turning back. Anyone and everyone could also be a world citizen member of the "global cast". The show continues apace!

How do you safeguard against the prospect of civil war breaking out among the world citizens?
When world peace enters human history, the idea of war will be regarded as not only barbaric and infantile but futile. As for "enforcement" of world codes of conduct, based upon geo-dialectics, our government is forming the Sovereign Order of World Guards (along Gandhian principles). The World Guards (WGs) are spokespersons, representatives, independent and free-wheeling like the Indian sanyasin or the Western cowboy sheriff in the frontier days. Like the sage they are often, if not always, self-claimed, but unlike the sage, their energies turn into adventure and active defence of the downtrodden and persecuted. World Guards are the modern-day Robin Hoods, the Davids attacking the Goliaths of ignorance, intolerance, and hypocrisy. They are like the white blood cells of the human body, attacking all enemies to the body itself. That implies an innate instinct for primal justice plus a detached courage aided by a calculatingly independent intelligence.

Is humanity ready for a world government?
Insofar as the geo-dialectical opposite of world government is world war (now available to major nation-states in nuclear terms), the answer is automatically yes if humanity itself is to survive. As Emery Reves pointed out in The Anatomy of Peace, (Putnam, 1945),"There is no first step to world government. World government is the first step." In 1955, philosopher Bertrand Russell and Albert Einstein made an extraordinary appeal to the people of the world: The choice facing the world, they wrote, is "stark and dreadful and inescapable: shall we put an end to the human race; or shall mankind renounce war?" We should consider ourselves, they averred "only as members of a biological species which has had a remarkable history, and whose disappearance none of us can desire."

Do you set any credence to the date of 2012 which is considered to herald a significant shift in world consciousness?

I am of course familiar with the Mayan calendar ending on December 21, 2012 and the Hindu prophecy in the Brahma-Vaivarta Purana that a "Golden Age" will descend after 2012. The evidence of "world consciousness," is rapidly becoming apparent to people of all ages, a dramatic example being the pictures from the Hubble telescope revealing billions of galaxies in the universe of which our own Milky Way is but a tiny example.

Acording to The Grand Ages and The Coming of Aquarius "… we will see a transition from the patriarchal institutions and religions to those which are run by the 'feminine principle' and influence which teach that free thinking, creativity, intuition, are foremost, and that the education and nurturing of the children and the enhancement of the quality of life for all people will be uppermost on the agenda….With the coming of Aquarius, we will find that the institutions of the world will be reunited with the feminine counterpart which has been missing and this reunion results in the blessings of joy, and fertility of the union between the two, which will spread to family and community. The woundedness of the past will be healed and transformed."

Myriad signs of the awakening of the feminine to its rightful place in human affairs are happy harbingers of humanity's release from ignorance, conflict and today's miseries.

What are the recent activities of the movement and what's ahead for it?
Major increase in registering of world citizens via publicity programmes such as YouTube videos, satellite conferencing between coordinators of world commissions, my blog, my books* (See Amazon), the programmes of "Mondialization,"– over 900 cities have declared themselves "Mondialized" – the "World Syntegrity Project," – a democratic and systemic programme to evolve a peoples' world constitution – the evolution of a world parliament web site, the World Referendum – the first public opinion poll utilizing the internet – a feature and documentary film entitled, "One, The Garry Davis Story,*" the issuance of additional human rights documents: a World Work Permit, a World Medical Card, plus an updated World ID Card, etc. are in the planning stages. Conferences, forums, major public events, university debates, radio, TV appearances, etc.Major funding is essential for these programs.

Who is going to succeed you when you go?
My present position is World Coordinator. It is a non-political position. It can be filled by present personnel of the World Service Authority.

Contact: http://www.worldservice.org; 202 638-2662; 202 638-0638
We welcome your comments and suggestions on this article. Mail us at editor@lifepositive.net