Positive Chronicles - Ram in the Boardroom
by Chintan Girish Modi
Meet R Rajgopal, an organization consultant who diagnoses people on their resonance with mythological figures
What stories are to communities, myths are to individuals. Individuals find anchoring in myth. They identify with the whole or part of the life saga of a mythological. How these resonances work at the identity level to influence a person's/ organisational behaviour is my area of interest." That is Mr R Rajgopal's simple and cogent explanation of the work he is involved in.

Mr Rajgopal is an independent organisation consultant with over ten years of consulting experience and three decades of overall work experience. He has undertaken extensive work in the areas of behavioural training, organisation structure, job evaluation and performance management systems with clients like KPMG, Hindustan Lever Ltd, Bharat Petroleum Corporation Ltd, among others.

Drawing lessons from mythology, and applying them to contemporary organisational contexts, is not as far-fetched as it may seem. He reads a lot of Joseph Campbell, the American mythologist and author of ground-breaking works like The Masks of God, The Hero with a Thousand Faces, and Myths to Live By. More importantly, he has been reading the Ramayana, Mahabharata, and Bhagavatam since the age of 14. These texts have been crucial in directing the course of his professional life.

While the archetypes (original model or person for a particular trait) cloaked in the myths of Greek, Roman or Egyptian mythology have been explored by scholars abroad, we in India have done very little work on how the archetypes found in our own mythology affect us. This is odd because most of us have grown up on these stories. They influence our ideals and values, they impact our attitudes and behaviour, they resonate with something deep within. No wonder then that Mr Rajgopal finds parallels wherever he goes.

While consulting organisations, he often comes across people who occupy high positions in the organisational ladder, yet continue to make statements that decisions would be taken by the top management.

Mr Rajgopal remarks, "This has a parallel with the Vidur/Karna or Sahadev identity who all felt small/inferior at the emotive/identity level. Despite having huge potential, they chose to withhold that potential, and only offer it to the hierarchy. Vidur chose to place his insights to Dhritrashtra, Karna to Duryodhana."

Guess what he has to say about Bheeshma, the grand old patriarch of the Mahabharata? Mr Rajgopal observes, "Bheeshma's sentimental nature was uppermost when he said, 'I shall remain indebted to the throne of Hastinapur'. Because of that one crucial word 'throne', Dhritarashtra became more important to him than the welfare of Hastinapur itself. Between his commitment to the throne, and his convictions and commitment to the state, his choice went in favour of the king. Don't we have many examples of this identity in organisations where people commit themselves to the boss or department or function, and hence don't state their convictions that would stand the larger organisation in good stead?"

Mr Rajgopal attributes his interest in mythology to his religious and socio-cultural upbringing as well as his association with the Indian Society for Individual and Social Development (ISISD). His experience with ISISD made him realise that any significant shift in people/systems can be made only if we work at the identity, the intrapersonal, and the intrapsychic levels, rather than merely at the interpersonal level.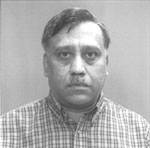 R Rajgopal: bringing
mythology to work He believes that one's self-perception is deeply connected with the way one relates to archetypal patterns in mythology. According to him, the Neelkanth identity is related to shouldering exclusive responsibility for the well-being of the system, somewhat similar to the Atlas identity from Greek mythology, whereas the Vamana identity is associated with a search for the right place to realise your full potential. Likewise, we find a lot of parallels to the Hanuman, Arjuna, Eklavya identities where huge potential awaits an external stimulus to be converted into performance.

Mr Rajgopal's analysis of Ram as a mythological figure is quite unconventional. He says, "The Ram identity is very strongly entrenched in the role. Caught between compulsions of the role and convictions of the self, the role dominates. In every situation where Ram could have operated from his convictions, he chose to operate from the compulsions of his role. For instance, he could have questioned his exile on logical grounds, since the decision was taken between Kaikeyi and Dasharath, but affecting a third person, and hence could have insisted on a tripartite agreement instead of a bipartite one, and come up with creative solutions. But he didn't take this step, as he was bound by his role identity – that of an obedient son. At different moments in his lifetime, he adopted a different role identity. We see this in the episode where he kills Bali."

Aware that his standpoint may draw fire, Mr Rajgopal emphasises that his take on myth is different from that on religion. He is unflinching in his devotion to Ram as God. However, when he looks at the Ram identity from the standpoint of organisational behaviour, he considers Ram purely as a mythological character, and not as God.

His students at Narsee Monjee Institute of Management Studies (NMIMS), Mumbai, where he is visiting faculty, have to write a learning paper as part of their evaluation. They write from personal experience about how lessons from myth can be applied in different spheres of one's life.

He says, "An MBA syllabus/course should create a diagnostic manager as opposed to a prescriptive or curative manager. He should be able to use 'sensing' along with the ability to think and analyse – an HR person during an interview, a marketing person during a sales call, a finance person to ask questions beyond the balance sheet."

He believes that education must enhance 'perspective-building', rather than build 'problem-solving' skills alone. He says, "Perspective-building is based on adding new meanings to the existing meanings derived from the past. It involves becoming aware of the present situation, and adding new meanings to old ones, based on the changing context. Problem-solving is focussed only on uprooting and discarding the old meanings that are not desirable any longer. Therefore, perspective-building is the preferable option for organisations."

Mr Rajgopal is a trustee of the Bangalore-based Aastha Foundation for Human Learning and Growth, an institution committed to fostering processes by which individuals learn to recognise and utilise their potential as vibrant and substantive beings.

Mr Rajgopal says, "Qualifications we may not have, but qualities we all have. There are two options to grow – the qualifications route, and the qualities route. I chose the latter. By qualities, I mean the infinite potential each human being has at birth, which can be converted into performance."
Reader's Comments


Subject: Ram in the Board Room - 17 December 2011
Nice article and taken in the right spirit. Religion need not be mistaken here. Would like to interact with the author, any email Ids??
by: Venkita Raghavan