Positive Chronicles - The Good Samaritan
In a new column on positive initiatives, we profile businessman Kiran Raval who combines altruism with the responsibilities of the householder life


Download PDF Format
Kickstart your altruism
Want to make a difference but don't know how?
Here's how to start off, says Kiran Raval
• Most of us go for vacations every year. The average family spends about Rs 30,000 per
More >>
---
A smile on the face of a child is an immeasurable reward," says Kiran Raval, the founder of Good Samaritans. He should know. When he saw children walking barefoot, he bought them chappals. When he saw them shivering with cold, he bought and distributed blankets among them.

He asks, "How can I ignore the plight of the children and poor people around me?" Though working full-time with Max New York Life Insurance, and a responsible parent of two children, Kiran has always managed to find the time and energy to extend all possible help to those around him.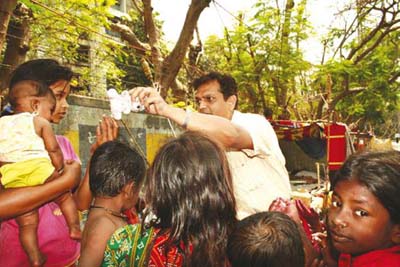 A case in point is Sakri Rathod.
When Kiran read about twenty-one-year-old Sakri Rathod, a resident of the Kranti Nagar slums in Saki Vihar Road, Mumbai, who had been arrested by the police for abandoning her infant at an orphanage due to abject poverty, his thought immediately went to her sad plight and that of her older child, Saroja, who was just two.

He approached the police to bail her out. He was told that he would have to approach the court with relevant documents as she was under judicial custody and it was not possible to release her. The next day, Raval, along with Saki Naka police personnel, approached a metropolitan court at Andheri to move for her bail. Considering the bail plea, the magistrate ordered her release on bail without any surety or bond, citing humanitarian grounds.

"The police and court authorities are all helpful when they see someone willing to play a positive role," says Raval. Giving her food, milk and ration for a month and some cash, Raval is now looking out for a job for Sakri Rathod, as she may not get custody of her second daughter till her financial condition improves.

Kiran now wants to start a day-care crèche for the children of construction workers, and possibly a night-care crèche for abandoned children. He is in touch with the municipal school in his area. "If each of us could take part in the society around us, we can create wonders," says Kiran, who wishes to set up a model for everyone to replicate.

With a full-time job, would he be able to manage? "Definitely," he says. "I find I have done much better in my job when I dedicated some time and energy to the society around me."

Just time and energy? What about the money? Well, Kiran is clear that money is never an issue as either he or other people around, are more than willing to help if they know their money is going to a good cause. Up to now, the registration of his NGO and the associated administrative work has been with his personal funds. Even in the future, he wants to keep it this way so that every contribution reaches the needy. Another goal of his is getting involved in the government machinery and helping poor people access the facilities. For instance, once he took a van full of malnourished people to Cooper hospital, which helped them by providing food, seeing their condition.

"I wish I could do something," is a thought that often crosses our minds when we see impoverished children, and the poor.

Perhaps it is time we took a leaf out of Kiran Raval's book.

Contact: Website: www.thesamaritantrust.org
Telephone: 9323657694
E-mail: kiran.raval@mnylindia.com

We welcome your comments and suggestions on this article. Mail us at editor@lifepositive.net