Positive Chronicles - The Magic of Timbaktu
by Uma Rangnathan
It is almost as if the trees, the hills, the people who quietly go about their work, the land itself is speaking to you, inviting you to come and give of your best

Download PDF Format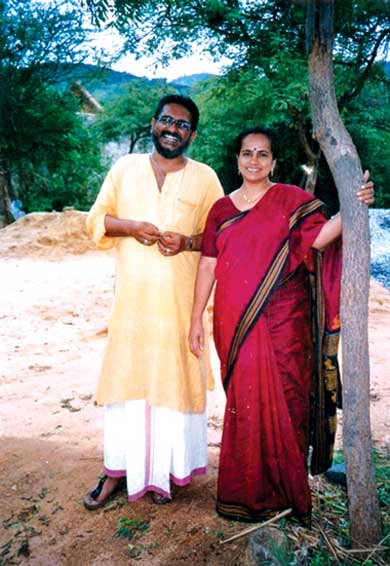 Mary and Bablu, the couple who greened the wasteland It is dusk by the time we arrive at Timbaktu. Dusty, hot, and tired we screech to a halt in front of a long low-slung stone building spiced with a bright blue door and window frames. The four-hour long drive from Bangalore city, along pothole-scarred roads, has taken its toll. After stretching our legs, we flop down on the stone bench at one end of the bungalow. "Venky's Chai Bar" is how it is generally referred to. The steaming hot cups of tea with which we are welcomed are a godsend though I have to confess I am a little less enthusiastic about the anecdotes regarding snakes and scorpions and Venky's warnings not to walk barefoot in the dark. "Shake out your shoes before you slip your feet into them," he says in that matter of fact tone of his. "Scorpion bites are painful." Venky himself, who in recent years has made Timbaktu his home, has had a snake crawl into his room on one occasion and been bitten on two occasions by a scorpion. He had to be rushed to a homeopathic practitioner close by, to ease him of the excruciating pain caused by such bites.

I wonder how I missed registering this vital piece of information during my previous visits to Timbaktu. I consider myself lucky that I emerged unscathed in spite of never once having checked my shoes at night, for creepy crawlies that could have had me writhing in agony or even dead in a few minutes. Oh well, if knowing all this is going to make my nights at Timbaktu a little less comfortable from now on, it will also make them a bit safer, I tell myself.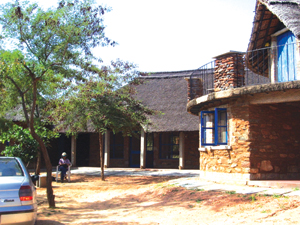 Quaint and delightful cottages that blend with the locale Since that night several years ago, when I had visited the place to show a couple of friends around the project site, Timbaktu has become not only a kind of second home to me personally, but to the various projects, which our group, Basicindia, has been involved in during the last decade. This evening, sitting on the porch of the sprawling bungalow constructed for us on the premises I wonder how the whole move came about. No doubt, it had had something to do with Bablu and his wife Mary, with both of whom a deep feeling of friendship and camaraderie has been building up over the years. Also, with the way Timbaktu had developed in the last years, and the impressive changes which I had seen taking place which had inspired me to do my bit. But there is more to it than that, it seems to me.

The real explanation, when I think of what has led me to work in this remote wilderness, goes beyond all such rational, comprehensible thoughts. "Magic." That's the word which comes to me every time I think of the land on which Timbaktu has been built, a word which Bablu himself often uses as his eyes lovingly rove over the land and the surrounding hills, or when we walk down to the nearby stream on a hot day to cool off. For most of us who have chilled out at Timbaktu or visited the various project sites, the magic is almost palpable. It is almost as if the trees, the hills, the people who quietly go about their work, the land itself is speaking to you, inviting you to come and give of your best. One ought not, I feel, to analyse those kind of things too much.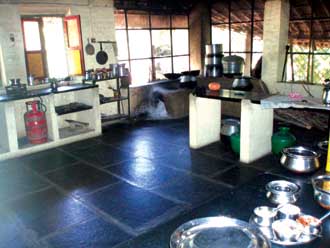 The commodious and clean kitchen The enchanted atmosphere of the region has been treated with utmost respect by the team at Timbaktu, where the thatched roof houses though low cost have been built to blend in with the environment, and where plastic litter (including mineral water bottles) is fiercely discouraged. Resisting the urge to conform, Timbaktu (somewhat to the chagrin of us city slickers) has steered clear of electrification, relying on solar power for its modest needs (supplemented by a generator in times of emergency).

"How did you happen to choose a name like Timbaktu, for your project," I ask Bablu (officially Choitresh Kumar Ganguly) as we sit and warm ourselves over cups of hot soup, one night. "When we first came and saw the land here, it seemed to us like the end of the world," smiles Bablu whose family originally comes from Calcutta though Bablu himself has spent most of his growing up years in Mumbai. "Later we came to know that in Telugu, Timbaktu has come to mean Sarihaddu Rekha – the last horizon where the earth meets the sky…"

Youthful idealism, flavoured with more than a dash of Marxism led Bablu in his early 20s, into an area far removed from the corporate world for which he had presumably been educated. For close to two decades now, he and his wife Mary Vattamattam, whom he met while working on the Young India Project in the late 80s, together with their friends and colleagues, have been nursing back to health a 32-acre plot in Andhra Pradesh, which they purchased together with friends in 1991. Far from being intimidated by the dry, ravaged unwelcoming territory they had decided to call home, the little group of friends took it as a challenge, to heal the land and transform it into a green agro forest.

Over the years the barren landscape has been turning greener and greener while flocks of birds including the Indian pitta from the Himalayas, the paradise flycatcher, bulbuls and peacocks are being lured back again by the greenery, in addition to a host of insects and animals believed to have disappeared for good. The evenings spent mostly in darkness or by the light of a dim bulb flickering in Bablu and Mary's courtyard are an ideal time for storytelling and Bablu and Mary happily oblige by recapturing the old times for us. They laugh over how the kids, when they first came to settle down in this wilderness, wanted to run back to the village where they had earlier lived, explain to us how the barren land turned productive through judicious use of water and how the hillsides regained their green mantle through efforts to contain the local grazing. Water management projects alongside helped to bring fertility back to the barren land and the fruit of the long years of toil is evident in the abundance and taste of the organically grown vegetables which constitute simple but mind blowing meals at Timbaktu.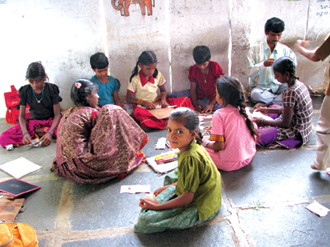 At the school set up by the couple Forest regeneration and organic farming are not the only projects on hand. We get acquainted with the various development projects, including rejuvenation of traditional rainwater harvesting structures, schools for village children, a weaving centre, and an oil press. There is even a cell for disabled individuals, managed by our friend B Venketesh, known to all as Venky, who is himself blind. The main goal of 'Militha' is to support all individuals with disabilities in the area by raising funds for activities such as mobility training, surgical intervention when needed and aids like wheelchairs, hearing aids or books in Braille.

What excites me about this particular visit to Timbaktu is the gradual merging of the work which some of us are doing in the cities, with ongoing projects in rural areas. A handful of us from Mumbai and Bangalore, working in the area of self-awareness – essentially to do with increasing awareness of individual potential as well as our responsibility to others and to the environment – have made this trip now to take a look at the foundations of a small centre which will host our activities, making way for urbanites to learn from rural folk and the other way around. Something in me is jubilant at this new coming together of friends, based on the recognition that spiritual and material progress go hand in hand, that each part of a complex whole is dependent on the others for its own growth and development.

That most of the housing in Timbaktu has no access to running water, that I have to peer into and shake out my shoes every time I need to go to the loo at night, that the heat often has to be endured without even a simple fan, are facts – but somehow facts which, rather than get hysterical over, we try to deal with as sensibly as we can. I am a realist and the prospect of spending more time in Timbaktu already has me thinking about how I am going to be able to work on my laptop or have access to a reasonably good connection with the net. But such questions are a part of the game, part of the challenge facing us in the next couple of years and I have no doubt that before long, one way or another, the problem will have been resolved.

Uma Ranganathan is a counsellor and psychotherapist based in Bombay. She is part of Basicindia, a network that offers weekend workshops and evening sessions based on music, meditation and dialogue towards self-awareness.

Contact:umazon@gmail.com
We welcome your comments and suggestions on this article. Mail us at editor@lifepositive.net

Reader's Comments


Subject: Superb! - 25 May 2011
This is a superb case of rejuvenating nature.
by: Dr. D K Sadana