Positive Chronicles - The Vada Pau Seth
The Vada Pau Seth, as he is affectionately called, has brought hope into the lives of children whose only home are the cruel mean streets of Mumbai.

Download PDF Format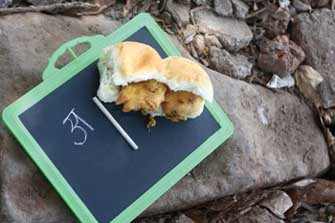 He setting is ideal. If de-schooling is his purpose, Aijaz Ahmed or Vada Pau Seth, as he is popularly called on the street, has found his classroom. Splintered from the regular drone of traffic and everyday bustle is a patch of green in the heart of Mumbai's commercial centre. Broken into driveways, manicured hedges and stretches of tightly clipped grass, it makes room in a corner for a handsome man and his even better looking dream of imparting education to those born and brought up on the street. The street is rough and without reins. Tethering young children who belong to it in a classroom is almost impossible. But Aijaz worked hard and made it happen.

He spent years talking to their parents, getting them gifts, tending to them when they fell sick and slowly, like a miracle, the street took to him. He walked around like the Pied Piper. All Aijaz had to do was walk down the road and the street kids would follow him with joy in their hearts. He gave them pocket money, jobs when they needed it, got them school admissions, and paid for hospital expenses. Good students found homes in foreign countries, and those who stayed put in India on the street were equipped with the rare knowledge of Maths, English, and good conduct.

Aijaz Ahmed gave the street hope.

Every day, barring Saturday and Sunday, Aijaz would gather all the kids on the pavement and take them to the garden for their lessons. He bought the books, the crayons, and the colours. He allowed them to mix it all up with games of football and cricket. The kids just loved it. They learnt, painted, and played to their heart's content. Then, when it got late and the sun had set, they would return to their homes on the pavement to eat and sleep and dream of another day's cricket and colour.

"Please don't call me a social worker or activist," he asks of me. "I don't like those words. I am just doing this because I want to. I do not want money, fame, or political recognition. When I feel my job is done, I will quietly slip away. As quietly as I wandered in." His words spill out slow and deliberate. We are seated in the garden, the kids are yelling happily, one team has scored a goal in a friendly soccer game, and the other team is not too pleased with it. There is an argument, and then the game continues. The girls are playing doctor and mummy with their little siblings. In the distance, the traffic is a blur, and the sun has arched its back preparing to dive into the Arabian Sea.

The Vada Pau Seth

Aijaz began this "soul journey" in 1978. He could not get a place to be with the children for a long time and kept relocating. The other big problem was to get to know the kids. They were born and brought up on the streets, and were more than just precocious. They grow up with drugs, gambling, street fights, and the rage of hormones. They become parents early, and pick up several partners along the way as they grow up.

"They kept seeing me and that helped," says Aijaz. "I used to sit in small cafes and have tea and biscuits. They got curious and used to come over and join me. We began talking. I got them tea and biscuits. That's how it all began. The parents also wondered what I was up to. They thought I would kidnap the kids or lure them away. I had to get their trust." The kids did not know his name, and were not interested in it either, but since he fed them vada pau, a cheap snack available on the street, it was easy to call him Vada Pau Seth.

Slowly, it all fell into place. "There are over 50 children and they are all so boisterous. They come and go when they want. They have never had discipline, and have been rootless from birth. Their parents have petty jobs like cleaning shoes or washing cars and are drunk most of the time. If they don't drink, they gamble," says Aijaz. "If I ordered them to attend class, they would never do it. They would insist on staying away just to disobey me. They would have to come to class on their own. I had to win them over slowly and carefully. They had to believe in the class, they had to believe in me.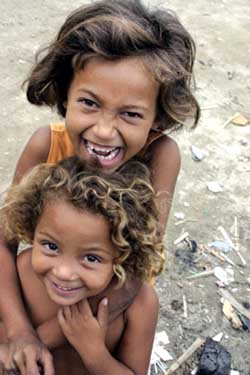 I have brought hope into their lives and I am sure
that they will grow into responsible adults The first thing I had to do was to lure them away from begging. I had to give them self-worth, some self-pride. In all these years, they have never stolen a thing from me. If they want something, they ask, and when they earned money doing the odd job, they even bought their own crayons. Now many of them are working and their fathers borrow money from them. They have realised the value of work and that, I think, has been my greatest achievement. If they can work, they will never starve."

Aijaz began with the alphabet. He taught English and Maths. To break the monotony, he made them paint and draw on large canvases. "They are all natural artists," he says. "It's their expression. I use drawing as a medium of instruction like archery is used in Zen. They are also powerful athletes and we have formed cricket and soccer teams to play for a Cup I have instituted."

Street scholars

Several of Aijaz's students have been admitted into school and are winners. "They are doing so well," says Aijaz with paternal pride. "Look at their report cards. Their schoolteachers come and compliment me. I believe in de-schooling, in teaching without compulsion. For those unused to rules and regulations, this is the only way. They can come to class when they want and leave when they want. It's their choice entirely. They prefer it this way, and I can see that it works for them and for me. Once they are broken in and are appreciated for their skills, they are winners all the way. They just need to be appreciated, to be patted on their backs. Then they are regular in class, enthusiastic and competitive."

Aijaz's success with street kids attracted worldwide attention. Several organisations involved in social work invited him to join their ranks. "I don't want to make this a business," he insisted several times.I have brought hope into their lives, and I am sure that they will grow into responsible adults. What more can one expect of them?"

The years passed. Aijaz did what he wanted to. He educated, looked after, and guided a clutch of pavement kids. A new generation of pavement dwellers has now been born to the pastiche of the street. As he always threatened to, Aijaz has disappeared into the hills. He lives a reclusive life reading, writing, and painting the wilderness from a hilltop home that watches over a stream that gets pregnant with water and migratory birds after the monsoon. "I live for the moment," he used to tell me during our occasional forays into the meaning of life. "There are no future plans. Love has no programme. It is the programme." We have not met in years but his words still cavort in my mind when it longs to rest: "There is no place to seek the mind. It is like the footprints of the birds in the sky."

Rajendar Menen is a writer based in Mumbai, India. His latest book is Kama Sutra-Essays From the Margin.

Contact: kemosaby58@rediffmail.com
We welcome your comments and suggestions on this article. Mail us at editor@lifepositive.net