Positive Chronicles - The philosopher cabbie
by Shriyansi Jain
A chance encounter with cab driver Ahmed Ansari enlightens the author on how divinely protected she has been all her life

Download PDF Format
Everything happens for a reason." "We have Divine Guidance in all that we do." "Life shows us the way." I have always loved the beautiful affirmations and known that they were true, but never believed in them.

Then, life took over and brought me Ahmed Ansari, cab driver from Meru cabs. As I stepped out to meet him, he jovially thanked me for calling a Meru cab and started chatting about how he had been visualising a cab request for Navi Mumbai because he needed to be home (in Navi Mumbai) and really didn't want to go empty all the way. He prattled on, telling me how he uses visualisation for just about everything. Right now, he is focusing on money, as he is blessed with three daughters and shaadi bhi to karni hai unki!

He tells me that usually the average cabbie with Meru makes Rs 800 a day, after expenses. He has a little notepad where he keeps a tab on expenses and money earned during the day. Every morning, he sits in the cab and vividly visualises himself totalling up Rs 2000 after expenses. He then sees himself going home, giving the cash to his wife and her ecstatic smile. I asked him if it works. He says in Hindi, "Come on! I just told you! I visualised a cab request for Navi Mumbai and here it is! You are the living proof!" He adds, "I am averaging Rs 1600 just now, and will hit the Rs 2000 mark soon. I just need to be convinced enough. The thing is, on some days, I cross the Rs 2000 mark. However, on the days when I quarrel with the wife, my energy is low, that is why the average is still so low." I was astounded. Of course, I ended up telling him about a new manifestation technique I had learnt at a workshop I had just attended, where we send out our intent into the universe using a simple glass of water. He responds, "Consider this: we are made of water, the earth has water in it, the air has water in it, and even the sky has water! Therefore, if you want to send Allah a message, water carries it! That is why this method works." My jaw hit the floor of the cab. I have had some great conversations with cabbies, but mostly centred on traffic, the police, the bombings, their kids, their lives, but this?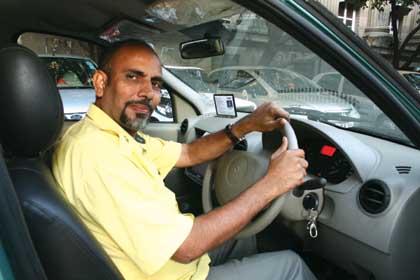 Ahmed Ansari in person We exchanged numbers, so I can call him directly if I need his cab. I saved his number as Ahmedbhai. He says thanks, because he does not have a sister, and he would like to be my brother. "This meeting was written by Allah, so I could learn the water technique."

I learn he is a fellow smoker. So of course, I tease him that he is a Namazi, so aren't ciggies off-limits? He asks me if I know how much God loves me. I say I don't know. "The amount that a mother loves her child, times 70. That's how much Allah loves His people. Allah, Bhagwan, Parmatma are all one. Allah loves us both the same way – you Hindu, me Muslim... He loves us equally. So, if He loves us that much, can He see us burn in hell? No... He cannot! We will all go to heaven. However, that doesn't mean that you can do whatever you want. Like go around killing in the name of Jihad, misbehave with women. Hell is when you look back at your life with shame and loathing. Your soul quails when it thinks of what you have done. Even after death.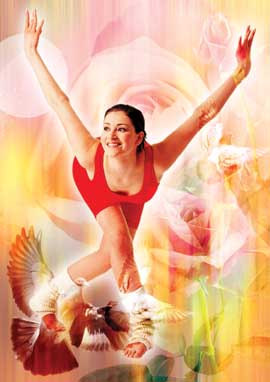 Everything really does happen for a reason, and it happens
when we need it the most "And what is heaven? Heaven is a place where there is no suffering. There is a lot of suffering in this world. Water is suffering, for we cannot live without it. Sleep is suffering, because when we don't sleep, we suffer. Childhood is suffering, old age is suffering, and youth is suffering. Money is suffering. Everything has two faces, and the other face is suffering. There is no suffering in heaven, because we have no needs in heaven. That's why we go there after we die. To rest awhile."

I have never heard anyone explain these concepts this simply and clearly. We were at Vashi by this time, and I was meeting my husband there. I thanked him for drenching me in his wisdom, and for making the ride so enjoyable. He reminds me that God arranged this meeting, so we could both benefit – him, his water technique, and me, a cab ride where I didn't get bored or think about the traffic. I found myself saying bye, and wishing bhabijan and the kids my love.

I thought about what God gave me through this encounter with Ahmedbhai. One, I was back in the space I was in before I had my nasty blast from the past, and I couldn't stop smiling at strangers! It was a friendly universe again! Two, I now have another angel in disguise – my delightful philosopher cabbie, one I would meet every time I head out into the world.

But most importantly, Ahmedbhai taught me that everything really does happen for a reason, and it happens when we need it the most. For the first time, I reflected on those aspects of my life and my past that bring me pain, and I realised how much I needed them in my life! How else was I to learn the marvellous lessons they had for me? The things I value most in my life are here because other pleasant or unpleasant people/situations/occurrences happened when I wasn't ready for them. Where was the learning, the wisdom in having stuff thrown at me when I'm ready? It was when I wasn't ready that I adapted, I grew and I became more than I was then.

I was overwhelmed with a sense of gratitude so profound that words cannot do justice. I couldn't believe how divinely protected I had been all my life. And how well guided! I was filled with love for everything and everyone in my life, and just couldn't wrap my head around the fact that I was here, on God's beautiful earth, living my beautiful life.

I looked up to the heavens and smiled. Thank you Old Boy, as always, your timing could not be better!

Contact: shriyansi.jain@gmail.com

We welcome your comments and suggestions on this article. Mail us at editor@lifepositive.net
Reader's Comments


Subject: Beautiful article - 21 October 2009
I was feeling a little down and I needed something inspirational to read...and I came across this...and now I have learnt a technique to use too...the articles on this website have truly inspired me..thanks
by: Astra