In a new column on positive initiatives, we profile businessman Kiran Raval who combines altruism with the responsibilities of the householder life


Kickstart your altruism
Want to make a difference but don't know how?
Here's how to start off, says Kiran Raval
• Most of us go for vacations every year. The average family spends about Rs 30,000 per holiday. If you could forego your vacation for one year, the
money
saved could be used to support the activities of several NGOs who look after the needs of underprivileged children. Your Rs 30,000 could look after all the needs of a child for a whole year from food, clothing and education. Think about it, for the sake of foregoing a week's vacation, a child can be given a new lease of
life
for a whole year.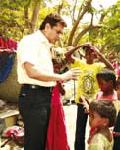 These NGOs also personalise things for you so you will actually get a picture of the child you are supporting. In other words you get to add one more member to your family simply for the price of a vacation. You do the math!
• Don't have the time or feel badly torn between your family obligations and your urge to reach out? Manage your time. In a week, I allot one day for my family-related activities. One for social and NGO-related
work
and the others are devoted to earning a living. This helps me attend to all areas and balance all aspects of my life. This is not a hard and fast rule but the focus and priority of the day is never lost.
MEMBER AREA