Nikita Ketkar's vision to empower children in night schools has given wing to many a fledgling dream.

Excerpts from an interview
What made you leave your job and take up promoting education?
Education has always been my passion. In 2001, I accidentally came across night schools and the problems faced by them.
It was at this point that I decided to do something about the problem.
The self-motivated night school students, who aspire to study, made me feel strongly about giving back good quality education to these students. It was what they deserved.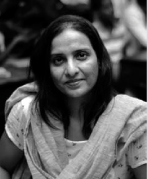 Nurturing dreams: Nikita Ketkar
Who were your inspirations or guides?
The self-motivated student with energy and the will to attend night school after a day's long work.
How do you feel with the impact your intervention has made to the children?
The students feel more confident and learning has become enjoyable.
When things do not go as per your plan, what keeps you going?
When things go wrong I am upset, but it is the ultimate vision to reach out to the night schools that keeps me going.
Any experience you would like to share?
When students come and speak out confidently about the impact of Masoom on their lives, I feel overwhelmed.
What is the hope you have for yourself and for Masoom?
I want to develop the necessary skills to manage a programme that will scale up. As far as Masoom is concerned, I hope it is instrumental in the makeover of night schools.
Photo Caption: Young minds absorbing knowledge after dark in Mumbai
Nurturing dreams: Nikita Ketkar