The success of Non-Governmental Organizations (NGOs) across the globe, has allowed the ordinary citizen to take responsibility for the welfare of fellow human beings

Transforming a Village
by Uma Garimella
Sevalaya' Murali has always taken the road less travelled. From what I had heard of him earlier, he had worked at Tata Consultancy Services (TCS) for the last 20 years – and yet had enough time and passion to spend every weekend at Sevalaya (he had only recently quit the job to devote all his time to the cause). When I came across an India Today article (Game Changers, July 27, 2009) mentioning him, I realised that he must have been pretty young – barely out of college – when he started it all, and not an ageing retiree on a social service spree.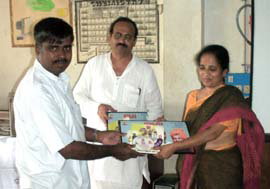 Murali (centre) with teachers at Sevalaya
The philosophy
It was a Subramanya Bharathi poem that inspired 11-year-old Murali – one that affirmed that a true Saraswati pooja would be to start free schools where there were none. He connected this with Vivekananda's philosophy – if someone is hungry, then food is his
God
– and that of Mahatma Gandhi – India lives in its villages. Today, the campus lives and breathes the three philosophies, together referred to as BGV. An orphanage, an old-age home, a goshala, a medical centre, a craft centre and a library are part of Sevalaya.
Services and philosophy extend beyond the campus. Sevalaya recently conducted a BGV philosophy course in the Coimbatore prison. Seminars on themes including prohibition, basic education and communal harmony are conducted regularly.
Then and now
Murali and five others founded Sevalaya on May 29, 1988, with five children and a small rented house in Sivanvoil village. Formal classes began in 1991. Having come a long way from there, the school now maintains a pass percentage close to 100 per cent in the X and the XII board exams. No ordinary feat this – we are talking of first-generation learners who come from illiterate families.
Twenty-one years ago, children in Kasuva would
work
for meagre wages – in fields and brick kilns – and it was hard to convince villagers to send them to school. Today, Sevalaya gets 500 applications for 50 seats a year – mostly from among the poorest of the poor, who apply because they have actually seen Sevalaya change lives. The institution now teaches 1,050 children for free, 100 of its alumni are in colleges, and some have become software engineers and bank officers.
Measures of success
"I wouldn't have, even in my dreams, thought that my son would one day become a software engineer and get into a big firm. I was just a peanut seller at Thiruninravur station. Sevalaya is solely responsible for my son's growth," says Ilayaraja's mother. IIayaraja, a Sevalaya student, now works for TCS and is also a trustee in Sevalaya.
Indeed, in nearly 15 villages near Sevalaya, there is no child labour now – all children are in Sevalaya. Less alcohol is consumed in these places, and the use of hazardous industrial waste oil in the nearby brick kilns has stopped.
Volunteerism is always in the air, with 50 to 60 youth engaged in
community
service at any given time. Still, Sevalaya has to contend with two challenges that every expanding organisation faces – raising funds, and hiring committed manpower.
Sevalaya University in sight?
When Sevalaya was an elementary school, there were drop-outs after the fifth grade, and when it was upgraded to high school, students dropped out after the tenth grade. Then, the higher secondary school came up, and now, bright students are funded for college. Sevalaya supports the higher education of about 100, with 20 in engineering colleges.
Murali feels that running their own university might be not only cost-effective but also more relevant, with job-oriented courses
To know more about Sevalaya, visit:
http://www.sevalaya.org/home.html