Relationships - Healing the family soul
by Akila Jaikumar
At a subconscious and energy level, each one of us is linked to the family soul. treating the family soul can help in easing deeply-seated traumas

Download PDF Format
Hindu mythology and philosophy tell us that our true identity is the soul. This perspective is being increasingly endorsed by factors such as past-life regression which gives the participant a hands-on experience.

Trans-generational healing takes this awareness even further. Being a past-life regression therapist was not enough to prepare me for the journey that I undertook over three days in the trans-generational healing workshop conducted by Usha (aka Anuradha Ramesh), founder of Pink Mist Retreat, from June 12 to 14 at Hyderabad.

Fifteen participants from different walks of life came together in the beautiful and architecturally amazing home cum yoga centre, Shwaas, set up by a young couple, Salil and Anitha. Usha started by giving us a brief talk on the concept. Just like we bond together as families at a physical level, so too, souls bond together as families that transcend several lifetimes. The collective family soul, operating as an entity, gathers experiences, both positive and negative. At a subconscious and energy level, each one of us is linked to the family soul. These energies impact us in ways that are incomprehensible to modern medical science. Healing in such cases can occur almost dramatically when the family soul comes together and the individual souls can relive their traumatic experience. Those familiar with past-life regression therapy know how reliving experiences of the past can cause healing of oneself in the present. While similar in concept, trans-generational healing goes far beyond, to recreate the grouping of souls that existed during the traumatic time, and enables the interactions that happened between them to be relived, resulting in dramatic changes to not only the person undergoing therapy, but also giving relief to those who were associated with him or her. It will invariably result in the whole soul group being cleansed and released from the bondage of old traumas and negative influences.

Having explained the concept, Usha proceeded to prepare us to participate in the healing process itself. All participants were first initiated into a meditation session to create the healing space. Participants were guided to fill themselves with unconditional love and non-judgmental acceptance. Thus prepared, participants are ready to go onto the actual healing process itself.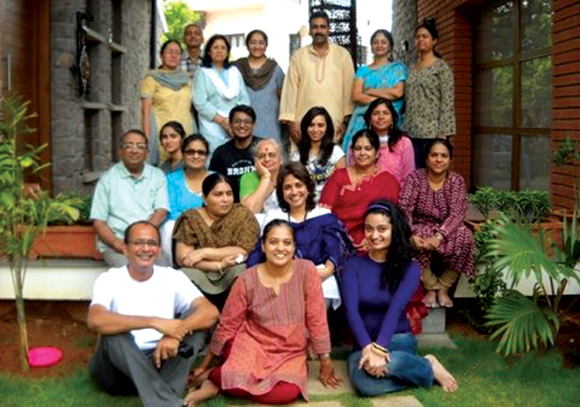 Healed and happy, participants bond at the workshop To initiate the process, the person undergoing therapy gives her family story and identifies the issue to be resolved. Under Usha's guidance, she requests other participants to come up on to the healing stage to take on the role of different family members (deceased or alive) like parents, siblings, grandparents, uncles, cousins, and nephews, who are relevant to the experience. A participant is even chosen to represent the subject undergoing therapy herself. As each participant comes onto the stage, he or she sheds her own identity and actually assumes that of the family soul member that he or she represents – even though she has never known, seen or heard of that person ever before. The role playing souls spontaneously arrange or align themselves into certain patterns or constellations to recreate the same energy patterns known as the family constellation. The family drama unfolds with twists and turns, as the hidden energy entanglements are played out between the family members. As with any soul work, there is no predictable pattern, and no time constraint can be put on the session.

Suicidal death

Geetha revealed the following information to the participants. She was worried about not having good relations with her son. She was also worried about his not settling down to a steady job and having had many failed love affairs. Geetha felt guilty about not having been a good mother to her son. Geetha's first child, a girl, had died at the age of eight and she had also had three abortions. A distant cousin had committed suicide several years ago, since her fidelity had been questioned by her paternal grandfather. No further details of the suicidal death were conveyed.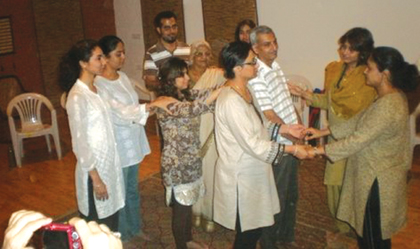 A family drama playing itself out - The collective family soul, operating as an
entity, gathers experiences, both positive and negative The matter to be resolved was to heal the relation with her son. The family constellation was set up bringing in her parents, grandparents (both paternal and maternal), her son, and herself. When the participant (a woman), playing the role of the son walked onto the healing space, her 'son' lifted both his hands above his head. He said that he was unable to bring them down since the energy was pushing them up all the way. He also indicated that he was very uncomfortable with the paternal grandfather's energy.

Another participant was introduced into the healing space to represent the girl who had committed suicide. Immediately upon her entry, the 'son' reported that he felt much better and he was able to bring his hands down. The effect on the grandfather however was a distinct feeling of sadness at having unjustly accused the girl of infidelity leading her to commit suicide. The unnatural death had also resulted in blocked energy that impacted the son.

Once the energy block was found, Geetha took her place in the constellation and the healing process began. The paternal grandfather was helped to apologise to the deceased cousin. When the cousin forgave him, the son felt at peace with himself and with his grandfather too. Uma told us that forgiving and asking for forgiveness are acts of the soul and are powerful transforming moments in the healing process. The forgiveness emotion in this constellation translated to Geetha herself feeling love towards her son.

Geetha also healed her relationships with the deceased and unborn children. This is an important part of the healing process, as was seen in many subsequent sessions. Ignoring the pain of the loss of a child or not acknowledging the loss leads these souls to miss the love of parents and this lack manifests in children of future generations, who often continue to feel the lack of love from parents.

Lack of love

Nita was a young software professional aged 29 years. A diabetic for the last eight years and the youngest of three girls (two other girl children had died in miscarriages), she related four traumatic incidents in her childhood. When Nita was 10 years old, her eldest sister had been ostracised from the family for marrying outside the community. A year later, her heartbroken mother died. Within nine months of her mother's death, her second sister got married and left the house. Soon after, Nita's father remarried. The stepmother turned out to be a schizophrenic who treated Nita badly. Nita was secretly happy when her father's second marriage broke up after a few years, but the scars of her stepmother's treatment remained. She remembers often locking herself up in her room as she was scared of her father. When Nita finally married, though her husband was very loving and supportive, she felt a lack of acceptance from her mother-in-law. The issues she wanted to address were feelings of loneliness and lack of love.

During the healing session, the participant playing the role of Nita's mother expressed pain in stomach (her real mother had died of stomach cancer). All the female members (including the two deceased female siblings of Nita), expressed drainage of energy and lack of support. In addition, all three sisters resonated strongly with the feelings of the paternal grandmother, who experienced pain in her stomach and imbalance. As earlier generations were brought in, it became apparent that the relationship between successive mothers-in-law and the daughters-in-law had not been good, since when each mother-in-law was brought in, the daughter-in-law felt unsettled. The origin of the issue went back seven generations!

The healing resolution was achieved by each mother-in-law saying to her daughter-in-law – "I give you a place in my heart as my son's wife." (Of course, mere lip service does not work, the emphasis is on the role feeling it deep within, and during the session, as much time as needed is given for this to happen). In addition, since the paternal grandmother had very strong feelings of not being supported and the granddaughters were resonating with her energy, the paternal grandfather was guided to heal the relationship with his wife. As you can see, in order that the granddaughters, including Nita, be healed, it was important to heal the mother-in-law-daughter-in-law relationship over the generations, as well as the relationship between the paternal grandparents and the parental love for the two deceased sisters.

Once the energy blockages across generations were resolved, Nita's feelings of loneliness and lack of acceptance were replaced by feelings of strong familial bonds and she felt filled with the love of her family. Her relationship with her mother-in-law improved and she felt loved and wanted. Indeed, when she returned to the workshop the next day, Nita was radiant and full of life.

Energy entanglements

From the patterns that emerged during the workshop, it became clear that burdens of guilt, trauma, or pain not resolved in one generation can be passed on and impact successive generations. In one subject, the depression and loneliness felt by him was traced back to the time when his paternal grandfather had emigrated from Saudi Arabia to Bahrain and married a Bahrain lady. The couple had both felt the loneliness and rejection of being cut off from their respective families for having married inappropriately. These feelings manifested themselves in the subject two generations later. Traumatic events leave deep scars, and create blocked energies that manifest in different forms of ill health, unhappiness, and restlessness. These energies can also manifest in the form of physical ailments that do not respond to conventional treatment.

Removal of the carryover baggage from the past enabled by the trans-generational healing technique can enable dramatic cures and transform lives. We felt the impact ourselves even during our very short session of three days. As we moved into day three, one could sense the vibrant energy within the group, as past emotional baggage was shed.

Dr Akila Jaikumar is the Senior Vice President and Director Operations of Bodhtree Consulting Ltd.

We welcome your comments and suggestions on this article. Mail us at editor@lifepositive.net

Reader's Comments


Subject: Healing the family soul - 1 June 2011
this article is an eye opener and i wish i could participate in one of d workshops. by healing ourselves we may be instrumental in giving joy to so many who may be beyond the limitations of this life and that too thro' a workshop of few days. wonderful
by: Savita Vasudev