Relationships - Satori in the sky
by Megha Bajaj
En route to Goa, a newly married Megha Bajaj discovers a profound truth about relationships

Download PDF Format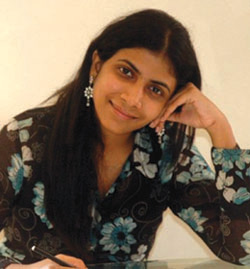 Megha is, above all, a seeker. These days she
is attempting to find herself in the role of a teacher
through the online writing course designed by her.
Contact: megh83@hotmail.com When Arun and I were dating, we were the most blissful couple around. People often warned us, "Wait for marriage – everything will change!" I would smile, but in my mind, I would tell the person, "Wait and watch!" I was confident that happily ever after was a given for me, and stepped into marriage with tremendous belief – in myself, in Arun and in Him.

There was a twist in the tale. There always is, isn't it? Conflicts, fights, arguments – completely missing from our three years of romancing, suddenly showed up within three months of marriage! Questions were asked. Fingers were pointed. Brows were knitted. And tears fell. I cried openly, Arun cried within – and yet the question for both of us was the same: We knew each other so well, suddenly why was everything falling apart? The one thing that we both resented was that the other had changed. I felt Arun had changed, and he felt I had. We both felt cheated in some ways… we had not turned out to be the way the other had expected.

During that period, we were flying to Goa. We had just had an argument and the mood was extremely sombre. I was at the aisle seat and since there was nothing to do, I watched the air hostess do her task. She smiled politely at everybody. All her sentences began and ended with please, thank you or sorry. As we landed, she said, "Thank you" with a smile and the journey was over.

However, for me it had just begun. I had had an incredible insight. I realised that it was possible for the air hostess to be at her best behavior because she knew the journey would end soon.
| | | |
| --- | --- | --- |
| | | |
| | I cried openly; Arun cried within. When we both knew each other so well, why was the relationship falling apart? | |
| | | |
Also, there was no intimacy that she shared with the passengers – she was doing what she had to do. I realised that before marriage Arun and I used to meet about once a week – and that too in a formal set-up, so unknowingly we were always at our best. He only saw a smiling me. I only saw Prince Charming.
With more intimacy, with more time, with so much more of each other – we were bound to see several more shades of each other. This didn't mean that we didn't know each other before – it just meant that we were getting to know each other even better. And that was all right. As I thought more about this – it seemed so simple… the mother knew the best and the worst of her child but that didn't make her fall out of
love
with him. It was stupid of me to expect Arun to be only loving at all times. He was loving – but he was also rude sometimes. It was stupid of Arun to want to see a happy me at all times. Of course I was happy often – but darker
emotions
too were a part of me.
I suddenly began to smile. I realised that Arun and I were doing great. Although we were arguing a lot – it only meant that we were ourselves with each other. We weren't being somebody else to please the other – we were being ourselves and that would take some time getting used to. Marriage is not like a five-star hotel dinner where you were welcomed, served and sent home with a smile; rather it was a journey of a lifetime where several phases, moods, expressions had to be accounted for.
Resentment seemed to dissolve into acceptance. As I shared my thoughts with Arun, he smiled in agreement too. So much about our
relationship
changed that Goa holiday. I think we began to feel like explorers, rather than prisoners in our marriage. And that made all the difference.
See more articles on Relationships :
http://www.lifepositive.com/Articles/Relationships