Spiritual Travel - An American idyll
by Meher Castelino
Meher Castelino spends 48 hours in the idyllic surroundings of Meher Baba's American ashram, the Meher Spiritual Centre at Myrtle Beach

Download PDF Format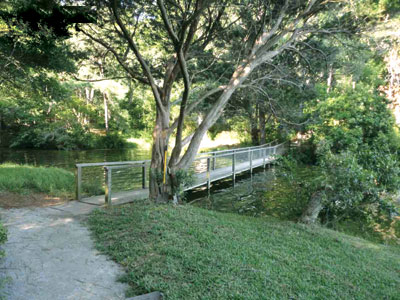 The bridge over the Long Lake: A vista of
beauty and serenity meher baba I have visited Meherabad in Ahmednagar several times where Meher Baba's pilgrim centre and samadhi are located. I have also made numerous trips to the US, visiting Las Vegas, Miami Beach, and other tourist attractions of the country. However, this year in June, when I visited my daughter Christina in Philadelphia, she suggested a visit to Myrtle Beach, South Carolina, where the Meher Spiritual Centre is located.

The idea was immediately exciting, as I wanted to know why Meher Baba selected Myrtle Beach for his spiritual centre in USA and what it would be like.

As our Spirit Airlines Airbus prepared to land in Myrtle Beach, we could see the long coastline stretched below, dotted with luxury and budget hotels and sun worshippers on the golden sands. The drive on US Highway 17 was smooth with rows of restaurants and stores selling beachwear and other paraphernalia. Incidentally, Myrtle Beach is one of the big seaside resorts of USA where people come to have a good time.

In the lap of nature

My weekend at Meher Spiritual Centre (MSC) was 48 hours of sheer bliss in the lap of nature. At the right of US Highway 17, a serene green entrance suddenly marked the beginning of the 500 acres of MSC. I was totally unprepared for the natural beauty of the surroundings as I entered. A quick registration at the gateway office and payment of $20 per day and I was guided to the guesthouse on the edge of the Long Lake set deep into the MSC property. The fenced guest house was where Meher Baba's female disciples – Mehera, Mani (Baba's sister), Dr Goher, Katy, Arnavaz and Meheru stayed. The guesthouse had fully furnished single and double rooms with a huge kitchen and a picturesque deck overlooking the Long Lake that stretched through the MSC. I was assigned Mani's Room, a quaint wooden corner place with my personal entrance. Unlike in Meherabad at Ahmednagar, food is not provided here but the fully equipped ultra-modern kitchen in the guesthouse and the other community kitchens spread around MSC allows cooking.

The five criteria

A monthly programme chalked out at MSC keeps visitors busy throughout the day. A quick shower and I was ready to know everything about this pristine place. My first question – why was Myrtle Be ach selected was quickly answered. The five criteria laid down by Baba for his home in the West were:

• The climate should be equable, suitable to both Easterners and Westerners.

• The land should have more than ample water.

• The spot should be virgin land, not undiscovred, but a place previously uninhabited.

• The land should be fertile.

• Most importantly, the land must be 'given from the heart.'

This task was given to Baba's faithful disciples, Elizabeth Chapin Patterson and Princess Norina Matchabelli (wife of Prince Georges Matchabelli of Russian Georgia) to search for a place in 1941 that met the five conditions. The ladies traversed the length and breadth of USA for three years looking for the perfect location.

Easter 1943, Elizabeth visited her father Simeon Chapin (one of the founders of Myrtle Beach in 1911), and suddenly remembered seeing land owned by him in 1934, which had seven fresh water lakes near the sea but was still a wilderness. On seeing his daughter's delight, Simeon Chapin gifted the property to her "from the heart" thus fulfilling Baba's final condition. The MSC was created in 1944 and Baba personally opened it in 1952 calling it, "a place of pilgrimage for all time."

The MSC in Myrtle Beach is one of the only three lodging centres in the world owned by the Meher Baba community (the other two are in India and Australia). The MSC, according to Baba's wish, "was to be kept for all times, a place where seekers of God could come to experience the atmosphere of love created by His presence." As he once said, "You have asked for and been given enough words – it is now time to live them." In order to fulfil Baba's directive for his home in the West, "the MSC is charted as a retreat for the enhancement and strengthening of the spiritual life." Spirit-packed programme

Glancing at the programme schedule given to me, I noticed that a reading from the book Mehera-Meher by David Fenster was scheduled at 2.30 pm at the library reading room. Following the detailed map all newcomers get, I reached the Saroja Library and the Dilruba Reading Room.

The group had already gathered, and Bob Ochtrup led the proceedings with each of us reading a page and then exchanging thoughts on Baba. Rosaline, whose birthday was the next day, wanted to celebrate it that day, since in India it was already tomorrow. Like Ellen the librarian who lives in Myrtle Beach, most of the group lived nearby and came to MSC daily to participate in activities and help in many chores.

Lisa Moose from Virginia comes to MSC annually, and hopes to eventually move to Myrtle Beach. She related an amazing story of how she came into contact with Baba.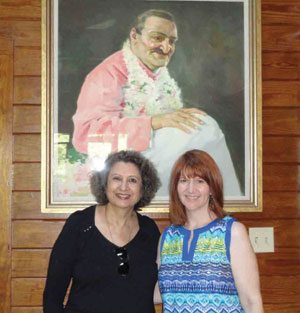 Meher Castelino poses with Lori Dattor,
a visitor to MCS, against a portrait of Meher Baba "I am the managing director of a private investment firm. I manage the financial, legal, research and business systems. Baba has helped me find a wonderful IT support team that is located in Bangalore! I knew Baba before this life, and he was anonymously around me many times in my youth, but it was in 2005 that the name Meher Baba was consciously spoken to me by my daughter." Harking back to her previous life before her physical birth in England, 1959, Lisa said, "Let me summarise by telling you that I was a Buddhist monk, deeply devoted, privileged and selected as an infant to live in a Tibetan monastery. I was always secluded, and frightened of people, even of the most devout monks living in the inner sanctum. In 1959, I was murdered, bludgeoned on the back of the head, dragged out to the elements and left in the deep snow to die. My last vision and sounds of this world were white mountains and flapping prayer flags. The next recollection that I have was of being lined up with 12 others. We were clad in white, and this man (who I later realised was Meher Baba) came to us and pushed the first soul through a tunnel into this world. Then He grabbed me and pushed. I was so frightened, I cried out, "I am NOT ready!" The next thing I could see was going through the tunnel of my mother's birth canal looking into the room where I was born."

Lisa's father was a deeply spiritual man of the Catholic Church. Her mother was from a royalist family and this conflict between the families eventually brought them to South Carolina.

"In 2005 I became conscious of Baba in his avataric form. My daughter loved music by British rock bands. Pete Townshend's album, Tommy, had a photo of Meher Baba. My beautiful daughter immediately fell in love with Meher Baba, and that is how I came to consciously know Baba in this life. Baba has showered me with love and helped me find purpose in this life. I try very hard not to ask him for anything, but to learn to love and remember him. The biggest change in my life since coming to know Meher Baba is that I have found purpose in life, real and pure love in the universe. I must begin to try and love those who I am unable to love. He gives me continual opportunities to do so."

Through the sharing of other followers I recognised the level of spiritual impact Baba had on them, for in spite of being from diverse religions they found spontaneous joy in Baba's teachings.

At 8.30 pm that night, I went to a large auditorium, which was filled to capacity with people eager to listen to guest speaker Mehernath Kalchuri (son of Bhau Baba's trusted disciple), who regaled the gathering for two hours with stories on growing up in the extended family of Baba and group.

Back in the guesthouse, I sat on the deck as the cool breeze wafted in from Long Lake, and enjoyed the peace, beauty and tranquillity of the place. My three roomies, Barbara, Mira and Elizabeth, were peaceful in slumber.

Tour of MSC

Sunday was a busy day. At 11 am, I went to Meher Abode, the house built for Baba. It was one of the most emotionally and spiritually stirring places at MSC. As we walked through the house and into the inner sanctum – Baba's bedroom – the overpowering vibrations made many weep unashamedly in front of Baba's bed as if to cleanse their souls and emerge forth into a blissful world. Open on Sunday, Tuesday, Saturday and Friday at fixed times, Meher Abode is one of the most visited at MSC for its tranquil ambience and powerful aura. At Dilruba house nearby, tea and cookies were once again served. The house was built for Elizabeth Patterson whom Baba had nicknamed "Dilruba" or "Stealer of Hearts".

In search of the avatar

At 2 pm, I was all set for the tour of MSC conducted by Ken Lux which would start from the original kitchen. Ken Lux, an extremely well-informed and erudite psychologist and counsellor, now living in Myrtle Beach, learnt about Baba in 1967 from a Californian friend.

"It was the era of the hippy movement with California as the centre. My friend wrote, 'Have you ever heard of Meher Baba? He is too much for me.' While I was teaching in Indiana searching for a book on spirituality I saw God Speaks by Meher Baba. After seeing the intricate charts in the book, I remember thinking it was too complex a book."

From then Kenneth's search for spirituality introduced him to the book, An Autobiography of a Yogi by Paramahansa Yogananda. He joined a Self-Realisation Fellowship Centre in Los Angeles, and even tried reaching a new short-lived high with LSD. A brief stop at a Vedanta temple, a meeting with a friend at the Blue Mountain Meditation Centre in San Francisco, eventually drew him to the Meher Baba League Meeting on the Berkeley Campus. Two speakers – Allan Cohen, professor of psychology and student in Harvard of Timothy Leary, and Rick Chapman who had a scholarship to visit India and was the last American to meet Baba – spoke about Baba's teachings. Whilst reading Baba's book, Everything and Nothing and a pamphlet, God in a Pill?, Kenneth felt powerfully drawn to Baba and longed to meet him in India. All set to make a trip in 1969 from Washington DC, Ken heard that Baba passed away on January 31, 1969.

"I still went to Pune, visited Guru Prasad Hall where all I saw was a picture of Baba on a chair." Very disappointed he, however, felt he had kept his appointment with God as he kneeled down and touched his head to Baba's chair. Since then Ken's life has changed. He moved from State of Maine to Myrtle Beach in 2009. His book, Avatar of the Tortoise was published in 2001 and his famous article , The Empty Bed, is an account of the Centre.

So much to learn

Joining us on the informative tour were Lori and Keith Dattor, Ed Zahler and Duane Pherris, day visitors who wanted to savour the beauty of MSC. Over the narrow bridge on the Long Lake where turtles and alligators swam below, we walked along the path, encountered a shy fawn which skipped into the shrubs and frisky raccoons that scampered behind the greenery. Squirrels rushed through the branches and birds chirped merrily in the trees. We carried torches in the night and were advised to wear closed shoes at all times as small reptiles may come as a surprise.

The simple pinewood Lagoon Cabin was our first stop. Also known as the interview cabin where Baba had private meetings with individuals, families and small groups, and is now reserved for quiet prayer, meditation and contemplation. The story of the Lagoon Cabin is very interesting. In 1944, Elizabeth read that the nearby Air Corps base was selling hutments. She purchased four and they are now the Lagoon Cabin, the Far and Near Cabins and the Caretaker Cabin (overnight watchman).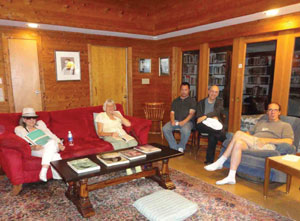 A singing session in action We walked down a winding path, saw the cabin on the hill which was the first one built. The barn made of weathered cypress was originally built as a stable for mules in Conway some 20 miles away from MSC. Baba wanted a building that would accommodate 200-300 people. In 1945-46 lumber was rationed due to the war, but Elizabeth found this huge cypress wood barn, dismantled it, marked board for board and moved it to the Centre. From 1952-58 the barn was the venue for talks, skits, jokes, music and performances by ballet dancers. All the furniture in the Barn was donated by Elizabeth and Norina.

Nature at its best

Along the Long Lake side, we passed two quaint gazebos where visitors were relaxing. A rowing boat was ready for a quick trip over the lake and a gondola was parked under a shelter. An authentic Venetian model, it was brought to New York for the Italian Pavilion at the World Fair in 1939 and Elizabeth bought it for $25 when it was up for sale! The log cabin was a lookout point for Elizabeth and Norina who wanted to see Baba approaching the guest house and thus be able to warn the women of his arrival.

As the sun set over the lake it was time to head to the library reading room at 8 pm for sharing of poetry, stories, songs and creative expressions with Cole Porter hits like Begin the Beguine (Baba's favourite) being strummed on the guitar. Monday morning I packed with a heavy heart, loath to leave this heaven on earth. My spiritual and emotional batteries were fully charged. I remembered Baba's words. "Everything real is given and received in silence; I have come not to teach but to awaken. I have come to string religions together like beads on one string because the truth runs through them all."

See more articles on Spiritual Travel : http://www.lifepositive.com/Articles/SpiritualTravel