Spiritual Travel - Highway to heaven
by Maria Wirth
After a gap of 25 years, Maria Wirth undertakes the char dham yatra, and discovers that despite the changed outwardly trappings, the piety and devotion remain the same

Download PDF Format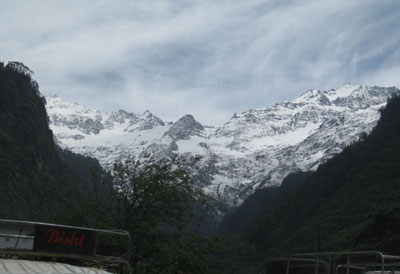 In May, the Char Dhams of the Himalayas – Yamunotri, Gangotri, Kedarnath, and Badrinath, reopen after a long winter break. They attract a huge number of pilgrims – last season around five lakhs, and every year more of them. It is the dream of most Hindus to reach those heights near the eternal snow at least once in their lifetime, because God's presence is supposedly easier felt in those places sanctified by devotion for hundreds, maybe thousands of years. Each visit to those temples at a height of over 3000 metres, was an unforgettable experience for me. The journey is arduous in spite of roads leading now right up to Badrinath and Gangotri, and in the case of Kedarnath and Yamunotri, they end not too far from the temples.

Until the 1960s, young and old trekked from Haridwar (doorway to God) on foot for about 400 km – through difficult, but majestically beautiful terrain. During the nights, they huddled together in simple, open shelters, hoping that no leopard or tiger would attack them. Today, only sadhus, a bundle on their head or over their shoulder and often barefoot, wander along the roads and are overtaken by honking, sturdy buses and jeeps which keep moving till the road ends or a landslide stops them, both of which occur frequently.

Revisiting the past

Last season after a gap of 25 years, I went again to Yamunotri together with Katrin, the daughter of German friends. We travelled the rough way – in local buses and share jeeps, and Katrin enjoyed it immensely in spite of rain and chill at our destination. However, at the bus stand in Jankichatti, the road ahead for Yamunotri, it was painful to see porters jostling over customers whom they could carry on their back in a woven reed basket (kandi) for the extremely steep six km long path up to the temple. A board indicated a grading in the price: Rs 250 for people below 60 kg and Rs 370 for those above 90 kg. What hard-earned money! As they have only a few months to earn, many try to make two trips in a day and, sleeping in damp, dirty shelters in freezing temperatures, they often may not feel fully fit. It was a harsh reminder of the grinding poverty still prevalent. Though they intensely pleaded with me and I wanted them to earn money, I could not accept the idea of being carried. I took a mule instead. Here, I noticed an interesting change that reflected our present times. Twenty five years ago, in the bazaar of Hanumanchatti, which was the road head then 14 km short of the temple, a clause underneath the price for the mule stipulated 'Motiwallah Rs 10 extra.' In brackets the definition of 'motiwallah' was given: Above 50 kg. Now, the category 'Above 90 kg' was added.

Katrin, in her 20s, wanted to walk. Since the local horsewallahs are fast, I started half an hour later, expecting to catch up with her soon, since she would surely make some breaks. But when I reached the top, she was already there having tea with an old sadhu. On the way, she had met a young pujari who walks up daily without a single break. She had walked next to him,

Chaos reign

I did not recognise Yamunotri anymore. On my last trip, the temple was clearly visible upon reaching, perched high up on an almost perpendicular rock with narrow steps leading to it. Lower down, water from hot springs was dammed in a pool. The main temple was a temporary wooden structure, as an avalanche had destroyed the original temple and only the murti of the goddess had been saved. The adjacent Hanuman temple, however, had been spared by the avalanche. There was one small guesthouse then. Now, all I could see after reaching the top was a bazaar with stalls and narrow lanes covered with plastic sheets. Small hotels and even a tourist bungalow had sprung up. I wondered how it had happened. Though the population of India has not quite doubled in those 25 years, the number of pilgrims has evidently grown manifold.

The change was noticeable already on the way up. The path is now paved and secured with a railing, which is absolutely necessary because of the huge traffic on it – mules, porters with their human load on their back, pilgrims in heavy wooden dandis, which are carried by four porters, and pilgrims on foot. It was touching to watch old, bent women in white saris braving inclement weather and climbing slowly step by step with the help of walking sticks and with tremendous perseverance and determination to reach the goal. Occasionally, at narrow spots, a traffic jam occurred with everyone patiently waiting till it cleared. On my first visit, in contrast, there was a lot of noise in the bazaar while bargaining for the mode of transport, yet on the trek it became very still. I often walked all alone with nobody in view amidst majestic scenery.

Yet today, too, the atmosphere is special. Smiling faces were all around in spite of the persistent drizzle. "Prem se chalo!" exhorted the patriarch of a big family from Kolkata with a booming voice to everyone. while leaving after a tea break. He reminded us why we were here. God is really present. Don't forget it and try to become aware of it.

Like everyone else, we bought pooja articles and reaching the platform at the shrine, a pujari was right by our side to assist us. It was the young man Katrin had walked up with. There was a similar, however more subdued, jostling over pilgrims by the pujaris like at the bus stand by the porters, and with the same motivation – to earn a livelihood for their families in the short span of the pilgrim season. I felt sympathy for the pujaris, too, as I had talked to some on earlier occasions and knew how little they earned. Traditionally, Brahmins were expected to live day by day trusting in providence to provide for them. India is probably the only place in the world, where greatest respect was accorded to persons without any material wealth, who however devoted themselves to gaining knowledge. But in today's world, Brahmins, too, need money. I was glad to see many young pujaris around. They keep up the tradition and do not fall prey to the temptation to move to big cities.

The spiritual and the mundane

It is amazing how mundane and spiritual life mingle in India so naturally and more so at pilgrim centres. There is little hypocrisy in wanting to appear 'holy.' People enjoy themselves thoroughly, happy to be at a place where they had dreamt to be. They talk, laugh, take photos and easily reach out to others, and include everyone as family. This exceptional good-naturedness points to a deeper awareness that we truly are all God's children and that God is indeed present and can be trusted – an awareness that probably comes to the fore easier at holy places.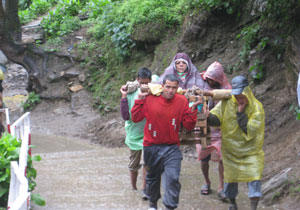 Pilgrims being carried up the steep slopes My visit to the Hanuman temple perched next to the main Yamunotri shrine, brought up some memories. It has a cosy atmosphere and the priest with a heavy load of matted hair on his head seemed to be the same, only older, as he had been 25 years ago. I have never forgotted an incident from that time: I had walked the 14 km from Hanumanchatti up to the temple. Early on the trek, near the first teashop, an old man with a long white beard and bare feet sat on a stone, trembling. I felt for him and asked him whether he would like some tea. He didn't answer, took the two rupee note that I offered (that was the price then), but didn't order tea. I continued walking. At noon it started pouring. I still had full five km and a difference in altitude of about a thousand metres ahead of me. I had to walk the way, step by step. This fact was never as clear as during that exhausting, laborious slogging in pouring rain, which higher up changed into snow. The ground turned slushy and my feet were wet and ice-cold.

It took me three hours to reach Yamunotri. After a bath in the hot springs, I sat down in a corner of the Hanuman temple and was pleasantly surprised: the floor was warm due to the hot springs. The priest and the few sadhus, who had also made themselves comfortable inside the temple, seemed to understand and showed sympathy for my persistent sitting in that corner. They included me in their tea rounds as if I was one of their own. The atmosphere was warm and relaxed.

My place in the temple was ideal. On one hand close to the object of veneration and on the other hand, I could observe the pilgrims without being noticed, as they appeared one after the other, fresh after their bath, holding in their hands a tray with a coconut and other items for worship. The hard shell of the coconut symbolises the ego, which, when broken, reveals the sweet milk inside (the God in man). All types of people came – simple villagers and modern city youth in jeans.

Towards evening, he suddenly appeared in the doorframe – the barefoot old man with the long white beard from the first teashop. He had made it, yet he was breathless and trembled now even more. In his hands, he held the tray with a coconut. Slowly he came closer, his eyes fixed on the murti of Hanuman. With one hand, he fingered in his shirt pocket and pulled out a two-rupee note. He put it on the tray and handed it to the temple priest. The priest took a lot of time for him and gave him more prasadam than what he usually gave. The sadhus, too, were still and watched the old man, who with folded hands and still trembling, gave his full attention as the priest with his right hand slowly circled a camphor-fed, bright flame leaping up from a shallow messing bowl in front of the murti and with his left hand steadily rang a small bell. When the priest had finished the aarti, which symbolises a respectful greeting of the divine, the old man lay down flat on the ground as a sign of full surrender and then walked slowly backwards out of the door.

For some time it was still in the temple. Then a sadhu broke the silence, "What devotion!" and added, "What tapas! What a strain it must have been for him to climb up in this bad weather."

Tapas means to accept difficult circumstances "for God's sake" literally. There are plenty of occasions for tapas on these treks and the amazing discovery – once one accepts the difficulties, they become enjoyable.

Katrin and I were stuck in Jankichatti for two days because of a landslide. When finally the road to Barkot was cleared, there was an unimaginable rush at the bus stand. We managed to squeeze into a ten-seater jeep with altogether 16 (yes, 16) people, most of them sadhus and not all of them thin. Yet all of them good natured and full of humour. The journey turned out to be very pleasant, though no doubt dangerous as well. Katrin could not get enough. She wanted to go on to Gangotri, now confident of her ability to travel alone. She knew there were friendly, well-meaning pilgrims all around who try to see the Divine in everyone and everywhere.

See more articles on Spiritual Travel : http://www.lifepositive.com/Articles/SpiritualTravel