Spiritual Travel - Paradise gained
by Priya Krishnan Das
Magic happens when you look at fear in the face and convert it into love and trust. Priya Krishnan Das makes the startling discovery on a solo trip to Spiti that changed her thinking forever

Download PDF Format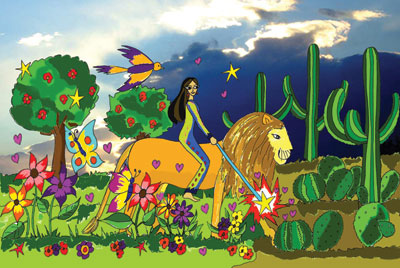 It all started around two and a half months ago when the understanding that meditation was an inner space exploration inspired me to construct a sort of matrix around exploration in the physical world and manifest the same ideas there. I had read a bit about Spiti, not much, but just the fact that it was like Tibet, probably had registered in my subconscious. So a couple of days later, I woke up and declared to my husband that I would be going on a solo trip to Spiti. I wanted to have a unique vacation, so after some googling, I decided I would volunteer as well as travel in Spiti.

A matter of trust

Then, just a week before I was to leave, the rains started creating havoc in the North with landslides, cloudbursts and flooded roads. Friends and well wishers advised me to reconsider, or to cancel. I was utterly confused. Just one day before I was to leave, I decided to resort to meditation to see how I felt about the whole thing.

I sat down to meditate and surprisingly went very deep quickly. I had invoked the spirits of the Himalayas, Spiti and rains to guide me. In that deep state, I got a message. "You are most welcome to come and visit us. We will take care of you. You will be safe." I opened my eyes and felt a quiet inner confidence that regardless of what I heard in the news or weather forecasts, I would be taken care of. I had been taking daily updates from my travel coordinator in Spiti and he had told me that the road from Manali to Kaza was not yet open because of snowfall and rains, and was not sure when it would open. I told him that I would anyway come to Manali and then take a call.

On the morning of the 21st, I was scheduled to leave from Manali but till 8 pm the previous day I had no confirmation about whether the roads were open. The driver of the share taxi said he would call me at 2.30 in the middle of the night to confirm, and if it was open we would leave at 3 am.

The journey begins

At the appointed time, the driver called to confirm that the road was indeed open. I remembered the message I got during meditation that I would be taken care of. It certainly was no coincidence that the road should open up just when I was to leave. Later, the travel coordinator expressed his surprise that while most travellers had cancelled their trip, I, a solo woman traveller, had stuck to mine. In hindsight I feel this trip was meaningful to me at many different levels. One of them was about looking fear in the eye and converting the same to love and trusting. At 3 am in the middle of the night, I had to go to the taxi stand, that too with two heavy bags (I hate to carry luggage but love packing a lot of things!). I had no choice but to ask the hotel manager to help me and accompany me. To be honest, I could feel the fear rising, but I took a deep breath, and sent out love towards the man and the situation and decided to just trust. I was also apprehensive about who would sit next to me in a share taxi. Even that was taken care of in the form of a lady army officer who was travelling to Spiti with her boyfriend.


There were many opportunities for me to convert fear into love. On the treacherous roads where, an inch here or there would have sent us tumbling hundreds of feet below, I instinctively invoked the spirits and guardians of the roads and adjoining mountains, sent them love, and knew I would be taken care of. When I had opted for a yak safari, I was told these were wild yaks and there were no stirrups or leash to hold on to. I patted the yak and gave it a lot of love, but somewhere on the way, the yak gave a shudder and the next thing I knew I was on the ground. Luckily, I landed on my bottom so the damage was minimal! Instead of fearing the yak, I chose to love it and proceed.

Mountains beckon

I was allotted a guide for five days. Spiti is sparsely populated and villages are situated within an hour or two (minimum) walking distance from each other. We trekked and travelled from one mountain to another with not another human soul in sight. But I felt no fear, nor did I even remotely feel threatened or uncomfortable with the guide. Altitude sickness hit me in a bad way the day I landed in Kaza, making me throw up and giving me a severe headache. Though these symptoms subsided after medication, sleeplessness persisted throughout the 16 days. Night after night, as I lay awake in complete darkness, listening to the amplified sound of my own heartbeat in the eerie silence, there were times I felt fearful. But I chose instead to make the best of it. So I lay listening to my own breath and heart beat, sometimes chanting, sometimes carrying on imaginary conversations with the night fairies, and sometimes trying to read a book in torchlight!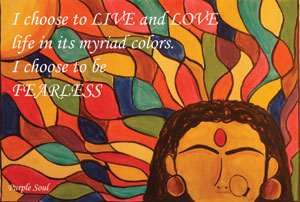 In Spiti, electricity is a luxury. In the 12 days I spent in Spiti, there was just one day when they had power, that too for a couple of hours. I was told that during winter, which lasts for eight months under a blanket of snow, there is no electricity and now even during summer months, it had been a month since they had any. There is no phone connection in the villages and no running tap water. And strangely, there is no concept of bathroom. Even during summer, the days were sunny but cold and nights were freezing. I was tempted to ask when and where people bathe, but refrained from doing so. Luckily in the home-stay I volunteered, there was a green house and I was asked to shower there. The toilets are dry compost. That means no water to be used.

On the one day when there was electricity for some time, the TV was on and I was amused to see how all activity had stopped in the house and all members were staring at the screen wide-eyed with mouths open.

Unconditional love

The people of Spiti deserve a special mention. One must go there to believe that such simple-hearted people still exist on earth. Wherever I went people would greet me with a genuine smile and say 'Julay' (hello). From a group of little girls who invited me to join them when they realised I was travelling alone, to women who invited me to come and eat in their homes when I greeted them while passing by their homes, to several others (monks, nuns, shamans, medicine men) who took time out to meet me and talk to me, all of them won my heart.

I noticed that everybody in the villages knew everybody else. I saw children come and have tea or breakfast in each other's houses. Even when we went out to work on the fields the doors were never locked. Everywhere I went, whether in homes or monasteries, I was welcomed with copious amounts of tea. I saw the lady of my homestay carry extra tea and breakfast/lunch and give it to other villagers working in their fields on the way to her own. I thought to myself that probably this is how life was meant to be lived on earth. My heart just went out to the kids in Spiti. They are so innocent and unspoilt, unlike city kids. Everywhere in Spiti, kids greet and smile, just like their elders and also wave out, especially if you are in a vehicle. They are extremely well-mannered and say 'thank-you' whenever they are given something. By the second day, I too had caught the 'waving bug', and soon I was waving out gleefully to kids, toothless grannies, shepherds, cows, goats, sheep and bikers, and motorcyclists on Harley Davidsons and Royal Enfields.

In Langza, and I am assuming in other villages too, kids return home from school at 4 pm, change, and go into the grazing pastures to fetch the cattle at sunset. Every day at Langza I accompanied my Class Seven host, Tenzing, puffing and panting and pleading with him to go slow (it is amazing to see how even little kids in Spiti go scampering in a jiffy over steep climbs) to the pastures. The kids there spend their time running behind lambs, chasing goats, riding donkeys and doing cart-wheels. Such simple pleasures of life. Whenever I distributed chocolates (luckily I had carried a huge packet to give to kids in the villages), they made sure that everyone in their group had received some and that really touched my heart.

Hospitality everywhere

Once, the car I was travelling in slowed down because of some road work. I looked out to see an old toothless granny with a flask of tea sitting on the side of the road, taking a break from the road work. When my eyes met hers, she gave me the most beautiful smile and asked me to come and join her for tea. Here was a poor woman earning a daily wage and yet she was rich beyond measure to offer tea to a complete stranger like me. In that moment my heart expanded manifold. Each time I experienced the magnanimity of these gentle, peace-loving people, my heart too expanded to accommodate more love and trust and also spread the same.

At a different level, the entire trip had a magical quality about it. It is needless to say that the very sight of the Himalayas is magical and fills you with an inexplicable sense of joy, calm and peace. The first night I spent in Kaza, it was two days away from full moon and the snow-peaked mountains reflected the moonlight. The sight was magical beyond words. The next day I went to Langza for volunteering work and as soon as I was shown to my room, a sparrow-sized orange-breasted bird came and sat on the window sill and looked and me and happily chirped away as if to say "Oh, you are here. Welcome and now I am off to work" and flew away. I again almost jumped with joy.

Gift of love

The next day morning I decided to explore the village. I met a lady working on a barley field. After chatting with her, I sat down nearby to read, when she suddenly threw something in my direction. Behold, it was an ammonite fossil! (An extinct group of marine invertebrate animals). The sweet lady burst out laughing seeing me choke with joy. She told me that it came with the snow-melt irrigation water. I thanked her profusely and decided that this would be the best gift for my husband. As I sat admiring my newly acquired ancient gift, I got greedy and decided to explore the village to see if I could get more of these. Yes, after a lot of walking (and walking is tough at 14,000 ft above sea level), I found another one slightly bigger, and as a parting gift my hosts gave me two more of these. Pristine beauty

The night sky is magical in Spiti. At such a high altitude, with no pollution whatsoever, one can see over a million stars twinkle. It is almost as if you can hear the music in their twinkling.

Since there is no mobile network in the villages, people carry messages on foot or shout from one mountain to another and seem to understand and hear each other perfectly. Their eyesight too seems to be amazingly sharp. My guide would point out to some far away mountain and say, "See, there are three tourists coming down from there". And I would struggle to focus my vision in the direction he pointed in. I had a strange experience when trekking from Komic to Demul. Trekking downhill, suddenly I began to feel very ill. Within minutes, it seemed as if my head and body would explode with pain. There were tears streaming down my cheeks and I was feeling very negative. Even I could not understand what had gone so suddenly wrong. The next day I went to meet a Tibetan medicine man. To my surprise he asked me if I had been very ill the previous day. When I replied in the affirmative, he said "Aap ke upar daayin aayi thi", meaning some disembodied entity had latched on to my aura. He said I was fine now, but weak and that I should rest a lot. I was surprised how he had felt the energy change I had experienced just by feeling my pulse.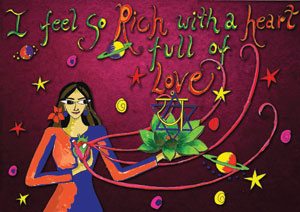 The last leg of my trip was a true adventure. We left from Kaza at 6.30 am for Manali. At 12.45 pm, we joined a long line of stationary tempos, taxis, trucks and buses only to find out that a truck coming from the opposite direction had got stuck between a partially collapsed road and a rock jutting out from the mountain. People began to leave the taxi to hike their way across, until I was the only woman in the taxi. Still I felt no fear or panic. When it neared 4 pm and my taxi driver began getting too chatty for comfort, I began to peep into every vehicle to see if there was any other woman. I finally found one. She was an Israeli and assured me that she would not leave the taxi because she was too ill to walk it down. She and her boyfriend kept me company. At around 5 pm, her taxi driver said that he had arranged for a taxi which was coming from Manali and which would pick us up from the other side of the stranded truck. It still meant walking down a good half hour with heavy luggage and that too over a waterfall. The same driver who was annoying me earlier offered to help me with my luggage and also helped me walk through the water fall. As we passed the other vehicles, I noticed that we two were the only women around and the rest were all drivers. Finally at half past six, our taxi arrived and we reached Manali, fully exhausted at 10.30 p.m.

I had set out to explore joy, love, infinite potential in the matrix, and I did find them and much more. I discovered magic in every moment only when I let go and trusted.