Spiritual Travel - The soul`s journey
The new-ager's getaway is slowly shifting from an exuberant sensual pleasure to a self-transforming journey within

Download PDF Format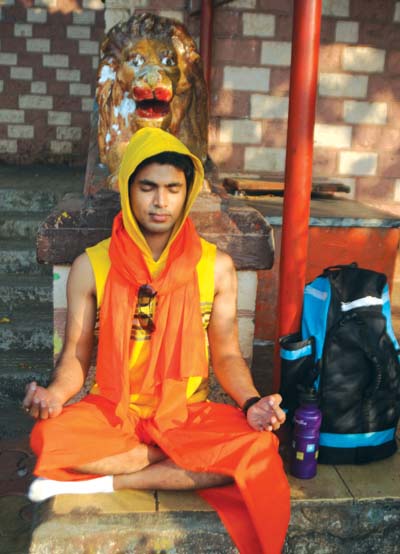 On hindsight, the Vipassana retreat I went to earlier last year was my step to rejuvenation and realignment, my spiritual vacation. I am not alone in changing my definition of a holiday. More and more are shifting from the conventional relaxing or sightseeing vacation to a more adventurous and possibly spiritually inclined expedition. Religion having always played a key role in our lives in India, pilgrimages and religious travel abound, but now adding to choices are ashram respites, ayurvedic centres, meditation camps and residential workshops.

Where a sightseeing trip to Bangkok or a weekend at the nearby hill station, may momentarily redirect your attention from the buzz of your hectic life to the innate stillness of nature, spiritual vacations try to achieve an involvement with the stillness, allowing one to live in peace amidst the buzz, unperturbed by it.

India, being so diverse in its faiths, has a wide variety of such destinations, covering millennia of our history, culture and philosophy. We are very fortunate to have some of these iconic facilities and traditions still being continued in the very same way they were done hundreds of years ago. Scattered all across the country these religious centres attract huge crowds during special occasions and festive seasons. The Tirupati Temple in Andhra Pradesh, Akshardham Temples in Delhi and Gandhinagar, Khajuraho temples in Madhya Pradesh, Jagannath Temple in Puri, Sun Temple in Konark, Rishikesh, Haridwar, Golden Temple in Amritsar, Hemkund Sahib in Uttarakhand, Ajanta and Ellora Caves in Maharashtra, Maha Bodhi Temple in Gaya, Dharamshala, Basilica of Bom Jesus in Panaji, Haji Ali Dargah in Mumbai, Jama Masjid in Delhi, Sai Baba's Samadhi in Shirdi and Sri Digambar Jain Lal Temple in Warangal are just a handful of popular religious destinations. Very often one finds these temples and shrines located on ley lines or grid lines, drawing its energy from the spiritual energy of the planet. Some of the counterparts of these energy centres that lie abroad are Stonehenge, the pyramids of Egypt, Jerusalem, Mecca, Machu Pichu, Alaska, and Tibet among others.

Melas and fairs such as the Maha Kumbh Mela, that will be held in March 2010, and the Pushkar Fair are getting increasingly popular as well. A large number of Indians as well as foreigners come to see the throngs of devotees and experience the vibrant energy and diversity.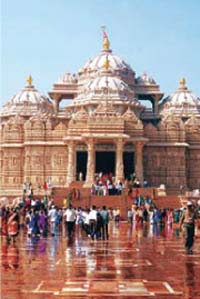 The Akshardham Temple in Gujarat Ayurvedic spas, massage centres and naturopathy retreats are also offering reprieve to the stressed-out in and around many cities. The Jindal farm near Bangalore, and Soukhya, again in Bangalore, fall in this category. A few days to a week of detoxing the body and replenishing its nutrients works wonders and even turns back the clock a number of years. With celebrities like Prince Charles and Tina Turner visiting Soukhya, these retreats do weigh heavy on the purse-strings, though there are more modest naturopathy centres like the Nisargopchar centre in Uralikanchan, near Pune.

Santosh Sachdeva, a Mumbai-based writer and spiritual adept, has been going annually to the Arya Vaidya Chikitsalya in Coimbatore for a five-week rest and rejuvenation package. She says, "On my way to the Chikitsalya one year, my sister and I performed a Maha rudra puja at the Chidambaram temple. Shortly after, I burst out into a virulent rash that spread all over my body. I realised that thanks to the puja some negativity was leaving my system and for 15 days the ayurvedic doctors gave me medicine to bring it out. Had I returned to Mumbai after the puja the allopathic doctors would have given me something to suppress the rashes and the negativity may well have attacked my organs." She concludes, "I feel a great sense of freedom and well-being there and would not exchange my visit there for any other holiday."

Malik Kotadia, Head, Internet Marketing, Global Consumer Bank, Citigroup, India, says of his annual retreat to the Bangalore-based Jindal Naturopathy Institute, "It constitutes one of the best experiences of the year for me –better than most vacations, and has the additional bonus of enabling me to lose three to five kgs in 10 days!"

It's not the destination, it's the journey. Mumbai-based seeker Nancy Pereira, recently went on a self-discovery trip with her husband, through small anonymous villages in interior Maharashtra. "We just drove where our intuition directed, and balanced ourselves so well. We discarded the 'shoulds' and the 'buts' and just went with the flow," says Nancy. Anything that puts you in touch with yourself can be called a spiritual trip. Treks and forest walks, mountain climbing or just being in a new place and experiencing the unknown puts you in touch with a deeper consciousness. One friend loves to walk across the city during the early morning for his kick. The last time I checked with him, he had walked 15 kilometres on a Sunday morning to find his peace.

What all of us are inadvertently searching for is the connection within. Overwhelmed by what is happening around us, we tune off from what is happening within us. All our vacations, whether spiritual or not, are attempts to tune back in. It's the aware person who calls his vacation spiritual and consciously chooses the right balm for his aching soul.