Teaching Story - Brotherly love
by Life Positive
Once upon a time, there were two brothers, who were very fond of each other.

They lived close by and shared the grain from their field equally, in two separate grain tins.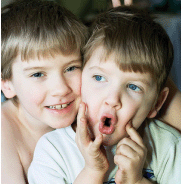 The elder brother was married with two children, while the younger one was single.

The elder brother thought one day, "I have children who will look after me when I am old, but my younger brother has no one to do so. I think I must give him more grain. He quietly started going to his brother's granary and depositing more grain.

The younger brother thought one day, "I am just single. Why do I need so much grain?" So, he started depositing the grain quietly in his brother's granary. One day, they crossed each other and burst into tears of joy when they understood each other's love.

Apply it: Always go that extra mile for your friend or loved one. The joy will surely multiply.