Teaching Story - Nothing Is Impossible
by Life Positive
It seems quite impossible but seven- year-old Keats Boyd actually went on top of Mount Kilimanjaro, a task that even strong adults would think twice about.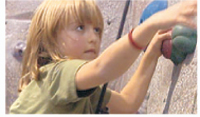 Now theyoungest person to ever climb the mountain, he says, "It's not impossible to do something. You just have to believe in yourself to do it." A motto many of us could use in life.

Source: www.dailygood.org
Apply it: Work towards a worthy goal, without thinking it to be impossible.