Teaching Story - The Secret Garden
by Life Positive
There was once a little English girl called Mary who was born in India, when the British were ruling our country. A great cholera epidemic killed both her parents and she was shipped to her uncle's house in Yorkshire.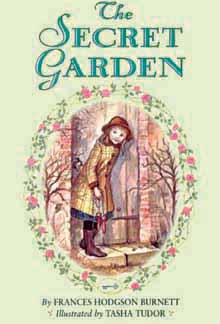 Nobody liked Mary because she was haughty and selfish and ordered her servants about. Mary didn't like anyone either. She was a lonely little girl.

Things were no better in her uncle's vast mansion because he had cut himself off from people after his wife died 10 years ago. He refused to meet anyone, not even Mary.

One day wandering around the large estate, Mary befriends a gardener and his pet robin. They become her first friends. Through the robin she finds access to a garden that her uncle's wife had created but which he had locked up and whose key he had buried after her death. The garden is wild with tangled rose bushes and creepers, but Mary can discern some green little shoots coming up from the earth.

Excited about the secret little lair she had stumbled upon, she decides to make the garden her own and restore it to its original glory. She is helped by her housemaid's brother, Dickon, a wonderful boy who loves the outdoors, birds and animals and who has a fox cub, a crow, a lamb and a couple of squirrels as pets. Day after day, as she and Dickon toil in the garden, planting new flowers, weeding it and watching the robin build his nest, Mary changes, becoming happier and nicer. In the outdoor air, her appetite builds up and she puts on weight, eventually becoming a beautiful little girl.

One day, she hears someone crying in the mansion and she runs into a hidden wing in the house to find out who it is and stumbles upon one more secret – a little boy. Colin is her cousin, her uncle's son, whose mother died when he was born. A sickly boy who fears that he is going to die, Colin lies in his room all day. He never allows anyone save a few servants to look at him which is why Mary was not told about him.

However, they become great friends and one fine day, Colin is wheeled into the secret garden. The health-giving properties of the sun, and wind, the joy of tending to the garden and association with the birds, bees, butterflies soon charge him with new life. He determines that he is going to live and that, in fact, he is going to be a great athlete. Day after day, he, Mary and Dickon chant that the magic that made the plants come up through the earth will also heal him and give him health. And indeed, it happens just so.

The story ends when Colin's father returns home from an extended holiday, and goes to the garden, as his dead wife tells him to in a dream. Just as he is about to push open the door, out charges a tall handsome boy, hot and flushed through running. It is Colin, the invalid, who had never left his room and had never walked in his life!
Frances Hodgson Burnett

Takeaway:This beautiful little story tells us that if we give life, we get it. Tending to growing things and being around growing things gives us life too. It also tells us that if we can change our thoughts we can make our dreams come true.

Children, this is only a summary. Do read the original book. You can get a free download through the Gutenberg project. Wonderful books fill us with inspiration, teach us about life and people, and stimulate our imagination. One of the best things you can do is to read good books.