Teaching Story - Voice for the voiceless
by Life Positive
To be unable to add one's voice to the symphony of humanity is surely one of the saddest fates in the world – a fact that children with cerebral palsy (CP) are only too aware of.

However Invention Lab, Chennai, have finally conspired to give such children a voice and enable them to communicate with friends, family and teachers. AVAZ enables speech-impaired children to communicate easily thereby eliminating one of the crucial barriers that divide them from others.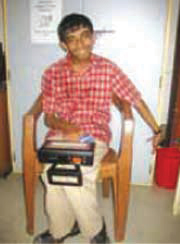 AVAZ is a portable speech synthesiser which can be controlled by gross motor movements of a child with CP, such as approximate movement of the head or of large muscle groups. These movements are captured by the use of a touch-screen or an external switch to allow the child to create text sentences on the device using predictive software, and this text is read out by the device. AVAZ is thus an artificial voice for the child.


| | | |
| --- | --- | --- |
| | | |
| | Strength does not come from physical capacity, but from an indomitable will - Mahatma Gandhi/td> | |
| | | |
AVAZ enables these children to convey virtually any thought in their minds by creating messages dynamically and using the speech synthesizer to 'speak'. It helps them become independent. It allows them to communicate easily, adapting to the child's vocabulary, using words that are most frequently used by them.
Voted one of the hottest startups in India by Business Today in 2009, Invention Labs was founded by alumni of IIT, Madras. The founding members from across the globe returned to India in 2007 to set up Invention Labs as an organisation that invents products for the unmet needs of the Indian consumer.