Timeout - A resonance with nature
by Life Positive
40 Works of Hemant Kumar, Art Spice Gallery, Metropolitan Hotel, New Delhi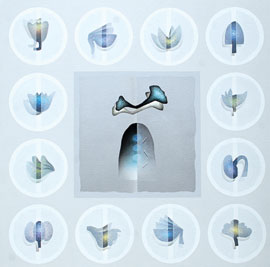 As I stepped into the Art Spice Gallery, a gush of tranquility washed over me. Each frame of Heman Kumar's work reflected an inherent calm, as if the fingers that stroked the brush were guided by a mind at peace with itself.

"I am most motivated by nature. I feel deeply meditative while painting the gifts of nature. These forms are my interpretation of oneness – oneness with nature," said Rao.

Painted with dry pastels in hues of soft pinks, powder blues, light greys, and mossy greens, the paintings are the artist's interpretation of flowers, leaves, stones, clouds, germinating seeds, butterflies, and feathers. Scores of dots in pearly whites and dropping shadows create a 3D visual effect – an infatuation that Rao can't seem to help. The innovative forms are in direct irony with the square and circular frames they are juxtaposed against. A light coat of white in each work rendering an opaque effect hints at the inner transparency of the artist. So sublime are the hues that they unintentionally invoke an image of 'wholeness' within.

The art work on display consisted of Rao's work from the year 2010 to 2013. Almost all the paintings are left untitled as "I don't want people to simply see my interpretations. I want them to connect with my work, deducing their own interpretations of these forms," he shared. His work is not premeditated. It's his higher conscious that guides his strokes, producing a replica of his emotions on canvas.

Hailing from Madhya Pradesh, Hemant Rao is a self-taught artist and a child prodigy. He has held group as well as solo shows in major art galleries of the country as well as in South Korea and Japan.