Timeout - A slice of Parsi Mumbai
Little Zizou, Written & Edited By: Sooni Taraporevala, Casted By: Boman Irani, Sohrab Ardeshir, Imaad Shah, Shernaz Patel, Zenobia Shroff, Mahabanoo Mody-Kotwal, Kunal Vijaykar, Tknow Francorsi, Kurush Deboo, Kamal Sidhu, Dilshad Patel, Jahan Battivala, Iyanah Battivala, John Abraham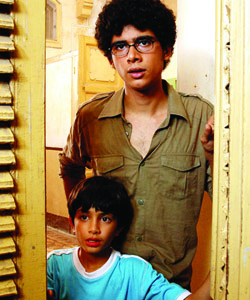 Creating a mini world of the Parsis in Mumbai, Little Zizou is funny and moving. The actors are absolutely at ease depicting one of the most endearing renditions of the Parsi community yet to appear on film, and the complications that arise when beliefs clash and differ in a family

The motherless Khodaji boys love hanging out at the liberal Pressvala's house, and are extremely uncomfortable with the pedantic and stuffy Khodajis. The view of fundamentalism through the children's eyes makes it look even more ridiculous and illogical.

The heart of the film is the clash between Khodaji and Pressvala, on the issue of religious fundamentalism, and writer-director Taraporevala makes gentle jabs at the intolerant attitude of conservative Parsis unwilling to accept outsiders into their faith. The request Pressvala makes to the group to focus on the core values of 'good thoughts and good deeds' instead of becoming intolerant and eventually self-destructive, could well apply to any of the fundamentalist movements.

The film shows the realisation of Little Zizou's dream to meet the footballer Zinadine Zidane, and that of his brother who wishes to build a flight simulater, even as it highlights their struggle in accepting their father's world. The strength of the film are the warm little moments that are born out of the director's sharp understanding of the Parsi community, and her ability to bring their quirks and charms to the screen. However, the film drags on without a strong storyline.

Of the actors, Boman Irani as the affable, tango-loving Pressvala delivers the film's most credible performance. Also engaging are the little ones who turn in inspired, honest performances completely free of pretence. The others too are pretty competent and believable. The character of Sohrab Ardeshir as Khodaji, however, is a bit of a caricature and hence one is unable to connect to him. Overall, a good effort suitable for family viewing.