Timeout - Art by nature
by Nipun A Jacob
Gond Art, Must Art gallery, Lado Sarai, New Delhi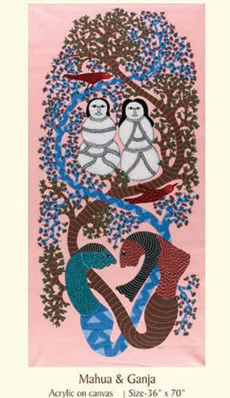 In this kingdom of the English, how hard it is to live. To pay the cattle tax, we sold a cow. To pay the forest tax, we have to sell a bullock. How are we to get our food?" – A folk song of Chhattisgarh translated by Verrier Elwin and Shamrao Hivale that depicts the deplorable condition of the tribe known as Gond.

Strikingly different, the naïve and surreal intensity of Gond art continues to enchant art connoisseurs. Gond artists take their cue from the immediate surroundings – animals, birds, flora and fauna – to convey their impressionistic art form on canvas.

Gond paintings also depict religion and spiritual themes traditionally done on mud wall houses, narrating mystic tales.

The Gonds or the Koiture lived in the central province of Gondwana. Deprived of their land, the community became embroiled in crisis. Now the situation has changed. Gond Artist, Dilip Shyam, says, "We are grateful to God that we have found a good form of sustenance through our art." The Gonds believe that viewing a good image begets good luck and decorate their houses and floors lavishly with traditional tattoos and motifs. Tulika Kedia, the director of the Must Art Gallery in New Delhi decided to open a one-stop dedicated art gallery for the preservation and promotion of such a vibrant art tradition. "It is my constant endeavour to preserve a cultural tradition which is linked to the environment and civil society. I have grown to love and cherish this magnificent art form and the large group of artists who need constant nurturing," says Tulika Kedia.

The majority of the artists come from a village called Patangarh in the Mandla District of Madhya Pradesh. Bhuri Bai, Durga Bai, Dilip Shyam, Japani Shyam, Ramsingh Urveti, Rajender Shyam, Nankusia Shyam, Suresh Dhrube, Subhash Vyam and Venkat Raman Singh Shyam are among several others who showcase their work at the gallery. The paintings range from Rs 3,000 to Rs 3, 00,000 and are on view at the Must Art gallery in Lado Sarai, New Delhi.