Timeout - Dancing towards awareness
by V Venkat and Punya Srivastava
The Thirsty Planet Bharatnatyam, Choreographed by : Mary Elangovan, Dancers : S. Aparna, Ayushree Moorthy, Stuti Venkat, Radhika Kannan, Akshaya Ganesan, Niveditha Menon, Venue: India International Centre, New Delhi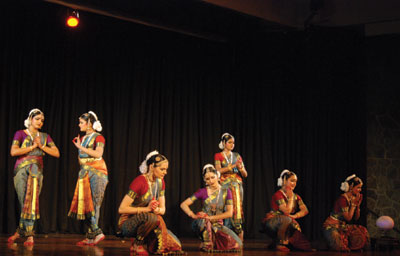 What do you imagine when you hear the word 'water'? Sea waves crashing against the shores; the pitter-patter of rain drops; the gentle gurgle of a river? And yet if things continue as they do, there might come a day when 'water', would evoke an image of a parched piece of land, a dry tap, a devastated planet.

Marie Elangovan, along with her troupe, took on the task of sensitising society to the significance of water and the impending crisis revolving around it, through her Bharatnatyam recital – The Thirsty Planet, on February 3 2013, at the India International Centre, New Delhi. A group of beautiful young girls aged 12 to 15, attired in traditional costumes, came forward to invoke a sense of responsibility towards environment, through performing art. Starting with an ode to nature, the troupe enthralled all with their dance 'Glory to rain', depicting the significance of water, the most vital resource on earth. Based on Raga Vasanthi, the girls danced on the following verse from Tirukkural:

"Nothing can go on without water. Even grass will cease to grow if the showers from above should cease to fall. Sacrifices will not be offered to the gods, nor feast will be celebrated on earth, if the heavens should be dried up."

The second segment of the performance, Neeranjali, began with a riveting description of vegetation blooming under the rain. Based on Raga Brindhavani, the performance was about water as the sustainer of life on earth, beautifully illustrated with classical bhaavas and mudras. The choreography ended with the symbolic offering of water to a sapling, implying environment conservation. The next segment that followed was 'Ganga – then and now', based on Raga Amritavarshini. Many aspects of river Ganga were portrayed in this choreography; from the celestial river to the mother goddess who gives fertility and prosperity to the land. The performance ended with a call for people to unite and work together to keep the river pollution-free. The audience was captivated by the spellbinding performance The Thirsty Planet in Raga Madhuvanti where the troupe brought to light the contemporary problems of water pollution, scarcity, conflicts over water and its wastage. The poignant portrayal of natural calamities and their effect on human life touched many hearts in the last segment, Nadiye. Based on Raga Hamsadwani, it depicted the theme of deforestation, air pollution, global warming, melting of glaciers, etc. The beautifully composed music by G. Elangovan complemented each segment.