Timeout - LP Expo Feasting the spirit
by Life Positive
The life positive expo 2008 was an exhilarating blend of transformative wellness techniques, inspirational discourses, and a staggering range of spiritual services

Download PDF Format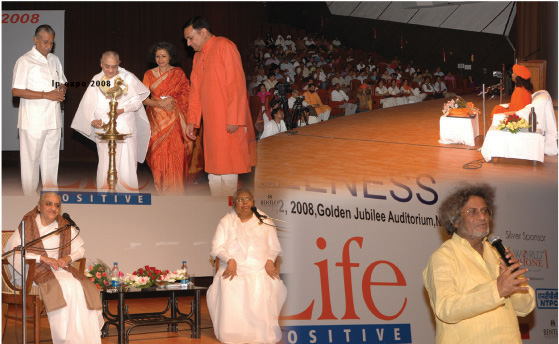 L to R: Life Positive President, DR Kaarthikeyan, Dadi Gulzar, Editor Suma Varughese and Chairman Aditya Ahluwalia light the inaugural lamp. Swami Nithyananda holds forth; Dadi Gulzar and BK Asha emanate serenity; Dr Pranav Pandya makes a point
The body-mind-spirit fest, which took off on a grand scale on October 31 at FICCI grounds, New Delhi, ended on an equally high note on November 2, 2008. The three days of celebration offered an entire gamut of spirituality, wellness tips and techniques in the form of interactive and educative workshops by experts like Roy Eugene Davis, G L Sampoorna, Sri Samadarshini of Oneness Univercity, Arindam Chaudhari, Blossom Kochhar, Manoj Lekhi, Najoo Sohonie, Dr SPS Bakshi and many others.

The Expo was truly a meeting ground for like-minded individuals who came together to experience, discuss and enrich their knowledge of various secular beliefs, healing techniques and recipes for success in every area of life. The tea breaks between sessions and the lunch break, which consisted of a variety of sumptuous vegetarian fare, served as the perfect opportunity for interaction. Engineers, housewives, entrepreneurs and others from different walks of life were united as seekers.

The exhibition ground hosted different stalls that offered an eclectic fare to the visitors – ranging from aura scanning reports, tarot card, runes and coffee cup readings, to foot reflexology, acupressure and radiation devices and more. The Expo also saw the launch of the book, Teaching Stories, a compilation of some memorable stories from the magazine. In addition, for the first time since its inception, the Expo workshops were web cast. The Expo is also available in the form of DVDs, so those of you who missed the Expo can still enjoy it by buying a set.

Messages from masters
The highlight of each day's events was the enlightening discourse by a spiritual master.

Who am I?
"Who among you can say they have never been tense? asked Dadi Gulzar, the additional chief administrator of the Brahma Kumaris, in her discourse on the first day of the Expo. (Dadi Janki was unable to attend owing to an emergency operation on her foot but Dadi Gulzar was an able substitute.) Dadi explained that all we need to do is to prefix an 'a' and change tension to attention – attention towards God, and all will be well. For God, after all, wishes us to be happy and peaceful.



Dadi Gulzar and BK Asha: life's simple truths"Paramatma (God) is our father and this is the ultimate truth. He is father of our atma, hence our eternal father. It follows then that all our fellow beings are our brothers and sisters. Why don't we remember this simple truth?" Dadi asked rhetorically.

Just as the natural state of water is cold, our true nature is cool, calm, peaceful. However, we have added many negative qualities such as anger, jealousy and greed polluting and destroying this peace, she said.

She also had a valuable piece of advice. "Stop giving pain and stop taking pain." She observed that we protest when someone takes away even a spoon from our house, but we surrender our priceless gift of peace of mind to anyone who triggers our anger, greed, jealousy.

On the other hand, she said, if we are happy, happiness unfolds everywhere. When you see a happy person, happiness unfolds – this is the only thing that multiplies when shared. There is no reason to feel this is not in our control, for, we are the masters of our mind and not the other way around, she stated.

A brief meditation and a question and answer session followed, summing up an enlightening evening.

What is health?
"What is wellness?" queried Dr Pranav Pandya, beginning an insightful discourse on health. Physical well-being alone is not enough, he said, affirming that even the World Health Organisation defined health as a state of physical, mental, social and spiritual well-being.

It is our religious duty to take care of our bodies as they are temples of God, he stressed, and added that this is possible only if we have the self-restraint to preserve our health.



Dr Pandya: Nourish your being holisticallyHolism or holistic health is really the profound unity between individual and universal being, said Dr Pandya, and pointed out how the whole world is now a global village and thus, harmony towards others is of paramount necessity. Even responsibility towards the ecosystem is really necessary for one's own good health, he said.

Today's scourges are avarice and lack of contentment, he pointed out. Eating in front of the television, getting up at any odd hour and other such practices are the bane of the day, stressed Dr Pandya, and rued that the young are becoming more and more prone to disease.

Dr Pandya summed up his discourse with a plea to nourish not just one's bodies but one's entire being with spiritual values and sansakaras (enagrams) for complete wellness and thus usher in an era of complete wellness.

Experience life joyfully
To the question most seekers face "How do we identify a true guru?" Paramahamsa Nithyananda's answer was insightful and profound, "If your heart feels connected, then that person is your guru even if he is not enlightened, and if your heart is not connected then that person is not your guru, even if he is enlightened."

The main thrust of Swamiji's discourse focussed on his subject, Yoga, the Continuous Happening.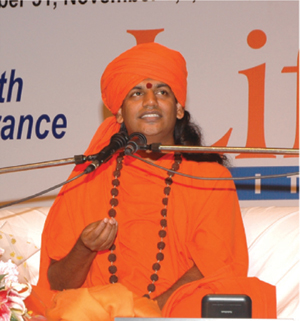 Paramahamsa Nithyananda: shakti, yukti, mukti "When Patanjali said 'Yoga chitta vritti nirodha' (Yoga is the cessation of the mind movements), he meant it as a way of life, not just a few techniques and therefore, yoga never ends, it is a continuous happening," he explained.

He explained that enlightenment too was a dynamic phenomenon. "Enlightenment is the ultimate experience, but not final. The ultimate happens ongoingly. It too is a continuous happening."

He also presented a small but catchy formula for enlightenment. "If you have the shakti to change what you can change, the buddhi to accept what you cannot, the yukti (understanding) to recognise that no matter what you change, life itself is a continuously changing dream, then you get mukti, enlightenment," he explained, driving home this point repeatedly during his discourse.

His parting gift was a simple but powerful technique to attain enlightenment. "If you can be aware continuously for 11 days that every moment you are living a dream, then you will wake up," he promised us. Enlightenment, anyone?

Transformative wellness techniques
A round-up of the range of wellness techniques offered as workshops

Sunny side up
"When you focus on what is right, it gives you energy to deal with what is wrong." This simple yet radical worldview is the basis of Appreciative Inquiry, and was the focus of this interactive workshop. R Sankar, a corporate HR manager, and Wasundhara Joshi, a paediatrician, came from professional backgrounds where looking for the faults in people and organisations was an integral part of their jobs. However, they soon realised the limitations of this approach.

R. Sankar and Wasundhara Joshi on life positive"Instead of always analysing failures and figuring out how to avoid them, let us also look at our successes and see how they can be repeated and improved upon," said Wasundhara.

They also briefed us on some of the basic psychological principles on which AI is based. "People don't resist change, they resist being changed," Sankar shared. Once you understand how one's worldview plays an active role in shaping reality itself, change becomes an easy and spontaneous process.

The past as healer
Past Life Regression Therapy (PLRT) is an exploration of past lives with the intention to heal and harmonise our lives in the present.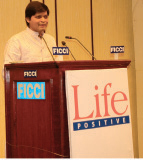 Dr Newton on past lives PLRT is a technique for self-empowerment with a focus on discerning and discovering the self. Using the analogy of weeding a garden, Dr Newton explained that we need to identify and root out the causes of a particular problem that would otherwise persist or reappear in different forms. PLRT helps you attain an altered state of consciousness in which a person can access memories of past lives.

Dr Newton led participants through a PLRT session by first inducing an altered state of consciousness (alpha state) and deftly guided them to the deeper gamma and delta levels, and regression to in utero (womb stage) and culminating in a past life recall. One participant, who had come to the workshop swaddled in woollens, found the solution to her perpetual feeling of coldness in a past life, and thereafter came to the Expo lightly clad. She was healed!

Ingredients of a stress-free life
Arindam Chaudhari, the management guru, shared his recipe for a stress-free life on the second day of the Life Positive Expo in his workshop on stress management.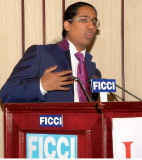 Arindam Chaudhuri: how to be stress-free The economist began his workshop by establishing a link between stress and economics, two areas that seem to be entirely different from one another. He cited the Law of Diminishing Marginal Utility as the dominant reason for discontent, and therefore, stress in our lives. The law, as he describes it, encourages the notion that "the more we have of something in our lives, the less we want to possess it." Thanks to this, advertisers find us easy prey for fresh upgrades of their products, sucking us into the vicious cycle of needing to make more and more money in order to spend more and more money.

Yet again correlating management and stress, Arindam blamed our lack of managerial skills for the stress we experience. A failure to manage our relationships is the penultimate reason for stress. The economic theorist concluded the workshop by putting forward the suggestion of managing stress by working out of passion and love rather than for returns.

Aroma way to wellness
The effervescent and upbeat Blossom Kochhar, cosmetologist and pioneer in aromatherapy, began by describing aromatherapy as a holistic approach to wellness and healing. Aromatherapy is based on the skilful use of pure essential oils that stimulate a natural regenerative process in the body and harmonises the body-mind-soul. Pure essential oils are fragrances that have therapeutic properties, and can be extracted from flowers, herbs, fruits, spices, and bark of trees.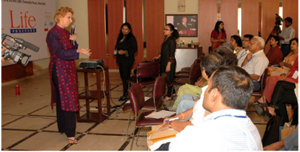 Blossom Kochhar: the finer points of fragrance Aromatherapy uses a range of essential oils that include basil, benzoin, camphor, cedar wood, cinnamon, clay sage, camomile, coriander, cypress, eucalyptus, frankincense, geranium, ginger, grape fruit, jasmine, juniper, lemon, lemon grass, myrrh, nutmeg, neroli, orange, patchouli, petit gram, peppermint, pine, rose, sandalwood, and ylang ylang. As she passed around the bottles, and everyone sniffed into them, the sense of well-being was palpable, and the atmosphere redolent with scent. Wellness then is just a whiff away in small dark bottles that tantalise with their fragrance!

Empowering the brain
The NLP session conducted by Siri Guru Prakash Kaur Khalsa and Sat Puram Singh Khalsa, Directors of Alphastars Tap New Age Foundation, started with the facilitators encouraging participants to introduce themselves, to break the ice.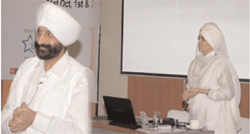 The NLP duo The NLP workshop helped participants understand that if an idea is conveyed to the brain in a precise manner using sensory words, it will remember the command and execute it efficiently, enabling us to be successful in every arena of life. The session concluded with a live demonstration of the effectiveness and power of NLP when a participant was able to easily break a block of wood with a single movement of his hand, under the influence of sensory and powerful communication by the NLP trainer, Sat Puram Singh Khalsa.

The power of forgiveness "Non forgiveness is like drinking poison and waiting for the other person to die!" exclaimed GL Sampoorna, emanating a quiet serene presence.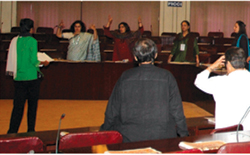 Sampoorna on the power of forgiveness Forgiveness heals. That was the simple yet radical premise on which this workshop was based. Using experiential techniques, songs and activities ably augmented by her own simple nuggets of wisdom, Sampoorna introduced us to the world of 'radical forgiveness' – a world where letting go of the past opens up limitless possibilities for the future. Her approach is derived from the work of Louise Hay and Collin Tipping.

We also learnt a whole new way to look at the problem areas in our lives – focussing on the positive intentions behind people's actions, and looking for the opportunities for growth and healing in every adversity.

The session was peppered with her own personal anecdotes and learning over the years. "Don't forgive and forget, rather, forgive and remember and use this experience for your own growth," was her message.

Abundance all the way
Like a dammed river, blockage of energy flow creates imbalances that result in disease and stress. The human brain and body operate electromagnetically. Using this premise, energy psychology, a holistic approach to healing, addresses the complex and hidden relationship between emotions, thoughts, behaviour, and thereby its implications on health and wellness. Although psychological functions involve thoughts and emotions, at a fundamental level it involves bio energy.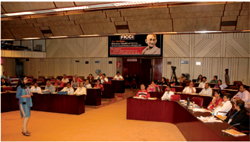 Jasmine Bharathan on energy healing Not only our minds but our bodies too have memories – cellular memories. The body is a repository not only of personal pain but also ancestral, dating back to generations of family members. When this happens, we carry the past with us, much like an albatross around our necks. According to Jasmine Bharathan, who held the workshop, recognition of the non locality of memories and conscious healing helps us to reconnect with parts of us that are dead, frozen or atrophied, and thereby help us integrate the event.

One such energetic intervention is Tapas Acupressure Technique (TAT), developed in 1993 by US-based licensed acupuncture practitioner, Tapas Fleming. Jasmine Bharathan, whose expertise and experience as a skilled, sensitive, and informed therapist, were self-evident, led participants through the steps of TAT, helping resolve many issues. One gentleman who had earlier complained about a traumatic event, found himself completely at peace with it. Jasmine also imparted insights into Emotional Freedom Therapy (EFT).

All about chakras
Mr Jiten Bhatt, who was to have taken a workshop on Pyravastu was hospitalised and was unable to attend. In his place we offered two workshops: Aura scanning by Diivyaa Sharma and healing chakras by Nithya Atma Maneeshananda.

Diivyaa Sharma started her session by explaining the seven major chakras of the human body and the concept of aura.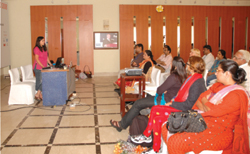 Diivyaa Sharma on auras The participants were spellbound when Diivyaa used audiovisual aids to demonstrate live videos of a healing session, which had been captured through biosensors that actually showed energy being transmitted from the healer to the recipient. Children below 10 years of age, she said, are known to have the purest form of white aura. A red aura shown in an aura scanning report would be typical for a youth who is dynamic, creative and always on the go.

Shri Nithya Atma Maneeshananda of Nithyananda Dhyanapeetam conducted the meditation session for healing chakras.

The session began with Shri Maneeshananda explaining the major chakras and their position in the human body. He also conducted a short simple meditation that was a mesmerising experience for the participants. They reported coming out of it feeling highly invigorated and refreshed.

Simple but profound
"Read a little, meditate more and think of God all the time." This was the advice that his guru Paramahamsa Yogananda gave Roy Eugene Davis. That is also the message he conveyed in his talk on the topic of Kriya Yoga, delivered in his trademark lucid and endearing style with interesting anecdotes.




Roy Eugene Davis on kriya yoga He also stressed on the importance of yama (don'ts) and niyama (dos) in yoga practice. Later, he demonstrated a few simple meditative Kriya Yoga techniques for the benefit of the audience. "It is the simple techniques, when practised correctly and regularly, that yield the best results," he emphasised. He also pointed out the importance of steadfastness in spiritual practice.

Manifest your visions
What is the secret of getting what you want? Very simple. Simply 'ask' for it! From earning a better income, having a fulfilling personal and professional life, owning a home or acquiring other material possessions, we harbour a plethora of desires and dreams, but never realise any of them, because we have not mastered the art of asking. Personal growth workshop leaders Najoo Sohonie and Manoj Lekhi of SSY led participants through an enchanting three-hour session on how to tap the power of intention to create the life of our dreams.




Manoj and Najoo: make your dreams come true Extrapolating the role of intentions in wellness, Sohonie and Lekhi said that the body, mind, and spirit are dynamically interrelated. In an interactive session, Najoo Sohonie and Manoj Lekhi brought to surface some of these roadblocks and demonstrated proven techniques to manifest our desires.

Healed relationships, transformed beings
"Your greatest guru is the one who causes the maximum trouble in a relationship," declared the gentle but powerful Sri Samadarshini, Director, Oneness Univercity.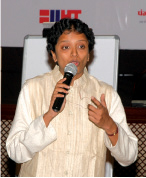 Sri Samadarshini: powerful insights A human being has five primary relationships: with parents, spouse, children, self, and God. Of these the relationship with the spouse is the most complex and demanding. A common cause for the deterioration in marriage is the unresolved hurt engendered between the partners. Her guidelines for resolving hurts and healing relationships include acceptance of the situation, looking at the other in the eye when he/she speaks, feeling for the other and experiencing their pain (pray for strength, she advised) and finally response (not reaction). Sri Samadarshini's mantra for healing relationships: "Put the other person's happiness before yours. True love is possible only when giving."

Moving on to one's relationships with parents, she explained that all relationships in life reflected one's relationships with one's parents. Even failure in disparate events in a person's life such as career, finance, and relationships are attributed to dysfunctional relationships with one's parents.

Sri Samadarshini said that parents play a vital role in shaping their child's destiny. She exhorted parents to treat their children as "kings and queens" until seven years of age (no to discipline!), and most important, to treat them with respect. From the ages of seven to 14, they were to be treated as, "princes and princesses", where discipline is applied with love and honesty, never harshly or with punitive methods. From the ages of 14-21, parents need to treat children as their friends and as an equal thereafter.

Relationships with oneself and the Divine are higher order relationships that are indicative of the flowering of individual consciousness. "Relate to the Divine in any way that comes naturally to you," said Sri Samadarshini. Her insights and powerful presence were so transformative that the visibly moved participants, many of them with tears in their eyes, gave her a standing ovation.

Overcoming allergies
Dr SPS Bakshi began by explaining how allergies are responsible for inflammation in the body and can be treated holistically through homoeopathy. Homoeopathy offers a comprehensive plan involving one's physical, emotional and spiritual make-up to treat arthritis. The doctor then went on to enumerate the advantages of homoeopathic treatment, which include building immunity, and eliminating side-effects. The approach of the homoeopathic system is in treating the individual and not the disease.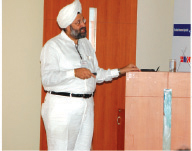 Dr SPS Bakshi: the truth about allergies Dr Bakshi constantly brought to light some shocking facts. For instance, did you know that dandruff could be the first stage of psoriasis, or that cosmetics including shampoos and toothpastes are "playing havoc in our lives?"

Spiritual ware
Innumerable products were showcased at the exhibition grounds of FICCI in order to promote holistic well-being of the body, mind and spirit.

Dharohar the Heritage: Electric miniature hawan kunds, swastika and om symbols in marble for peace and prosperity, stone flutes, rock salt lamps to ease the effect of asthma attacks, headaches, allergies and skin disorders, diffusers and oil burners, stone tortoises and dolphins, and more – were some of the exquisite items on sale at the Dharohar stall.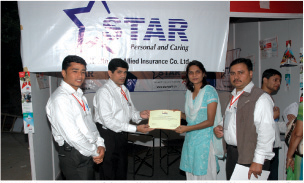 Life Positive GM, V. Venkat, awards Star Health Insurance a certificate Krish Consultations: Krish stands for 'Kreating Revolution In Spiritual Healing' and Poonam, who heads the group, was also present at the stall, to provide tarot consultations, feng shui and vaastu guidance to interested visitors. The stall showcased some devices, which seemingly control and negate the effects of radiation. Like a device for reducing radiations from mobile phones, and computers. Needless to say, the devices attracted a lot of enquiries!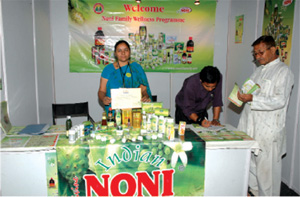 Noni: the new super food Star Health Insurance: Apart from being a pioneer in the health insurance domain, Star Health And Allied Insurance Co has over 15000 agents in the country. As the main sponsors of the Life Positive Expo, Star Health Insurance demonstrated their stellar commitment to promoting wellness. At the LP Expo, Star Health played a crucial role in spreading awareness about health insurance as well as promoting their policies and current schemes.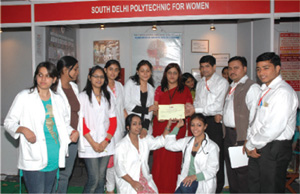 The students of South Delhi Polytechnic South Delhi Polytechnic for Women: Many visitors were surprised to see the stall of this educational institution at the Life Positive Expo 2008. However, they were pleasantly surprised to learn that the institute offers an extensive vocational course on holistic health and fitness (one/two/three years)



The SRB stall: the one-stop shop for hair issues The students of South Delhi Polytechnic also offered services like foot reflexology which was a major attraction for many visitors to the Expo.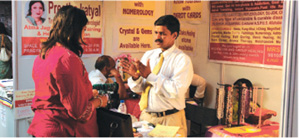 The Atma Jagriti stall: acupressure relief Nithyananda Dhyanapeetam: The aesthetic beauty and serenity of the Nithyananda Dhyanapeetam stall "Life Bliss Galleria" reflected the philosophy of the organisation. On display were inspiring products like Nithyananda's messages on video, audio tapes, CDs and books in Indian and foreign languages, enlivening music and chants that heal and energise, meditation and yoga books, kits and CDs that rejuvenate the body, mind and spirit, energised rosaries, puja items, bracelets, photographs, yantras, energy bead jewellery, clothing and gift items.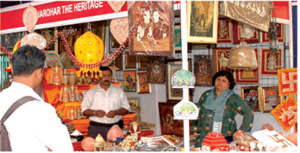 Dharohar, the heritage stall: fascinating Full Circle Publishers: Full Circle publishes books on inspirational subjects, religion, philosophy, and natural health. Books included topics on spirituality, reiki, yoga and even an abridged version of Rabindranath Tagore's Gitanjali. However, the book that sold like hot cakes was Under the Banyan Tree by Vietnamese monk, Thich Nhat Hanh, whose recent visit to India won him several admirers.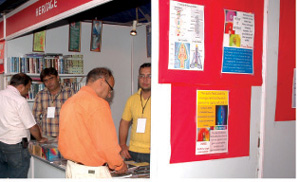 The Heritage: Osho books and stylewear Atma Jagriti Foundation: The Atma Jagriti Research Training & Healing Foundation stall attracted a great number of visitors for its acupressure treatment. Many visitors got instant relief from backaches, knee-joint pains and other aches and pains of the body. There was helpful advice on diets, exercises and acupressure, besides help for visitors in selecting suitable crystal beads for healing. Simple acupressure devices were also sold at the stall like pressure balls and rings at a nominal rate.

Sree Rakhadi Bio Pharmaceuticals: Those facing problems of hair fall and dandruff, or arthritis pain, found help at the SRB stall with products like Niram cream, Khushbu body bath powder and Crown cream, which were also offered as free samples to visitors to the stall.

Tej Gyan Foundation: The Tej Gyan Foundation stall offered an interactive approach for visitors. The representatives handed out leaflets containing a consciousness elevation quiz, which had multiple choice questions. The quiz forced visitors to reflect on their beliefs and then invited them to explore the stall for further information on workshops, videos and books offered by the foundation.

Sonal Varma: Sonal Varma's stall attracted people interested in the power of tarot. A creativity consultant by profession and a writer and poet by inclination, Sonal hosts a show on Aaj Tak and also writes a forecast column in a leading newspaper.

She helped many visitors get in touch with their consciousness and used the tarot cards for inner healing and counselling of those who were in need of it.

Dr Hari Krishna: Dr Hari Krishna's stall attracted visitors looking for effective solutions for cancer. Dr Krishna registered with CCH, New Delhi (Govt. of India) & Delhi Homoeopathic Board (Delhi Govt.) is a renowned cancer specialist for the last 32 years, and is known to get excellent results in the treatment of all types of cancer at all stages.

Many visitors were keen to know more about the Cancer-healer's medicine, which is based on immunotherapy, as Dr Krishna has been a pioneer in treating cancer using this form of medication. His son, Dr Tarang Krishna, has been using the medicine with effective results.

Hindustan Times (Mint): The representatives at the Hindustan Times stall, one of the leading papers in India and the media partner for the Expo, offered details to the visitors regarding their various product offerings. The visitors also got to know more about the sister publications of Hindustan Times, which are Mint (English business daily) and Hindustan (Hindi daily), among others.

Healing Crystals: At the Haven Klinic, Rajeev Ratra, a spiritual counsellor and healer, offered alternative therapies like Theta healing services to the participants. Theta Healing can be used to transform limiting perceptions and beliefs on health-body, mind, spirit relationships and abundance issues while simultaneously regenerating and revitalising one's physical body. Healing crystals of different kinds fascinated a great number of people. Some attractive jewellery – necklaces and earrings studded with unique crystals – were available at an affordable range.

Reiki-Touch-n-Heal: The Reiki Healing Foundation (RHF), one of the world's leading educational institutes since the last 26 years, has so far trained more than 800 successful reiki masters. The RHF mission – A Fight Against Blind Belief, aims at liberating fears, superstitions and ignorance as well as extricating one from the web of drugs and diseases. A special diya was the main attraction. The diya is lit in the south-west corner of the house and performs the function of driving out negative energy in order to create positive energy.

Divine Energies: The aura or energy field of a person has always been a matter of interest to an individual inclined towards spirituality and wellness. At the Divine Energies stall entrepreneur Diivyaa R Sharma, provided an aura scanning report at her stall with the help of a biosensor, a device that scientifically captures the auric energy and translates the frequency in the form of a colour spectrum.

Bioenergised water: Rachna Mehra, a wellness consultant, emphasised that bioenergised water repairs and also restructures the molecular structure of the body. Bioenergised water is beneficial in relieving pains, lowering blood pressure, regulating blood sugar levels, and improving skin tone. A wide range of bioenergised water products, were available in the range of Rs 50-Rs 100.

The Nirankari Mission: Major JD Sharma, the Chief Security Officer to Nirankari Baba, the propagator of the Nirankari Mission, explained his desire to promote the cause of the mission, "The Sant Nirankari Mission is a global spiritual movement cutting across all religious, cultural, economic and social diversities, and is founded on the principle that God is omnipresent. We encourage the ideas of universalism, peaceful co-existence, spiritual awakening. Our ultimate goal is world peace and to enable mankind to achieve moksha."

Heritage: Heritage, a popular apparel brand for women, showcased exquisite, woollen stoles, shawls and mufflers. Young girls had a tough time picking from the beautiful choices available. At Rs 315 they were a steal! On display were also books by Osho. As loyal sponsors of the Life Positive Expo, Heritage has always made its commitment to raising human consciousness very clear.

Tarot card reading and other sciences: Neera Sareen, a renowned tarot card reader, runs the Karmic Centre for Learning and Healing in Delhi. The centre conducts various courses on tarot reading, numerology, pyramid vastu, coffee cup reading, dowsing and alternative therapies. Coffee cup reading and tarot card reading, received a great response. Bentley Ties: Bentley, a well-known brand, markets stunning and exclusive ties for men. The latest Bentley collection made by artisans trained in Germany comprises of exotic designs in dots, stripes and checks in never before seen shades and colours like blues, pinks, blacks, reds, charcoals, golden browns to name a few.

Noni Wellness Products: The Noni family produces wellness products to promote natural health by detoxifying and rejuvenating the body. The products are made from the astonishing Noni fruit, said to be the richest source of natural vitamins, minerals and other nutrients. The Indian Noni tonic is packed with enzymes, minerals, vitamins to replenish the body with energy.

Rathore Management Corporation: The Rathore Management Corporation, headed by PS Rathore, helped visitors to springclean their minds by eliminating unwanted beliefs, conquering fear, realising dreams, creating fulfilling relationships and bringing a quantum difference in one's life.

Punjab Kesari: Punjab Kesari is a popular Hindi newspaper published from centres in Punjab and Haryana. The group was also the gracious sponsor of the Life Positive Expo. Various editions of the publication along with supplements were available for sale.

We welcome your comments and suggestions on this article. Mail us at editor@lifepositive.net