Timeout - Lage raho Gandhiji
by Satish Purohit
Mahatma-Bapuís favourite spiritual songs for children , Music By: Times Music, Rs 295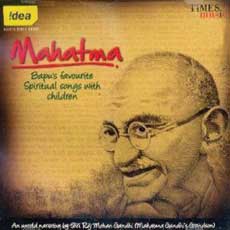 Each song in this album, which lists Bapuís favourite bhajans, is prefaced with a small homily by his grandson Rajmohan Gandhi who explains why the song was so special to the Father of the Nation. The selection opens with poet/devotee Narsi Mehtaís celebrated Vaishnava jana toh that explains who deserves to be called a Vaishnava. (He who understands the pain of the other is a true Vaishnava/ He who controls his senses and keeps his speech pure is a Vaishnava). This number is followed by Raghupati Raghav Raja Ram. (Lord Ram is the scion of the clan of Raghu) which also has the celebrated line Ishwar-Allah tero naam (You who are called Ishwar-Allah, grant us noble minds).

The next song by Kabir Man lago yaar fakiri mein (My mind, dear friend, is bent on the fakirís way) sung here by Raavi More. The song assumes a beauty of its own though it has been sung by greats like Abida Parveen. A little too complex for a child at the level of meaning, I would say. But, hey, when heart speaks to heart, who really knows?

An album that is as much a great listening experience as it is a tribute to the unassuming Saint of Sabarmati. Buy this one for keeps.