Timeout - My name is Khan : Masala with a welcome flavour
My name is Khan; Cast: Shah Rukh Khan, Kajol, Jimmy Shergill, Zarina Wahab; Writer ; Karan Johar / Shibani Bathija, Director: Karan Johar; Music: Shankar – Ehsaan - Loy, Lyricist : Niranjan Iyengar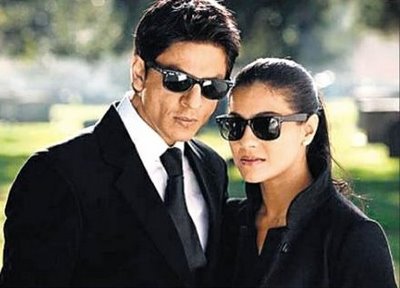 "Can you say whether the person is a Hindu or Muslim" asks the mother of Rizwan Khan, a boy afflicted with Asperger's sydrome, drawing a cartoon that conveys good and bad. This lesson remains engrained as Khan as the only division in humanity – good and bad people.. I for one, did wish she had also gone one step further and explained there is good and bad in everyone.

When the scene shifts to San Fransico the love story between Mandira and Rizvan, pre-interval, is likeable and brought to life by the lead actors.

Sharukh Khan's performance is wonderful, reminding one of Dustin Hoffman in Rainman with him making a great shift in his dialogue delivery and body language. One has to see him in a lovely scene in which Kajol accepts his proposal and how he restrains his tears so that his eyes brim but never well over. Kajol is her usual, bubbly self.

With the two dominating the proceedings, the other actors — Jimmy Shergill, Sonia Jehan, Arjun Mathur, Parveen Dabbas, and others — are left with little to do. The exceptions are Zarina Wahab, who in a brief role as Rizvan's mother, has delivered an extremely sensitive performance, while the child actor playing Sam is also quite good.

The music is strictly so-so and just hummable.

Overall, the scenes of Rizwan's childhood are the best in the film, extremely well thought out and emotionally charged. The issue really is the scale of the script in the second half. It scrambles madly both literally and figuratively. Rizwan manages to shout down a hate-mongering Muslim doctor, have him arrested by the FBI, and get arrested himself in a ridiculous pre-climactic sequence. In fact, so much is squeezed in that by the end of two hours and forty minutes, it leaves one a little rattled.

The film has does have many of the trappings of a Bollywood masala film – characters walking in and out as soon as they deliver their dialogue, grandiose settings, not addressing the complexity of either the handicap or the issue of terrorism but still it makes a strong point that remains eternally valid.

So, go to see the performances and reinforce the message of humanity.