Timeout - The Icon of Surrender
by Satish Purohit
Shri Hanuman Chalisa Paath , Music By: Times Music, Rs 295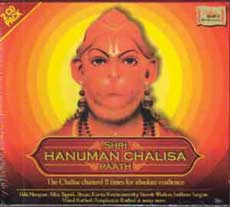 Hanuman, a wise sage told me, is a metaphor for the mind surrendered to Ram Ė the reality that permeates all existence like a thread does a line of pearls. One worships this metaphor because finally we become what we worship. Our metaphors shape our reality. This, he told me, is why in his immature years, Hanuman swallowed the sun. It demonstrates the damage a mind gone astray can cause.

The same Hanuman devoted to Ram can take unimaginable leaps and accomplish superhuman tasks. Hanuman, the deity, is worshipped as a Chiraanjeevi, an immortal, who aids those who have surrendered to the life divine. This 2-cd pack has 11 renditions of Tulasi Dasís Hanuman Chalisa sung in a variety of raags by singers noted as well as new.

The first rendition in the album is by Suresh Wadkar who sings the Chalisa set to raag Bhoopali. Both Alka Yagnik who comes later as well as Wadkar are good but not dazzling. Yagnik is sweet and Wadkar is measured and correct. Neither, however, manages to infuse emotion into the singing. The rendition I would buy this CD for is the one by Ravindra Sathe who is known for his abhangs. He sings the Chalisa in raag Darbari. It is a simple, soulful performance that touches the soul. The other rendition that I loved is one by Kavita Krishnamurty in Puriya Dhanashree. The CD also has the Sankatmochan Hanuman Ashtak (Udit Narayan), Jay Jay Hanuman (Parthiv Gohil) and Manojavam Marut Tulya (Udit Narayan) that provide some variety. Again, good, but not outstanding.