Timeout - When culture comes alive
by Viraj Karnik
Stories in a Song - A musical collage of theater (literature and history), English-Hindi 2 Acts, Directed By: Sunil Shanbagh, Conceived By: Shubha Mudgal, Research By: Shubha Mudgal and Aneesh Pradhan, Time: 120 mins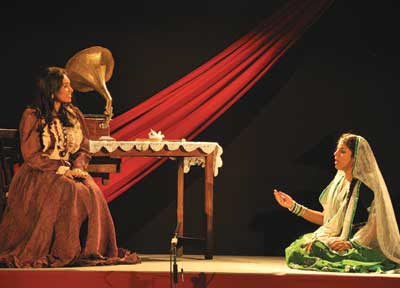 Recently, Mumbai was witness to a unique and original art form that filled me with pride at our rich musical heritage. It used the help of theater to tell forgotten stories and legends about musical forms such as kajri, thumri, khayal, nautanki and remix amongst others. Although it has come alive through the intensive research and music by Mudgal and Pradhan, it has taken the sheer genius of Sunil Shanbagh to get into the depth of the well-researched seven stories. Some of the more captivating vignettes include:

Chandni Begum: Adapted from Qurratulain Hyder's novel of the same name and set in Lucknow, it tells the tale of musicians who face the trials of changing times; Mogrey Master brilliantly played by Shubhrojyoti Barat evokes on stage the underlying pathos.

Bahdur Ladki: Based on a story by Gulabbai and presented in nautanki style it had the house tapping and clapping, and enraptured it with the wit, satire and fun that is typical of this musical form. The audience lost their hearts to the actor, Namit Das, who proved to be a versatile dynamo of talent.

Hindustani Airs: The hilarious encounter of Soprano and Hindustani classical musical exchange provided by an English mem (Pia Sukanya) and a nautch girl (Mansi Multani), through who the mem tries to notate Hindustani music.

Kajri Akhada: The last performance, and in my opinion the masterpiece. Superbly conceived performed and sung, it is about competing kajri singing groups who battle musically in question-answer format to gain supremacy over each other.